This Week With STATIC: November 29 to December 5
Posted on 11/30/20 8:39 PM
Check out these awesome STATIC events for the week of November 29 through December 5! Let STATIC help you relax and destress before next week's Final Exams!
DIY Spa Tutorials (Virtual)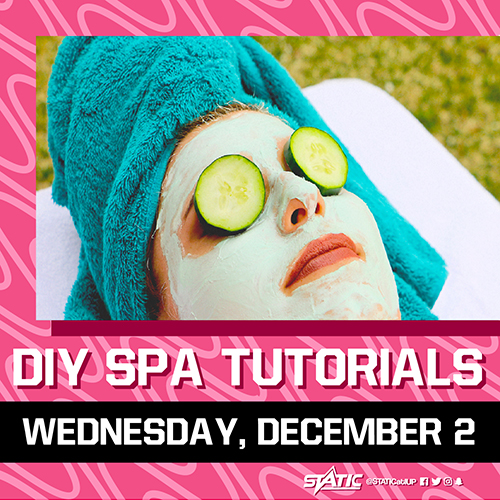 Listen. We get it. This semester has completely stressed out every single one of us. Don't you deserve to treat yo' self? We think you do. That's why STATIC is bringing the spa to you with DIY Spa Tutorials on Wednesday, December 2.
Join STATIC on Wednesday, December 2, to unplug and relax with DIY spa kits and relaxation tips and tricks pre-finals! The event will virtually take place between 8:00 p.m. and 10:00 p.m. via Facebook and Instagram Live and stories. No preregistration is required to join!
Want a pre-assembled DIY spa kit? Register here! You can pick up your kit from the STATIC office (HUB 215-216) prior to the event on Friday, November 20, Monday, November 30, Tuesday, December 1, and Wednesday, December 2. Please pay attention to STATIC's social media for available times.
If you can't stop by to pick up a kit, or if all kits are distributed, feel free to check out the official DIY Spa Tutorials Recipes and Ingredients List instead!
Netflix Watch Party: The Lorax & The Grinch (Virtual)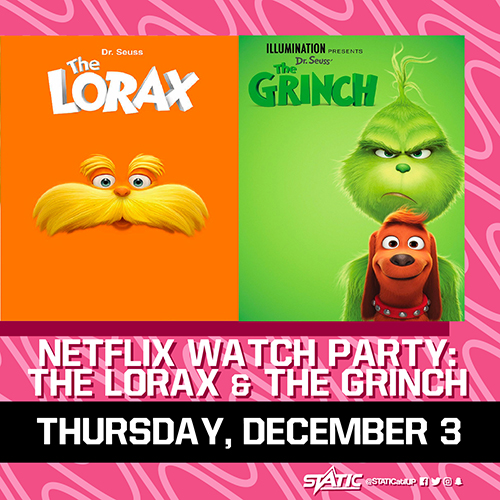 On Thursday, December 3, STATIC hosts a Netflix Watch Party double feature with The Lorax and The Grinch! Event begins at 8:00 p.m.
In The Lorax, "twelve-year-old Ted (Zac Efron) lives in a place virtually devoid of nature; no flowers or trees grow in the town of Thneedville. Ted would very much like to win the heart of Audrey (Taylor Swift), the girl of his dreams, but to do this, he must find that which she most desires: a Truffula tree. To get it, Ted delves into the story of the Lorax (Danny DeVito), once the gruff guardian of the forest, and the Once-ler (Ed Helms), who let greed overtake his respect for nature."
In The Grinch, "the Grinch (Benedict Cumberbatch) and his loyal dog, Max, live a solitary existence inside a cave on Mount Crumpet. His main source of aggravation comes during Christmastime when his neighbors in Whoville celebrate the holidays with a bang. When the Whos decide to make Christmas bigger and brighter, the disgruntled Grinch realizes there is one way to gain peace and quiet. With help from Max, the green grump hatches a scheme to pose as Santa Claus, steal Christmas, and silence the Whos' holiday cheer once and for all."
Watch via Google Chrome's Netflix Watch Party extension, available here! Must have a Netflix account, but you can sign-up for a free 30-day trial!
STATIC will ask various pieces of Dr. Seuss universe trivia, with the winner taking home some amazing prizes.
Live at IUP: An Evening with Josh Peck (Virtual)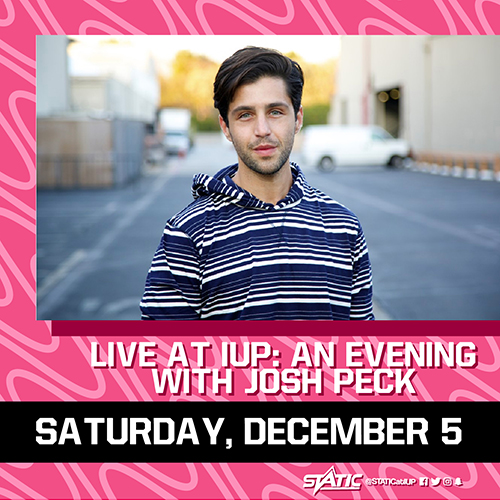 Join STATIC as we present actor, comedian, and YouTube personality, Josh Peck, live via Zoom, on Saturday, December 5. The Zoom waiting room will open at 7:30 p.m., with the event beginning promptly at 8:00 p.m.!
THIS EVENT IS COMPLETELY FREE and OPEN TO THE ENTIRE IUP COMMUNITY. No preregistration is required. Join here!
If you would like to submit a question for Josh to answer live during the event, please email us or send us a direct message on Facebook, Twitter, or Instagram.
According to his Wikipedia page, "Joshua Michael Peck (born November 10, 1986 in New York, New York) is an American actor, voice actor, comedian, and YouTube personality. Peck began his career as a child actor in the late 1990s and early 2000s, and had an early role on The Amanda Show from 2000 to 2002. Peck rose to prominence for the role of Josh Nichols alongside Drake Bell's character in the Nickelodeon sitcom Drake & Josh from 2004 to 2007, and in its two television films in 2006 and 2008. He then acted in films such as Mean Creek (2004), Drillbit Taylor (2008), The Wackness (2008), ATM (2012), Red Dawn (2012), Battle of the Year (2013), Danny Collins (2015), and Take the 10 (2017). Peck provided the voice of Eddie in the Ice Age franchise since Ice Age: The Meltdown (2006), and voiced Casey Jones in the Nickelodeon animated series Teenage Mutant Ninja Turtles (2012-2017). He also starred with John Stamos in the Fox comedy series Grandfathered (2015-2016). In 2017, Peck started a comedic lifestyle YouTube channel, Shua Vlogs, featuring David Dobrik and his wife Paige O'Brien."
For more information about any of these events, check out the STATIC website, Twitter page, or Instagram page.