This Week With STATIC: November 1-7
Posted on 11/2/20 5:46 PM
Check out these awesome STATIC events for the week of November 1 through 7 (plus information about IUP Chopped on Sunday, November 8).
Netflix Watch Party: Karate Kid (Virtual)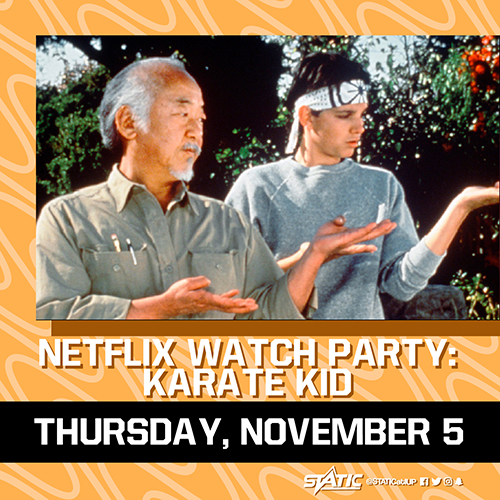 On Thursday, November 5, STATIC hosts a Netflix Watch Party featuring the original Karate Kid. Event begins at 8:00 p.m.
In Karate Kid, "Daniel (Ralph Macchio) moves to Southern California with his mother, Lucille (Randee Heller), but quickly finds himself the target of a group of bullies who study karate at the Cobra Kai dojo. Fortunately, Daniel befriends Mr. Miyagi (Noriyuki 'Pat' Morita), an unassuming repairman who just happens to be a martial arts master himself. Miyagi takes Daniel under his wing, training him in a more compassionate form of karate and preparing him to compete against the brutal Cobra Kai."
Watch via Google Chrome's Netflix Watch Party extension. Must have a Netflix account, but you can sign up for a free 30-day trial.
STATIC will ask various pieces of Karate Kid universe trivia, with the winner taking home some amazing prizes.
IUP Conquer the Mic (Virtual)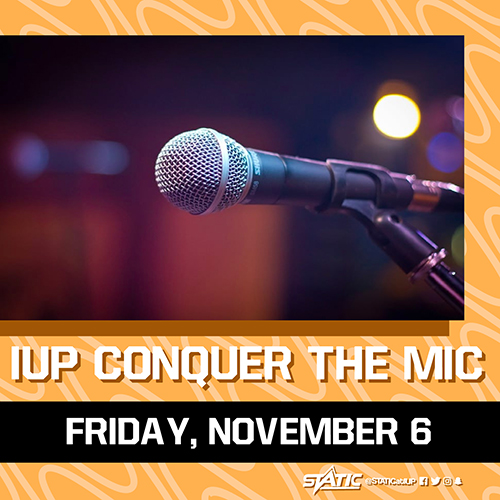 Are you IUP's best music act? Prove it at STATIC's virtual version of IUP Conquer the Mic!
The event takes place on Friday, November 6, via Zoom, starting at 8:00 p.m. The event is free for groups to register and perform, as well as for individuals to watch.
No preregistration is required to watch. Join here.

All bands (including all genres, groups, solo acts, acoustic acts, singer-songwriters, and other performers) are eligible to participate. Winners will be eligible to receive bragging rights and a sweet trophy, as well as cash prizes. $200 plus an opening slot during next week's AJR concert will be awarded to first place, $150 will be awarded to second place, and $100 will be awarded to third place.
Judging will consist of both official event judges, as well as audience participation and voting. Encourage your friends, roommates, and groupies to attend.
Event registration to perform is now open.
To register, you must
submit your act's 10- to 15-minute video (for streaming during the event).
If your video doesn't successfully upload with the online application, submit the file to znclark@iup.edu. If your video is too large for the online uploader and the aforementioned email address, please email znclark@iup.edu to make other arrangements (through Dropbox, Google Drive, or Microsoft OneDrive).
The deadline for entry and submission of video is November 5.
IUP Chopped: Cooking Tutorials (Virtual)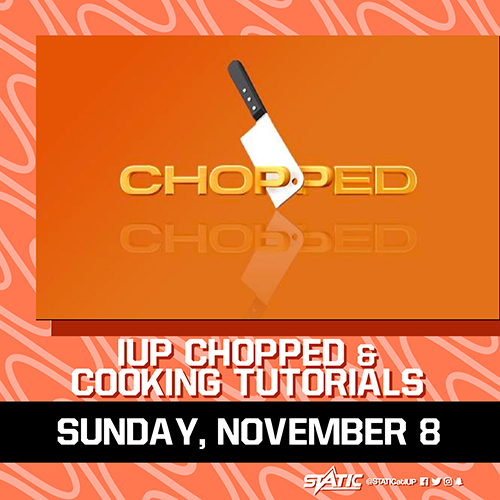 Next up in the STATIC line-up of IUP versions of game shows… IUP Chopped.
Join STATIC on Sunday, November 8, to check out some amazing culinary specialties from various local IUP "celebrities" and to learn some awesome recipes and kitchen tips. The event will virtually take place between 5:00 p.m. and 8:00 p.m. via Zoom.
No preregistration is required. Join here.

Too bad we couldn't get Gordon Ramsey.
STATIC will also provide special mug cake kits to the first 50 students who stop by the STATIC office on Thursday, November 5, and Friday, November 6. No preregistration is required; kits available to first 50 students only (I-Card required).
For more information, visit the STATIC website or STATIC on Twitter and Instagram.