This Week With STATIC: October 11-17
Posted on 10/13/20 6:40 PM
Check out these awesome STATIC events for the week of October 11 through 17, including Netflix & Chill: Good Boys on October 15, as well as registering for next week's Words with Friends Tournament by October 19 and Trivia Night 2 by October 20!
Netflix & Chill: Good Boys (Virtual)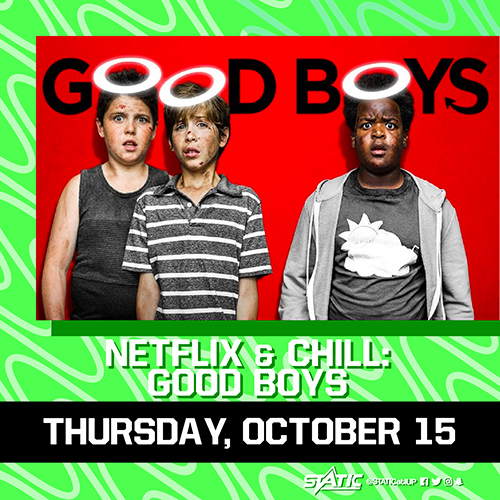 On Thursday, October 15, STATIC hosts a virtual Netflix & Chill movie night featuring Good Boys. Event begins at 8:00 p.m.
In Good Boys, "invited to his first kissing party, 12-year-old Max asks his best friends Lucas and Thor for some much-needed help on how to pucker up. When they hit a dead end, Max decides to use his father's drone to spy on the teenage girls next door. When the boys lose the drone, they skip school and hatch a plan to retrieve it before Max's dad can figure out what happened."
Watch via Swank Motion Pictures' Online Portal:
If you are physically on campus or living in IUP housing, all you need to do is visit the Swank Motion Pictures' Online Portal, also advertised on STATIC's social media pages.

If your device is not connected to the IUP network (IUP wireless or connected to an on-campus network jack), you will be redirected to the Keystone Library Network username/password page. You will click on the IUP Crimson Hawk to be prompted to enter your IUP Web Single Sign-on login credentials. Once completed, the film will successfully launch.
Last Chance to Register for the Words with Friends Tournament (Virtual)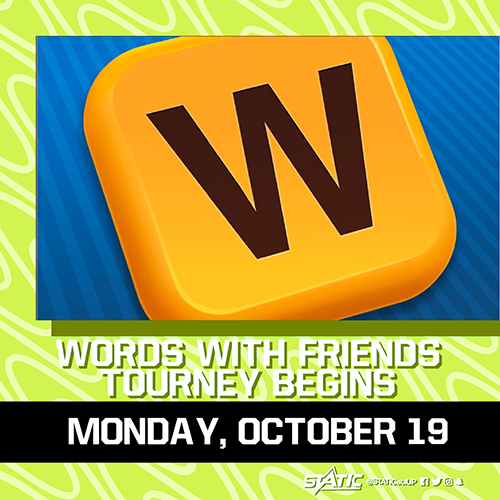 STATIC joins IUP Campus Recreation and Intramurals as we present an e-sports tournament featuring a classic, Words with Friends!
Interested students must register by Monday, October 19, at 11:55 p.m. via IMLeagues. The tournament will begin the week of October 26 and run until the bracket ends.
Join in on the action with your own personal smartphone or tablet for a chance to win great prizes, including an Intramurals Champion shirt, a feature on the Intramurals Wall of Fame, and tickets to future STATIC events.
For more information, check out IUP Campus Recreation on Twitter and Instagram, and visit the STATIC website or STATIC on Twitter and Instagram.
Last Chance to Register for Trivia Night 2 (Virtual)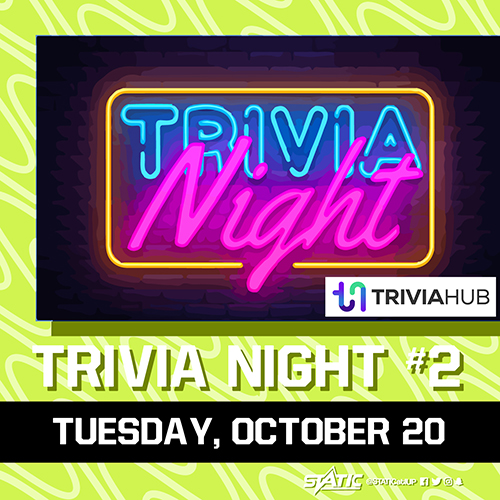 Calling all brainiacs, Einsteins, pop culturists, and Wikipedia-lovers—it's a Trivia Night at IUP!
STATIC proudly presents its second monthly Trivia Night of the fall 2020 semester. And this time, it's spooktacular! We'll provide the professional host and sleek trivia platform (by TriviaHub Live), cash prizes, and everything else you need to have a blast. All you have to bring is yourself and your teammates.
Join in on the fun on Tuesday, October 20, via Zoom, from 8:00 p.m. to 9:30 p.m. Register here.
Best Halloween costume wins a special door prize!

Space is limited to 75 people max.
Important: Please arrive 15 minutes early. Once all 75 spots are filled, no other spots will open.
For more information, visit the STATIC website or STATIC on Twitter and Instagram.