Register for STATIC's Fall Fest Now to Reserve Your DIY Craft Kit
Posted on 10/21/20 2:32 PM
Trees are changing colors and dropping their leaves. The wind has a chilly bite. Halloween is just around the corner. IUP students have donned their sweaters, Ugg boots, and pumpkin-spice lattes. Yep, it's that time of year: Fall!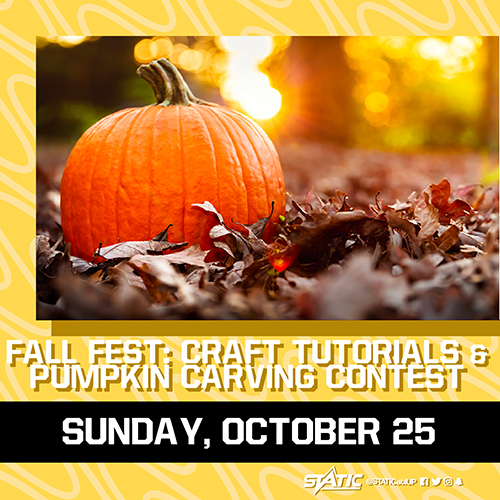 Join STATIC on Sunday, October 25, to celebrate the season at its annual Fall Fest. The event will virtually take place between 5:00 p.m. and 8:00 p.m. via Zoom. Join here. STATIC will offer fall-themed craft tutorials and an awesome pumpkin carving contest.
Register for Fall Fest and reserve a pre-assembled craft kit. STATIC only has 50 kits available; we will provide instructions and shopping lists to others who don't get to register due to limited availability so that they can still join in on the fun.
You can pick up pre-assembled craft kits and pumpkins for carving from the STATIC office (HUB 215-216) prior to the event on Thursday, October 22, and Friday, October 23.
For more information, visit the STATIC website or STATIC on Twitter and Instagram.