Kick Off Homecoming Weekend with D Smoke, Flawless Real Talk Concert
Posted on 10/5/20 7:26 PM
STATIC presents D Smoke and Flawless Real Talk, live in virtual concert, to kick-off IUP's Homecoming celebrations on Thursday, October 8, via Zoom. The waiting room will open at 7:30 p.m. and the show will begin at 8:00 p.m.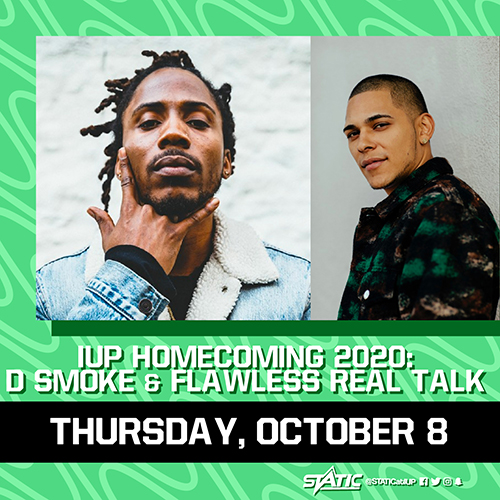 This event is completely free and only open to the IUP campus community (including students, faculty, staff, and alumni). No preregistration is required. To join, follow this Zoom link, or enter the Zoom Webinar ID (935 6516 5450) and passcode (static).
If you would like to submit a question for D Smoke or Flawless Real Talk to answer live during the event, please email STATICatIUP@gmail.com or send us a direct message on Facebook, Twitter, or Instagram.

From the Artists' Biographies
"Daniel 'D Smoke' Farris is a refreshing embodiment of raw Los Angeles. Hailing from Inglewood, California, Smoke personifies the city's potent cultural duality: nurtured by the boulevards, and natured by a family's legacy in Gospel music. Smoke dove fingers-first into classical piano at the age of six, honing his talents in the church, and eventually lending vocals to the late Michael Jackson. Focusing on the creative arts helped him to circumvent the throes of violence present on his doorstep, and propel himself into the classrooms of UCLA. During his matriculation, D Smoke was a beacon of light for his city, becoming a voice for the voiceless, using language, culture, and music as tools to bridge institutionalized gaps and spread the gospel of a united, Los Angeles culture. During the same years he spent in Westwood, D Smoke gained a unique and immersive industry experience by collaborating across genres with everyone from Usher, Babyface, Mary J Blige, and Jahiem, to Missy Elliot, Timbaland, and the Pussycat Dolls. His hard work garnered an ASCAP Song Of The Year award. Throughout the time he spent sharing space with chart-defying legends, D Smoke was simultaneously documenting the challenges his neighborhood faced through his own music. After college, he taught Spanish at Inglewood High, applying his personal experiences as an alumna and life-long city resident to create a safe space for students to truly express themselves openly. As of 2019, D Smoke gained global notoriety as champion and undisputed breakout star of Netflix's Rhythm + Flow. Smoke showcased himself as a raw lyricist, classically-trained musician, and social activist with 'something to say'—and nothing left to prove. His Inglewood High EP landed on the Top 10 Billboard Rap & Hip Hop Charts when it was released in October 2019. It reveals the beauty and frustration of today's Inglewood through the eyes of his former students, while capturing the essence of the city that raised him. On February 7, 2020, D Smoke released his first full-length album, Black Habits, boasting features from SiR, Snoop Dogg, Ari Lennox, and Jill Scott to critical acclaim."
"New England rapper Flawless Real Talk boasted a flow that was both streetwise and polished, carrying him from the Rhode Island underground to the streets of Atlanta within a decade. In addition to his self-released efforts, he broke into the mainstream in 2019 as a finalist on the Netflix reality competition Rhythm + Flow. Born Alberto Martinez in Providence, Rhode Island, he developed an early taste for the music business that proved beneficial when his own budding talents began to take shape. Flawless' stepfather worked for a company that provided transportation for touring musicians, and Flawless grew up with a taste for the romance of life on the road as well as the hard work and dedication it took to make it big. He began recording tracks with local producers when he was 16, but soon realized that the Providence music scene provided limited opportunities. He left Rhode Island for Atlanta, Georgia, in 2010 and, only a few months after arriving, won a competition staged by an Atlanta radio station, with his prize being an opening slot at a show headlined by Ludacris and Rick Ross. Victories in more performing competitions followed—the Collipark/Interscope 64 artist tournament and the SESAC Myrtle Beach Music Conference contest in 2012, and the Don't Fu[n]k Up Our Beats 6 competition in 2014. Flawless found a valuable ally in independent horrorcore rapper Tech N9ne, who saw him perform an opening set at one of his shows and promptly took him on the road for a 48-date tour in 2011. Flawless also shared stages with the likes of Joell Ortiz, Waka Flocka Flame, Joe Budden, French Montana, and the Wu-Tang Clan as word spread about him in the hip-hop community. In October 2016, he scored a hit with the single "Doctor,' which was a preview of his debut album, It's Different, released two months later. The following year, he released the EP Against It All, featuring a pair of appearances by Breana Marin. His second full-length, 20Flaw7, landed in 2018 and included guest Jadakiss on "Bodies." In 2019, Flawless caught a big break after he was cast on the Netflix reality competition Rhythm + Flow. Rising to the top of the pack, he made it to the final stages of the series, propelled by his songs 'Trouble' and 'On My Way.'
For more information, check out the STATIC website, Twitter page, or Instagram page.