Virtual Movie Night featuring Pete Davidson in "The King of Staten Island"
Posted on 9/16/20 7:33 PM
Tonight's the night! On Thursday, September 17, STATIC hosts a virtual Netflix & Chill movie night featuring The King of Staten Island! Event begins at 8:00 p.m.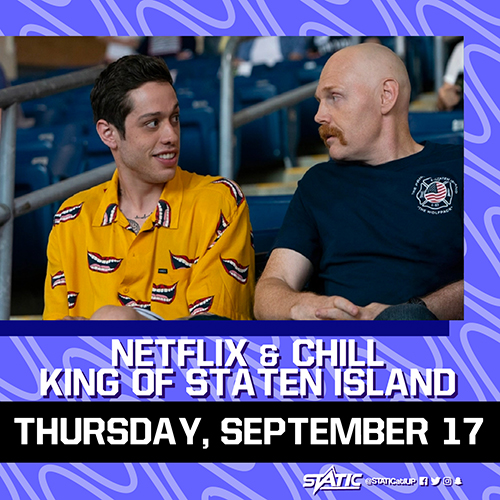 In The King of Staten Island, "Scott (Pete Davidson) has been a case of arrested development since his firefighter dad died. He spends his days making bad choices and dreaming of being a tattoo artist until events force him to grapple with his grief and take his first steps forward in life."
Watch via Swank Motion Pictures' Online Portal:
If you are physically on campus or living in IUP housing, all you need to do is follow the link advertised on STATIC's social media pages.
If you are not physically on campus, and residing off campus locally or with family away from campus, you must first connect your computer or smartphone to IUP's VPN and then follow the link advertised on STATIC's social media pages. For detailed instructions on how to connect to IUP's VPN, check out the IUP IT Support Center website.

Content warning: This film may trigger intense feelings of loss and grief, and deals with various adult-themed content, including drug and alcohol use, adult language, and sexual content. Any views contained within this cinematic portrayal belong to the film company and no one else. STATIC, the Student Co-op, and IUP embrace diverse identities and lifestyles, include and welcome everyone at our events, and fight tirelessly for equality and justice. We condemn hatred, bigotry, and ignorance.
For more information, check out the STATIC website, Twitter page, or Instagram page.