Tonight: An Evening with Issa Rae!
Posted on 9/23/20 7:33 PM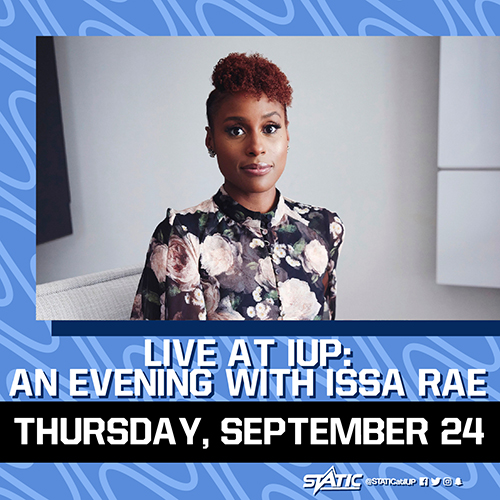 Tonight's the night! Join STATIC as we present actress, comedian, author, and YouTube personality Issa Rae, live via Zoom, on Thursday, September 24. The Zoom waiting room will open at 7:30 p.m. with the event beginning promptly at 8:00 p.m.
This event is completely free and only open to the IUP community. No preregistration is required. To join, follow this Zoom link, or enter the Zoom Webinar ID (946 0142 9609) and passcode (static).

STATIC is committed to bringing nationally recognized, diverse artists with a variety of perspectives to campus. Come listen as Issa recounts her story of growing her own personal brand, confronting issues pertaining to racism and inequity in the entertainment industry and her personal life, and finding empowerment in overcoming of barriers and failures in life and work.

Attendees will be able to register for electronic attendance vouchers for those instructors offering extra credit.
For more information, check out the STATIC website, Twitter page, or Instagram page.