This Week with STATIC: August 30-September 5
Posted on 8/31/20 8:39 PM
Check out these awesome STATIC events for the week of August 30!
Netflix Watch Party: Jurassic Park (Virtual)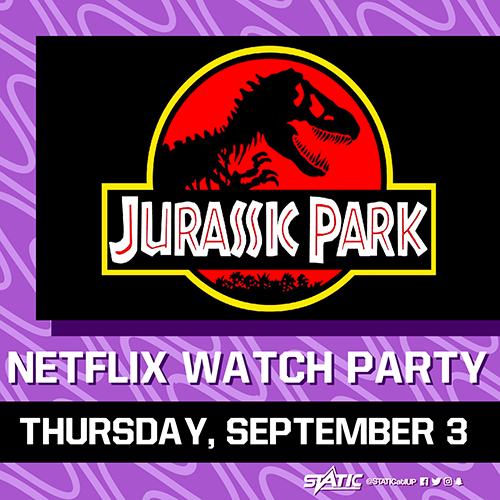 On Thursday, September 3, STATIC hosts a Netflix Watch Party featuring the original Jurassic Park. The event begins at 8:00 p.m.
In Jurassic Park, "paleontologists Alan Grant (Sam Neill), Ellie Sattler (Laura Dern), and mathematician Ian Malcolm (Jeff Goldblum) are among a select group chosen to tour an island theme park populated by dinosaurs created from prehistoric DNA. While the park's mastermind, billionaire John Hammond (Richard Attenborough), assures everyone that the facility is safe, they find out otherwise when various ferocious predators break free and go on the hunt."
Watch via Google Chrome's Netflix Watch Party extension. Must have a Netflix account, but you can sign up for a free 30-day trial.
STATIC will ask some cool Jurassic Park universe trivia, with the winner taking home some amazing prizes!
Week-long Campus Scavenger Hunt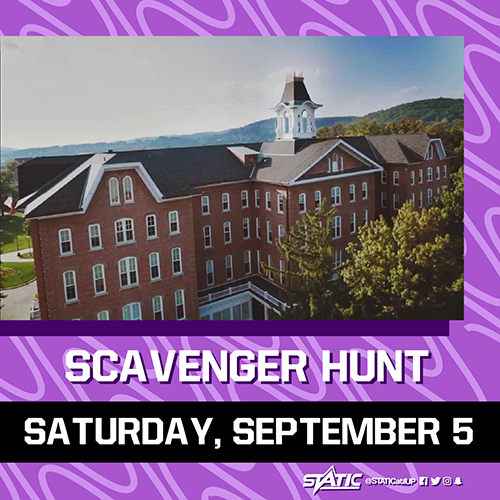 STATIC is hiding goodies all over campus, and it's your job to hunt them down!
Beginning at 5:00 p.m. on Saturday, September 5, and continuing each day at 5:00 p.m. until Saturday, September 12, STATIC will release various clues on a different one of its social media accounts (Facebook, Twitter, Instagram, and TikTok), leading you to a different location on campus to track down some awesome prizes.
Possible prizes include: IUP gear, STATIC gear, Co-op Store gift cards, local Indiana restaurant gift cards, UberEats gift cards, vouchers for future STATIC event tickets, and… something else pretty big!
To play, follow STATIC on all of our social media accounts, and be the first one to track down the prizes above. Then, take a picture or a selfie and send it to STATIC or tag STATIC on a post noting that you found the prize.
Please adhere to all COVID-related precautions required at STATIC events, including mandatory mask usage, careful hand washing and hygiene, and minimum six-ft social distancing from others.
For more information, check out the STATIC website and Instagram page.