Spring Break Bus #3 Cancelled Due to Lack of Interest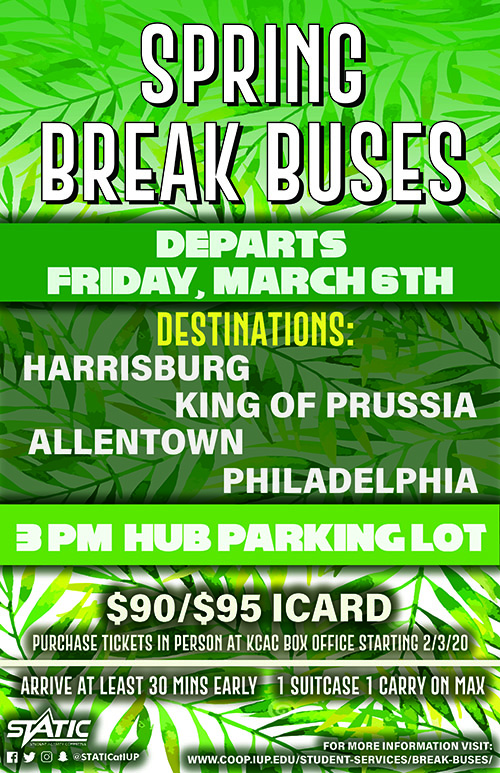 Spring Break Bus #3 with service to Harrisburg, King of Prussia, and Allentown has been cancelled due to lack of student interest and need. With this change, students that had already purchased tickets for Bus 3 have been moved to Bus 2, which will now service Harrisburg and King of Prussia. Bus 1 will continue direct service to Philadelphia.

Furthermore, Buses 1 and 2 are completely sold out. No additional tickets are available for purchase. Students are also reminded that ticket refunds, exchanges, and transfers are strictly prohibited.
In the future, students are vehemently encouraged to purchase tickets early so as to avoid missing an affordable, convenient, and easy way to get home on break.

Buses will depart from the HUB Parking Lot, near the HUB Fitness Center entrance, on Friday, March 6, at 3:00 p.m. Buses will return to IUP on Sunday, March 15, at the times indicated on the individual bus information sheets.

For more information, visit the Co-op's Break Bus website, or contact Zach Clark, director of Student Activities and Assessment at the Student Cooperative Association, at znclark@iup.edu.