Communications Media Students Nominated for National Production Award
Posted on 10/5/20 1:22 PM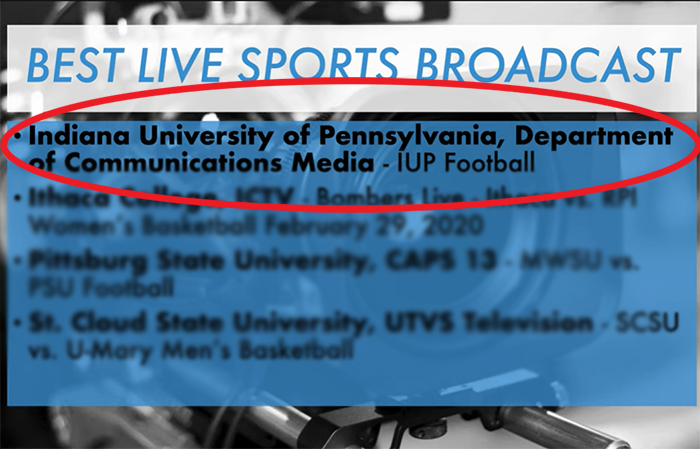 IUP-TV Sports and students in the Department of Communications Media are up for national recognition for their production work. Following the recent award from the National Academy of Television Arts and Sciences\Mid-Atlantic Region, these same students are now finalists for a national production award.
College Broadcasters, Inc. selected the IUP-TV Sports production of the IUP Crimson Hawks football victory over Edinboro on November 9, 2019, as a finalist in the Best Live Sports Broadcast category.
Students involved in the production were enrolled in COMM 360 Digital Sports Production, a live sports production course taught by Communications Media faculty member and Department Chair B. Gail Wilson.
Through this course, students learn all aspects of live production, including directing, camera operation, replay, graphics, and on-air announcing. The production crew included 16 students enrolled in the course (Braeden Appleman, Mackenzie Aucker, India Bey, Tristen Borland, Jordan Brasile, Colton Brooks, Tyler Como, Katie Dotts, Jackie Gillis, Elliot Hicks, Vania Mason, Josh Nixon, Josh Rupeka, Sean Seaman, and Kaylee Wenderoth), two student volunteers (Johnny LaVan and Jake Slebodnick), and IUP's broadcast systems specialist, Chris Barber.
The awards will be announced in a virtual ceremony on October 29, 2020.