Communications Media Students Win NATAS Production Award
Posted on 9/21/20 3:05 PM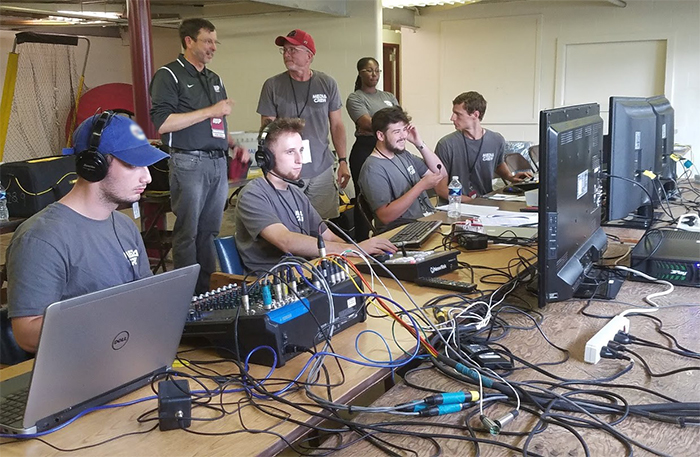 IUP Department of Communications Media was recognized for excellence when work produced by students was honored during the Mid-Atlantic Chapter of the National Academy of Television Arts and Sciences regional Emmy awards on September 19, 2020.
The IUP-TV Sports production of the 2019 IUP Football Coal Bowl victory received a Crystal Pillar award for the College/University Student Production: Sports-Live Event. Students involved in the production were enrolled in COMM 360 Digital Sports Production, a live sports production course taught by Communications Media faculty member and department chair, B. Gail Wilson.
In this course students learn all aspects of live production, including directing, camera operation, slow motion replay, graphics, and on-air announcing. The production crew included 16 students enrolled in the course (Braeden Appleman, Mackenzie Aucker, India Bey, Tristen Borland, Jordan Brasile, Colton Brooks, Tyler Como, Katie Dotts, Jackie Gillis, Elliot Hicks, Vania Mason, Josh Nixon, Josh Rupeka, Sean Seaman, and Kaylee Wenderoth), two student volunteers (Johnny LaVan and Jake Slebodnick), and IUP's broadcast systems specialist, Chris Barber.
Barber has been involved with IUP-TV Sports productions for several years and said this crew was one of the best he has worked with. "Working with the students taking this course is such a rewarding part of my job. From the very first week I can see a steady improvement with each game. I am amazed at the work they are producing by the end of the season."
Several IUP alumni were also recognized at the event, including Renee Wallace '94, a reporter for WPXI-TV Pittsburgh, who was inducted into the Silver Circle Society, recognizing her more than 25-year career as a reporter in Pittsburgh. Wallace was also among the team at WPXI-TV recognized with the Emmy for Outstanding Evening Newscast in a larger market.
Mark Thompkins '11 and colleagues from AT&T SportsNet were awarded a regional Emmy for their live production of the Penguins Pregame Show.Tyler Graham '11, also with AT&T SportsNet, was recognized for his contribution in the Sporting Event Live Game Special for Pirates Baseball - Blass Last TV Broadcast. David Altrogge '06 directed the award-winning Promotion Campaign, Pennsylvania Innovation, Imagination, and Can-do Spirit Series.
Here is the complete list of the 2020 Mid-Atlantic RegionalEmmy Award recipients.