Freshmen IUP Business Honors students traveled to Pittsburgh for the first time since pre-pandemic times. On April 14, 2023, members of the Freshmen Business Honors cohort loaded onto a bus to head into Pittsburgh to meet with alumni and visit the corporate headquarters of United States Steel Corporation and PNC Financial Services Group, Inc.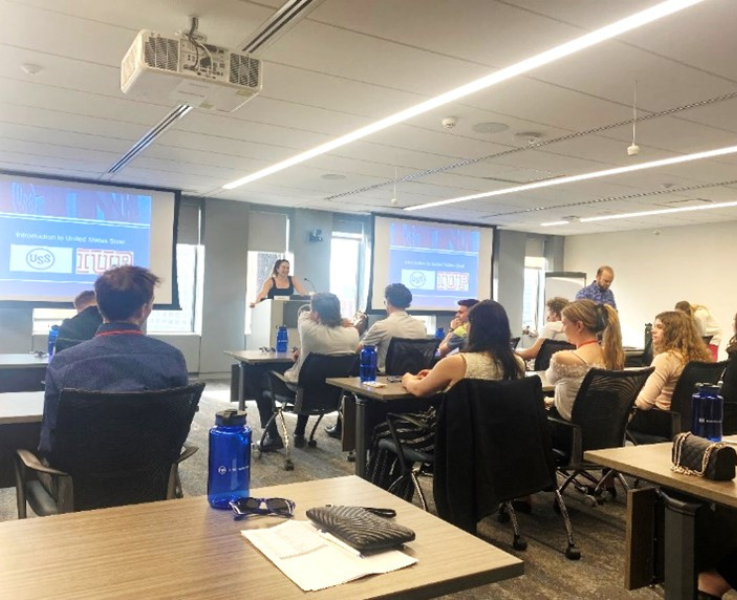 The trip started with a presentation at US Steel by Sarah Scruppi, a 2018 alumna, who spoke to the group about her experiences at IUP, her career journey at US Steel, and what her company is all about. Other US Steel employees joined in on the presentation to showcase the company's history and the current processes and procedures of the steel-making industry.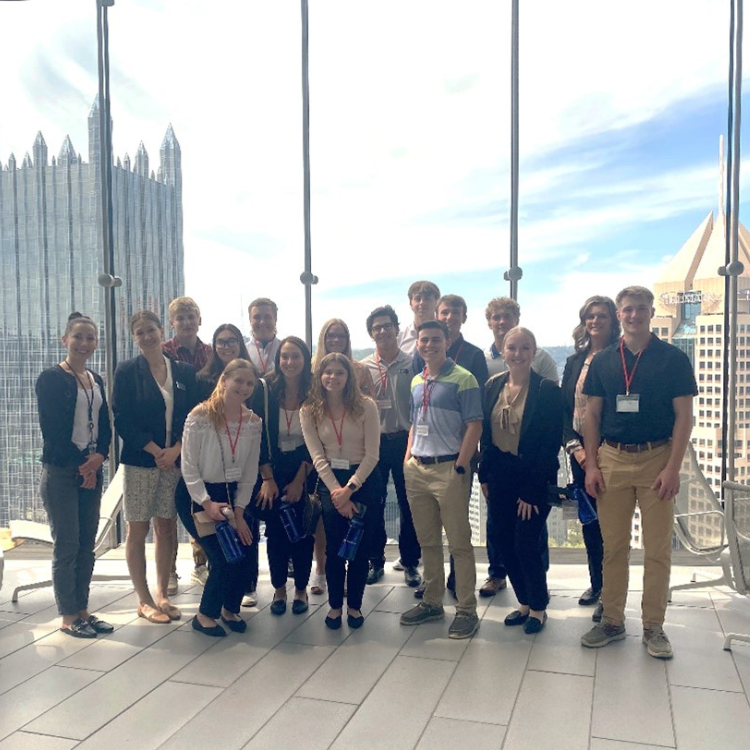 The group then enjoyed lunch at Vallozzi's before heading to the Tower at PNC Plaza for a tour and panel discussion with alumni. On the tour, students got to see offices, dining accommodations, and break areas and learned about the unique features the building has to support both employees and the environment. After the tour, alumni Kate Bedont '18, Austin Lamont '18, Elam Gates '19, and Matthew Neil '19 met with the group to discuss life at PNC and their journeys from Eberly to the corporate world.
Students review the trip as impacting their professional development and views on their own career paths.
"The Pittsburgh trip allowed me to meet professionals and IUP alumni in the business fields I am studying here at IUP. This trip allowed me to gauge the path I would like to take in my career and network with the professionals at PNC and US Steel!" —Brayden Landherr
"The trip to Pittsburgh allowed me to see what the corporate world really looks like. I appreciate gaining contacts to reach out to in the future and being able to grow my network." —Allison Semetosky
"If I could say one thing regarding the trip to PNC and US Steel is that it was really informative. It really opened my eyes to possible job positions that I could hold in the future. I gained a lot of insight and knowledge on this trip, and I encourage all future cohorts and students to attend; it is worth the time." —Joe Albanese
The Eberly College of Business is proud of our alumni and their achievements and thankful for the opportunities these relationships provide for current students.