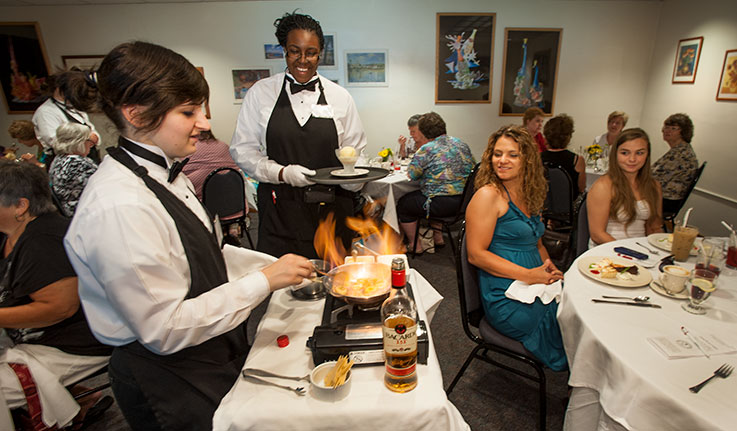 If you are a graduate of the IUP Academy of Culinary Arts (or expect to complete your graduation requirements soon), here is what you need to do to transfer into Hospitality Management, Nutrition, or Family and Consumer Science Education at IUP. You can be considered for one of IUP's renewable scholarships while completing the bachelor's degree.
Go to the IUP Admissions Welcome Page. Read the tips below before you get started. You'll be submitting an undergraduate application for admission as a transfer student.
Log in (If you created a profile when you first applied to IUP, Culinary Admissions can provide you with the email that you used and reset your password if needed.)

Otherwise, click on Create Profile; create a new profile.

Be sure to complete all the required fields.

ACADEMIC LEVEL: Select Undergraduate (do not select Culinary)

STUDENT TYPE: Select Transfer.

When you have finished creating your profile, a page will load that gives you the option to start an application.

Click on Start a new Undergraduate Application.

IUP Admissions Online Application will display.

Area of interest will fill in with the information you entered on your profile.

If you wish to apply to something different, select a New Area of Interest.

Otherwise, click Start Application.

You must fill in the required (*) items on the application. (All other fields are optional.)

When you get to COLLEGE EXPERIENCE, How many credits have you earned at the 100 level or higher, select the following based on your choice of major:

Hospitality: 36 or more

Nutrition: 12-35

Family and Consumer Science Education: 12-35

When completing COLLEGES ATTENDED, scroll down to If your school was not listed, enter your school name and address; enter IUP Academy of Culinary Arts.

Complete remaining required items and click Submit.

Click on My Admissions Profile to see that your application submission is complete.

You can be considered for one of IUP's four-year renewable scholarships with no additional application required. Scholarships are renewed each year, for a total of eight continuous semesters (fall and spring) or until a bachelor's degree is earned (whichever comes first), as long as you are making satisfactory academic progress, enrolled on a full-time basis (at least 12 credits per semester), and have no lapses in your fall/spring enrollment at IUP.  
Students are notified about their scholarship offers approximately two weeks after admission to IUP.
Notes
Email Culinary Admissions (culinary-admissions@iup.edu) to have us send your high school transcript to Indiana.

If you receive a request for your college transcripts, get copies of your unofficial culinary transcript from MyIUP and upload to your Admissions Profile or send (to Transfer Admissions).

Please remember, credits from the culinary program will transfer into your undergraduate major when all of the following conditions are met:

Externship is complete and all paperwork submitted.

You have no culinary coursework to complete or re-take.

You have been awarded your certificate.