Alumni Bedont, DeCesare, and Hollander, from PNC, Speak to Student Accounting Association
Posted on 9/28/21 3:54 PM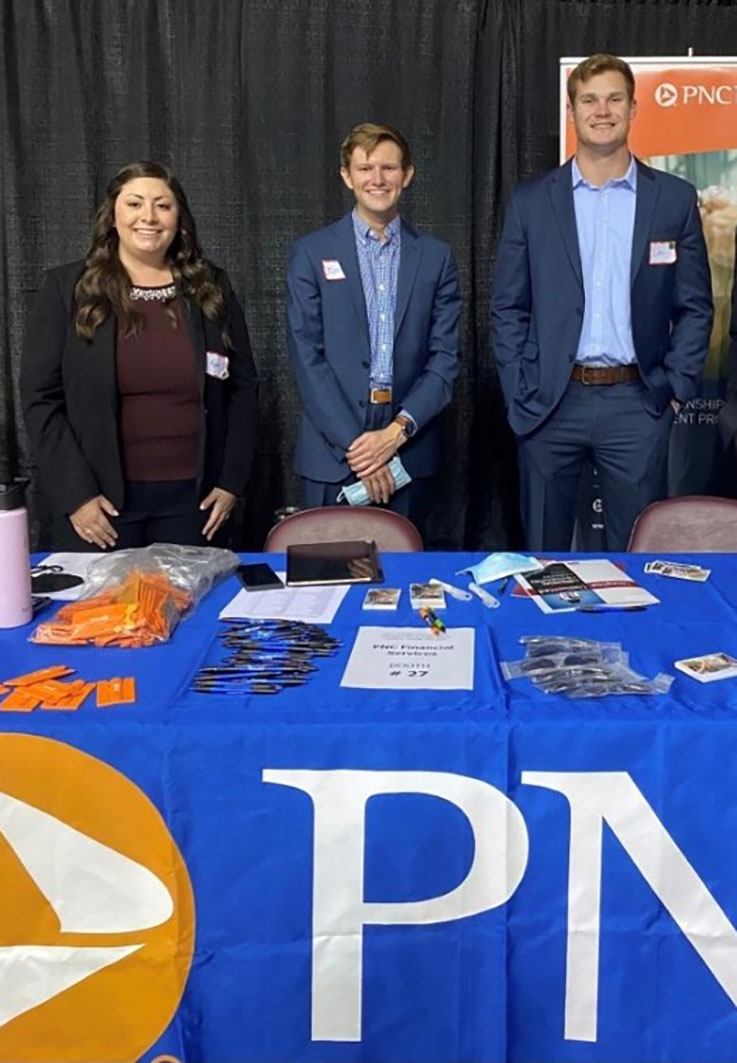 On September 9, 2021, the Student Accounting Association held its first meeting of the fall semester with guest speakers from PNC in Pittsburgh, including the following alumni: Kate Bedont '18 (BS finance), accountant senior; Matthew DeCesare '20 (BS, accounting and finance), independent risk development program analyst; and Luke Hollander '20 (BS, finance), financial specialist. Katie Banchek, PNC campus recruiter, also participated in the meeting.
These speakers shared information about their two rotational development programs at PNC. They also provided the students with a few pieces of advice:
The Finance and Accounting Development Program is a 12-month rotational program that is comprised of various departments that work collaboratively to prepare and analyze financial statements, forecasts, and budgets; to provide comprehensive reporting tools, and to implement and manage control functions. The panel shared that this was a great opportunity for accounting and finance accounting majors who are unsure of what concentration they would like to go into.
The Independent Risk Management and Development Program was another opportunity that the panel shared with the SAA. This program has four rotations over 12 months. During this time, the student is involved in robust training that entails an eight-week credit fundamentals course, learning labs, lunch and learns, and panel discussions. At the conclusion of the program, there is a placement process that pairs associates/hiring managers to their full-time role. A benefit to this placement is that it provides the student the opportunity to realistically move through the lifecycle of a job.
A few pieces of advice shared during the Q&A at the end was that the IUP education the alumni received greatly prepared them for their professional careers at PNC, both in the technical and professional aspects. They also shared that PNC offers study material and financial support for their accountants who are looking to obtain their CPA license. They mentioned that they have a large amount of IUP alumni and would love to add more IUP members to their team. If you are interested in applying, please visit their website for openings.
The Student Accounting Association's next meeting will be held Thursday, September 30, in the Eberly Auditorium. Our guest speaker will be Jennifer Brand '17 (BS, accounting), a staff auditor from PPG; and Katie Swauger '18 (BS accounting), a tax analyst from American Eagle Outfitters.
—Alexis Diehl, SAA senior vice president