Alumni Conrad '87 and McCullough '15 Speak at Student Accounting Association Meeting
Posted on 11/18/20 2:45 PM
On November 12, 2020, the Student Accounting Association hosted a Zoom meeting with guest speakers from three areas of the accounting profession—independent wealth management, internal auditing, and public accounting. The speakers included Vic Conrad '87 (BS, accounting), founder of Pinnacle Financial Strategies; Matthew McCullough '15 (BS, accounting), senior internal auditor at Georgetown University; and Lenore Seifer, director of personal development, at S.R. Snodgrass. 
SAA president Sarah Crownover led the meeting by asking the speakers a series of questions about their respective careers, which served as a great opportunity for students to learn about the various career paths that a degree in accounting provides.
This is the sixth Zoom SAA meeting held during the current fall semester, and there will be one more in December. According to SAA faculty advisor and professor in the Department of Accounting, Kim Anderson, "At first, I thought replacing the in-person meetings with virtual meetings would offer few benefits, but I've come to appreciate some advantages of the Zoom format. For one, we can invite speakers from out-of-state, such as Matt who lives and works in the DC area. We can also more easily hold a greater number of meetings. In the past, we typically held five meetings per semester, with four including an outside guest speaker. I think we will continue to use Zoom for some of our meetings even after the pandemic ends."
McCullough began the meeting by speaking about his decision to switch his major from management to accounting, in part due to a guest speaker from the accounting profession who spoke to his first accounting class. The professor for this class, Anderson, invited a former student to speak to the class, and it sparked McCullough's interest in accounting. McCullough also noticed all of his friends who were accounting majors were able to get jobs right out of college, and this was something he definitely wanted.
"I do not have any regrets about switching my major to accounting. I consider it to be one of the best decisions that I've ever made," McCullough said. After college, McCullough worked for a public accounting firm, where he enjoyed getting to work with his team. In his current job in internal audit at Georgetown University, McCullough said that there is a different environment as compared to his old job, and that he enjoys the diversity that this new position offers.
Seifer spoke next and offered advice about interviewing. Seifer said students should prepare for their interviews by making sure they have a solid understanding of the company's background. She stressed that students should arrive on time for their interviews and should have two or three questions prepared to ask at the end of their interview. To be a more competitive candidate for the job, Seifer said students should focus on building their leadership skills in college by becoming involved with campus organizations. Seifer believes that being able to demonstrate these leadership skills matters more than academic grades.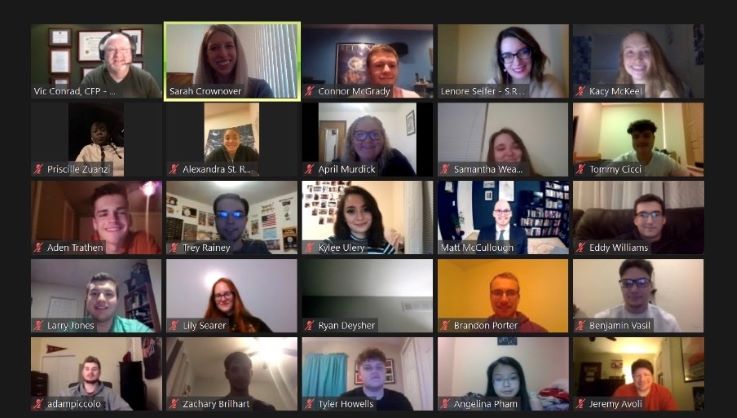 Conrad concluded the discussion by describing his experience in the accounting industry. After graduating from IUP in 1987, he worked as an auditor for a large international public accounting firm for four years followed by three years at PNC Bank in internal audit. He then moved into the area of independent wealth management, where he has over 25 years of experience, including almost 16 years with his own firm, Pinnacle Financial Strategies. Conrad said that people who have an accounting degree have a wide range of skills. Throughout his time in audit, Conrad said he gained stronger critical thinking and organizational skills. Conrad emphasized that most companies want to know you have the ability to learn new information, and an accounting degree proves that you are capable of learning.
At the end, the speakers offered advice to the students who were at the meeting. They encouraged students to obtain their CPA license, become involved on campus, network, and find mentors who will help along the way.
The final SAA meeting of the semester will take place on December 2 at 5:00 p.m. with IUP accounting alumnus Charles Oshurak '99 (BS, accounting), who is a partner at Arnett Carbis Toothman, a public accounting firm in Pittsburgh.