Spikner '98, Exelon Director of Corporate Accounting, Speaks to SAA
Posted on 4/14/20 8:23 PM
On November 13, 2018, the Student Accounting Association welcomed Pamela Spikner as its guest speaker. Spikner, a 1998 IUP alumnus with a Bachelor of Science degree in accounting, spoke before a group of 82 accounting majors. Spikner was a student in Kim Anderson's auditing course during the spring 1998 semester.
Anderson, who serves as the SAA faculty advisor, invited Spikner to campus to speak to both the SAA and to the freshman honors section of Accounting Principles I. "Pam was an outstanding student when I had her in class, and I was thrilled when she agreed to travel to campus from Chicago to speak to the members of the SAA. It is so motivating and inspirational for current students to hear about the career experiences of former students," Anderson said.
Spikner is currently the director of corporate accounting at Exelon Corporation, headquartered in Chicago, Illinois. Exelon is a Fortune 100 energy company with the largest number of utility customers in the United States. Exelon does business in 48 states, the District of Columbia, and Canada, and had 2017 revenue of $33.5 billion. Prior to joining Exelon in 2012, Pamela worked for the Big 4 firm, PwC, for more than seven years, Protiviti (a consulting firm) for two years, and PECO Energy for five years.
Spikner was working in public accounting for PwC when Sarbanes Oxley (SOX) was enacted in 2002, which ultimately drove her decision to leave public accounting in 2005. She described how the SOX requirements, which were created as a direct result of the 2000 Enron scandal, were difficult for those in audit to adjust to. Prior to SOX, companies tended to view their auditors more as advocates who were there to help them. After SOX, due to stricter independence requirements, the auditor-client relationship was more adversarial.
Spikner commented that, before SOX, making partner in a public accounting firm was an exciting time where your workload was reduced; but, after the SOX legislation, partners worked even harder to avoid potential lawsuits. She did emphasize that public accounting gave her many great skills, and she hires many of her current employees directly from public accounting due to the fantastic training they receive there.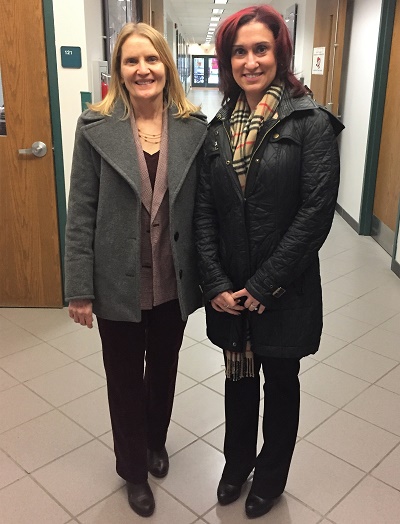 Kim Anderson, SAA faculty advisor, invited her former student, Pamela Spikner '98, to speak to the SAA. Spikner is the director of corporate accounting at Exelon, a Fortune 100 energy company headquartered in Chicago.
Spikner also discussed the opportunities that Exelon has for college graduates. Exelon has a Leadership Development Program, where a college graduate dedicates three years to a rotational program as an associate. In this role, the associate will be placed in a financial planning and analysis, controller, treasury, internal audit/financial controls, or tax role. These opportunities are primarily in Illinois, Maryland, Delaware, and Pennsylvania, and the company will help cover the housing costs in whichever area the associate is located for the year.
The next SAA meeting will be held on Thursday, November 29, at 5:00 p.m. in the Eberly Auditorium and will feature accounting professionals from S.R. Snodgrass. The Snodgrass professionals will include Lenore Seifer, director of personal development; Anthony Kuta, senior tax associate, and Justin Palaschak, external audit associate. Kuta and Palaschak are both IUP alumni.
S.R. Snodgrass has an office in Pittsburgh and provides a wide variety of services, including auditing and assurance, internal audit and regulatory compliance outsourcing, information technology, consulting, enterprise risk management, and tax management. Make sure to join us for this meeting.