Senior Kumetis Selected for 2020 Women's Leadership Award
Posted on 4/29/20 8:12 PM
The Eberly College of Business and Information Technology participated as a sponsor for the IUP President's Commission on the Status of Women and Women's and Gender Studies program this year to recognize women for their outstanding leadership, service, academic excellence, and community contributions on and off campus.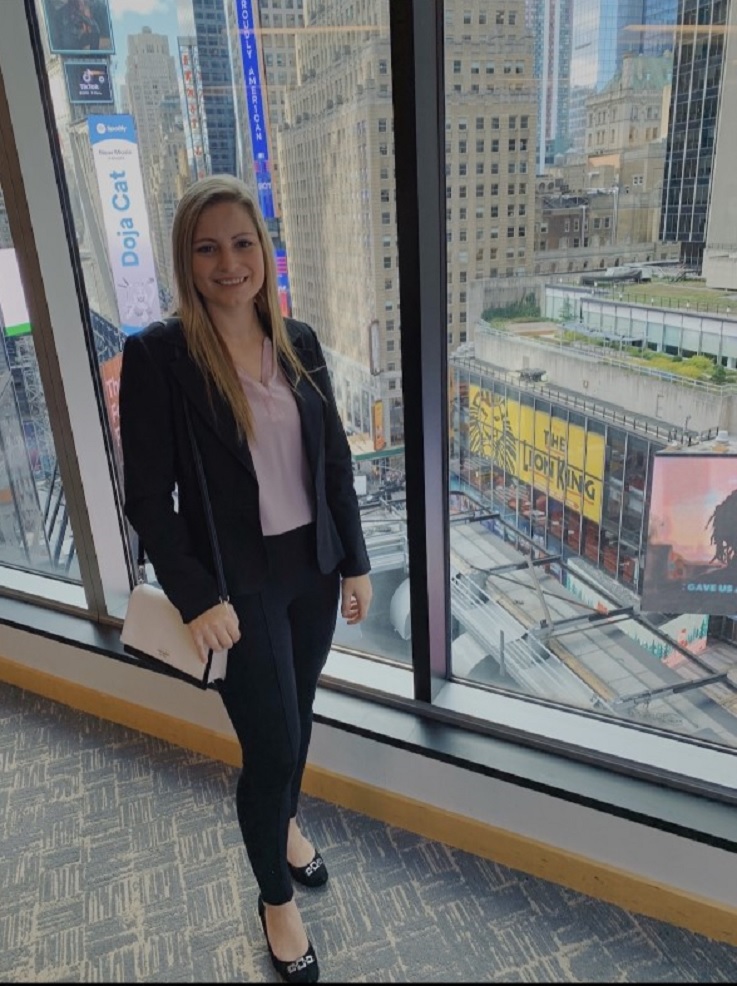 This year's winner from the business school was Kelly Kumetis, a senior accounting major. Kelly is from Reynoldsville, Pennsylvania, a small town approximately 45 minutes north of Indiana. She originally heard about IUP from other graduates in her area. She knew that she wanted to pursue a degree in business, and originally declared international business as her major. After taking multiple introduction classes and talking to other professors, she decided to change her major to accounting. After three years, she decided that a dual baccalaureate in finance would be useful going forward in her career.
While at IUP, Kelly has participated in numerous study-abroad programs. The summer after freshman year, she hiked El Camino de Santiago, a pilgrimage across Northern Spain, through the Cook Honors College. During her junior year, she took part in both the Discover India and the Discover Norway programs.
"I originally declared international business as my major because I wanted to travel and study abroad," said Kelly. "After being at IUP, I realized that I could major in a field that interests me more and travel at the same time. The global outreach of IUP and Eberly is amazing. I would encourage everyone to get outside of their comfort zone and experience a different culture if they can. It can truly change your life.
"I have learned so much during my time in Eberly. My professors, classmates, and faculty members taught me so many things both in and out of the classroom that I will carry with me long after I graduate."
One of the main things Kelly focused on within Eberly was student involvement. Throughout her four years, she was involved in PGN, Student Managed Investment Portfolio, COBSAC, and Eberly Strategic Planning Council, and she was the 2018 field trip chair and the 2019 senior vice president of the Student Accounting Association. "Being involved in student organizations allowed me to work side by side with other students to further our education and experiences outside of the classroom."
After graduation, Kelly will start full time with Ernst & Young in their Pittsburgh office.
"IUP has given me all of the tools that I need to succeed after graduation," said Kelly. "I can go into the workforce knowing that my time in Eberly and my education have fully prepared me for the workforce. I am incredibly grateful for all of the opportunities that I have had during my time at IUP." 
Cyndy Strittmatter, coordinator for the Eberly Women's Leadership Program, was happy to partner with the IUP President's Commission on the Status of Women and Women's and Gender Studies. "We have been looking for ways for Eberly's Women's Leadership Program to partner with women's programs across campus and were pleased to be a sponsor of this year's leadership award program. It was wonderful to work with my colleagues across campus and appreciate their work toward examining and promoting the status of women.
"I am pleased that Kelly was the first recipient of this award and look forward to having her as one of our alumni," said Strittmatter. "She has been an exceptional student and leader. I was also pleased to see that we had 19 applicants for this award from other outstanding business students who have been leaders, excelled in the classroom, and made significant contributions to the success of Eberly and IUP."
Candidates for the award included:
Vanellsa Acha (Marketing/ISDS), Kaitlin Albright (Accounting/Economics), Kate Cochran (Finance), Hannah Colen (Marketing), Sarah Crownover (Accounting), Lamia Dawood (MBA), Emily Kostelnik (Marketing), Alexandra Lazarchik (Marketing), Justina Mascaro (Finance/Economics), Tyra McGarvie (Marketing), April Murdick (Accounting), Sheyla Paez (International Business), Amber Pferdekamper (Human Resource Management/Sociology), Rebecca Shellenbarger (Finance), and Cara Sweeney (Management/Human Resource Management).