Accounting Alumna Rosenfeld - Guest Speaker
On May 2, the IUP Student Accounting Association set another attendance record of 187 at its annual Recognition Dinner held at the Rustic Lodge. The guest speaker was IUP accounting alumna Lindsay Rosenfeld '00.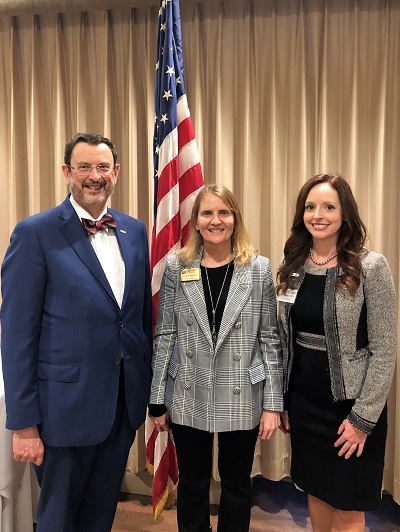 On May 2, 2019, the IUP Student Accounting Association set another attendance record of 187 at its annual Recognition Dinner held at the Rustic Lodge in Indiana, Pennsylvania. The guest speaker was IUP accounting alumna Lindsay Rosenfeld '00, audit and assurance managing director with Deloitte in their Detroit, Michigan, office.
The dinner was organized by Kim Anderson, faculty advisor of the SAA; Kelly Kumetis, the SAA senior vice president; and Emily Sayler, the SAA recognition dinner chair.
The 187 people in attendance included 74 accounting professionals (most of whom were IUP accounting alumni) from 33 companies, 87 accounting majors, five high school students, and 21 faculty and administrators.
Among those in attendance were accounting professionals from all of the Big 4 accounting firms, 13 other national, regional, and local public accounting firms, four financial institutions, two insurance companies, two government agencies, and three manufacturing companies. The professionals included a wide range of experience levels.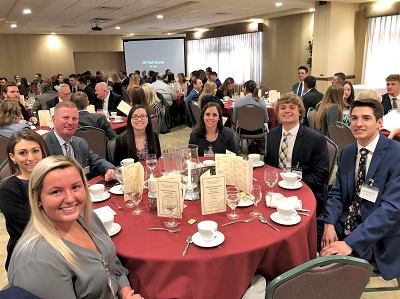 Students and professionals were seated together at each table, from left to right: Shelby Lowery, freshman; Lisa Fletcher '17, assurance associate, PwC; Richard Wisnewski '94, deputy director-SOX, BNY Mellon; Kaitlin Albright, SAA vice president; Dara Rosenfeld '04, audit manager, US Army Audit Agency; Bobby Kanick, SAA mentoring chair; and Jeremy Zernick, sophomore.
There were several CEOs, CFOs, senior vice presidents, partners, and managing directors with 20 or more years of experience on one end of the extreme and entry-level associates and accountants with one to two years of experience on the other end, with several managers and vice presidents in between.
The evening began at 5:00 p.m. with a one-hour mingling session which provided students with the opportunity to network with professionals. Next, Kumetis welcomed everyone, then introduced IUP President Michael Driscoll, who made opening remarks, followed by a buffet-style dinner. After dessert was served, Sayler introduced the guest speaker, Rosenfeld.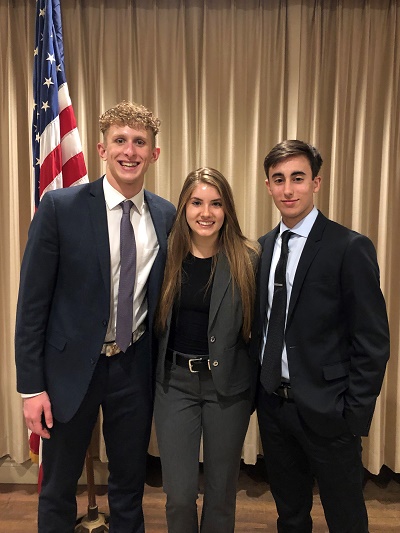 Rosenfeld earned her Bachelor of Science degree from IUP in 2000 with a major in accounting. She served as the 1999 SAA president, and she is the 2011 Eberly College of Business Young Alumni Achievement Award recipient. She began her career in public accounting in Pittsburgh. After being promoted to manager, she completed a three-year international assignment in Italy. In 2008, she moved to Detroit, Michigan, where she is currently an audit and assurance managing director at Deloitte. Rosenfeld's experience is primarily in the automotive industry, and she serves large public and private multinational clients based in the United States and abroad.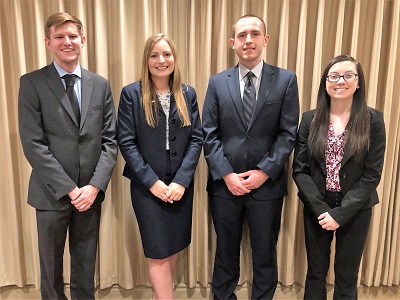 Rosenfeld's speech focused on the grueling 91-day, coast-to-coast bike trip through 10 states that she made soon after she graduated from IUP. Using photos of her journey, that began with 16 bikers and ended with 10, she related how her experiences biking across the United States taught her many life lessons that have stayed with her.
She learned that without others, including many strangers, initiating acts of kindness towards her, she would not have been able to complete the trip. She learned that asking for help is not a sign of weakness. At a particularly low point during her journey, a cattle rancher told her to do what he did when things got tough: "cowboy up" and keep going, which taught her the value of perseverance in the face of adversity.
After Rosenfeld's speech, Jordan Schofield, the SAA vice president of finance, recognized the faculty and administrators in attendance at the dinner. Next, Anderson recognized the 12 current and former SAA presidents in attendance, going all the way back to the 1994 president.
Anderson also recognized the following accounting students: Anthony Maticic, PICPA Outstanding Senior Award; Matthew Miller and Katherine Williams, Highest Graduating Senior Award, and the newly established National Association of Black Accountants officers in attendance: Atiyah Gardner (president), Tyra Thompson (vice president), Lisa DeJesus (treasurer), Daniece Wade (next year's president), and K'mari Fitzpatrick (next year's treasurer). Anderson also recognized the Cook Honors College and Business Honors Program students in attendance.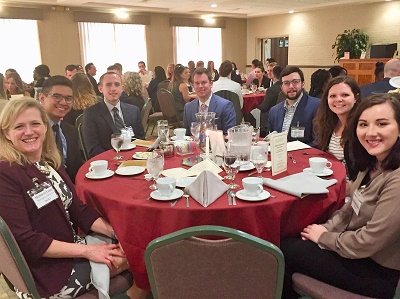 Kaitlin Albright, the SAA vice president, recognized the SAA members who had earned seven or more membership points as well as the 2018 and 2019 SAA officers and chairs. Kumetis recognized each professional and the company that they represented.
The evening concluded with the SAA president, Matthew DeCesare, making closing remarks, including a save-the-date reminder for the SAA's annual Accounting Career Day which will be held on Wednesday, September 18, 2019, at the Rustic Lodge. Accounting Career Day is a large career fair held every September for accounting majors. The 2018 Accounting Career Day included over 78 employers from 38 companies.