On November 29, 2018, the public accounting firm SR Snodgrass visited the Student Accounting Association to share information about their firm and provide interviewing and networking tips to current accounting students. Snodgrass's representatives included Lenore Seifer, director of personal development; Anthony Kuta, senior tax associate, and Justin Palaschak, external audit associate. Kuta and Palaschak both graduated from IUP with majors in accounting, with Kuta graduating in 2014 and Palaschak graduating in 2017. SR Snodgrass provides auditing, tax, and consulting services to 60 percent of banks in Pennsylvania.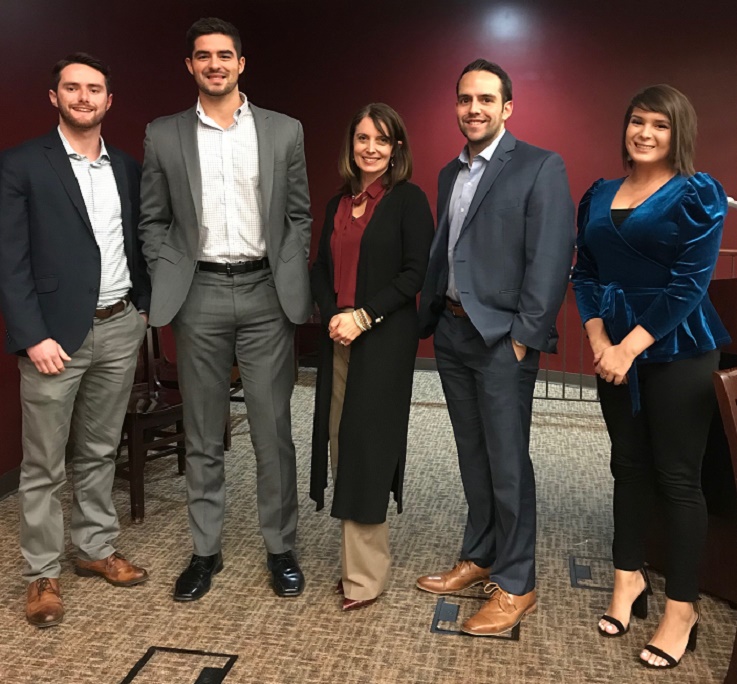 Seifer, Kuta, and Palaschak began the meeting by explaining the structure of their firm, services they provide, and clients they serve. Snodgrass, with offices in Pittsburgh and King of Prussia (near Philadelphia), employs about 80 professionals with expertise in the banking industry. The representatives from Snodgrass came with the goal of helping IUP students in the interviewing and networking process before graduation.
Kuta, who oftentimes interviews prospective employees for Snodgrass, detailed characteristics that he thought were key in the interview process. Kuta explained that when he conducts an interview, he focuses on the candidates' interpersonal skills, including their ability to make small talk. He iterated that firms are looking to hire individuals who will be a good fit with their firm's culture, and candidates must also make sure their true personality matches that of the firm. This pairing, Kuta maintained, is critical to success for both the firm and the employee. Seifer supported his assertions and offered additional tips about the interview process, including when to show up, how to speak on the phone, and how to maintain a professional image.
Palaschak, an external auditor, explained that he chose to work for Snodgrass because of their great culture and work/life balance. Palaschak interned for Snodgrass while attending IUP and received a full-time offer after the conclusion of his internship in 2017. Palaschak said that his time at IUP and involvement in the SAA helped build his confidence to succeed in public accounting. Seifer and Kuta also explained that Snodgrass's culture, their coworkers, and opportunities to be involved in the company were paramount to their continued employment with the firm.
The Student Accounting Association's next meeting will be December 5 at 5:30 p.m. in the Eberly Auditorium. The speaker will be the chief operating officer of One Planet, Chris Kashak, a 1997 IUP accounting alumnus. Please come out for the last meetinging of the semester!