On September 18, 2018, the IUP Eberly College of Business and Information Technology's Student Accounting Association, in collaboration with the IUP Career and Professional Development Center, held their annual SAA Career Day at the Rustic Lodge in Indiana, Pennsylvania. The event attracted a record number of organizations recruiting at the event—38 in total, which was one more than the previous record set in 2016.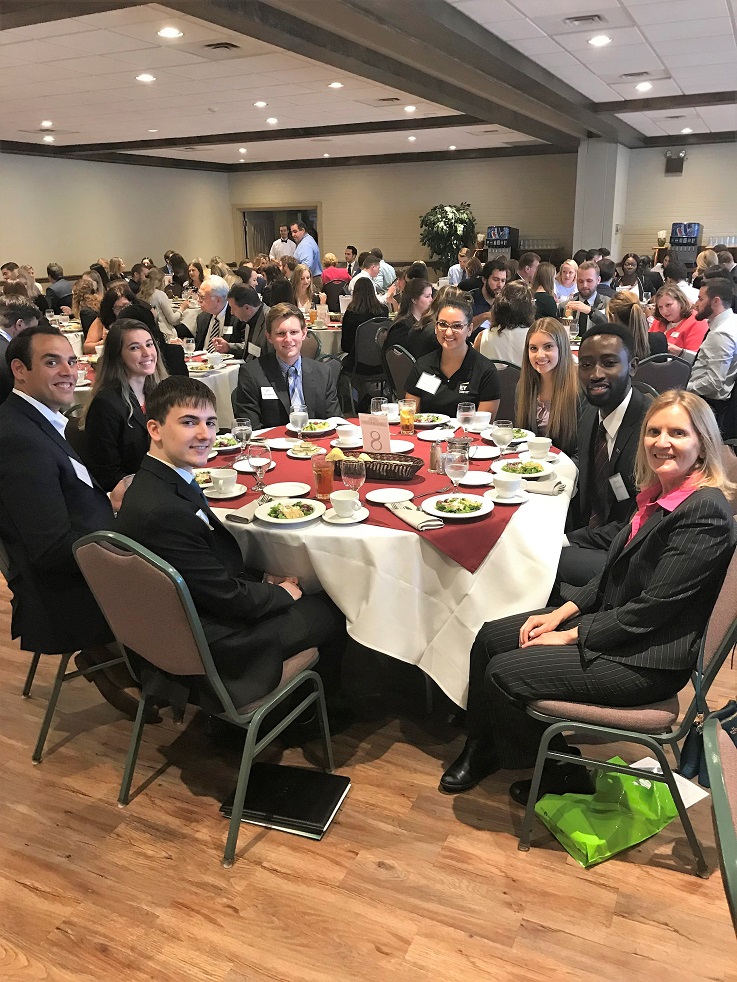 Career Day is a career fair geared toward accounting majors. Finance majors were also invited to attend.
This year's event attracted 78 professionals (most of whom were IUP accounting alumni) from 38 organizations who were interested in talking to accounting majors (and, in some cases, finance majors) about summer leadership programs, summer internships, permanent positions, graduate school, CPA exam review courses, and membership in professional accounting associations. A total of 123 IUP students took advantage of this opportunity to network with employers and to learn more about the accounting profession. In addition, 69 accounting students from surrounding universities participated.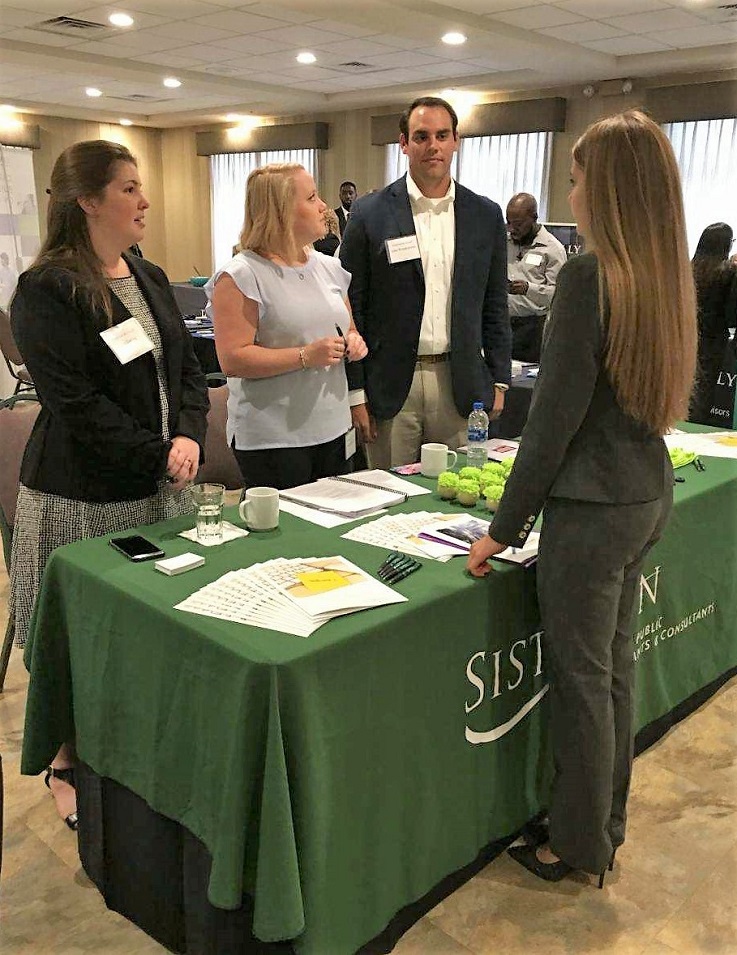 Companies represented included 17 public accounting firms, four banks, five government agencies, four graduate schools, two accounting professional associations, an executive search firm, two CPA review companies, and three health care companies.
First-time participant Eileen Peters, human capital manager with G-Squared Partners, was very impressed with the SAA Career Day. She said, "It was by far the best and most successful career fair I have attended so far this year! We will be back. I am looking forward to seeing many of your seniors again at our offices for interviews." G-Squared Partners provides part-time CFO services and financial and strategic consulting to venture backed and emerging growth companies in the greater Philadelphia Area.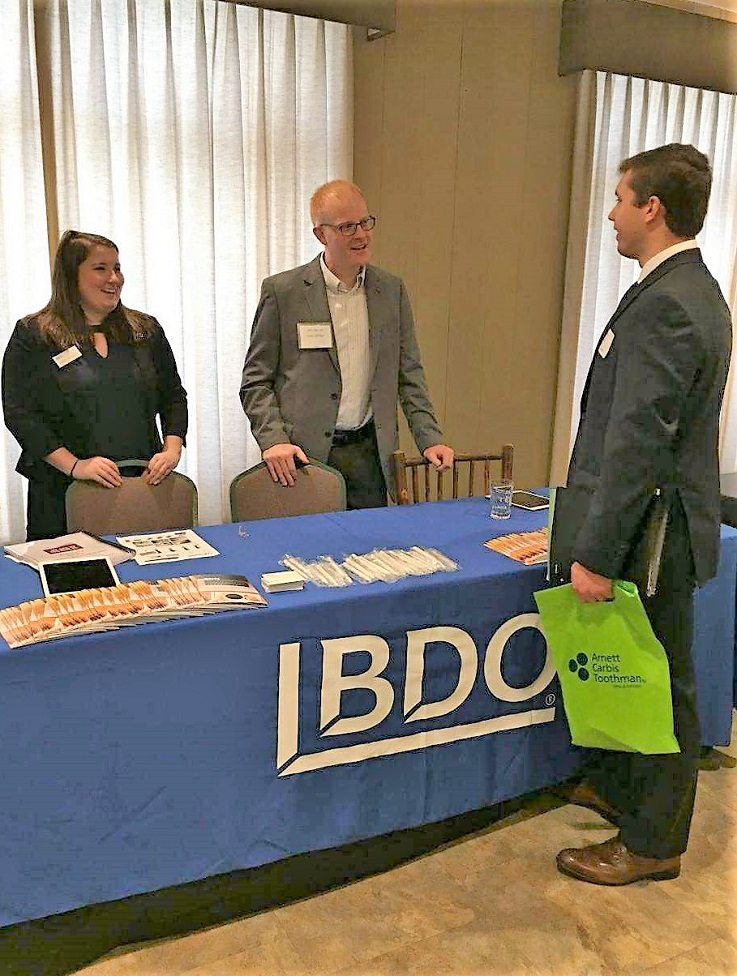 The SAA's Career Day is organized into three segments: a two-hour morning session open only to IUP students, a 90-minute buffet-style lunch, and a two-hour afternoon session open to both IUP students and accounting students from surrounding universities.
The SAA prepared a resume book for the recruiters which included over 90 IUP accounting majors' resumes. Accounting and safety sciences are the only majors on campus that host their own career fair every year.
In addition to the 78 professionals, 65 accounting majors and 18 IUP faculty and administrators attended the lunch held at the Rustic Lodge. Each student was seated at a table with three to five accounting professionals.
Jordan Schofield, SAA Career Day co-chair, welcomed everyone before the buffet lunch. Following the lunch, SAA Career Day co-chair Kobi Eberly spoke about the SAA's mission and the importance of accounting majors being involved in the SAA. He also recognized the efforts of Jan Shellenbarger of IUP's Career and Professional Development Center, and Kim Anderson, the SAA faculty advisor, for their help in organizing the event. Shellenbarger and Anderson worked closely with the SAA vice president, Laria Moore, and the SAA Career Day co-chairs, Eberly and Schofield, to make this year's SAA Career Day one of the best ever.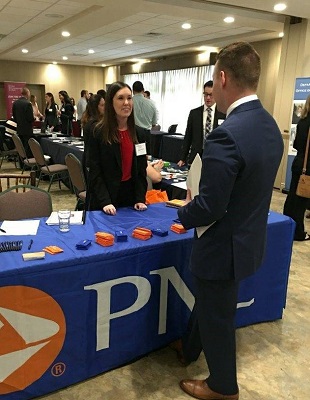 The lunch program continued with SAA field trip chair Kelly Kumetis, who thanked the IUP Accounting Department faculty and IUP administrators in attendance for their support. She introduced Robert Camp, dean of the Eberly College of Business and Information Technology. Camp thanked the group for their attendance and indicated how proud he was of the SAA, which he described as "the most active student organization on campus."
Next, SAA vice president Laria Moore introduced the keynote speaker, Jacob Breakstone, a 2015 IUP accounting alumnus. Breakstone graduated with a dual baccalaureate degree in accounting and finance. He was heavily involved in the SAA, serving as the 2012 resume book chair, the 2013 vice president, and the 2014 Recognition Dinner chair. He interned with BKD in their Pittsburgh office and joined them as an audit associate after he graduated. In November, he joined Sisterson & Company in Pittsburgh as an associate in their consulting practice.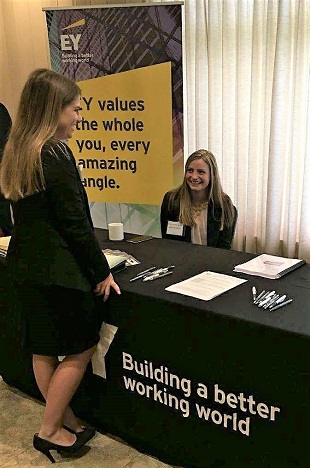 Breakstone spoke about how much the SAA helped shape his career. Without his involvement in the SAA, Breakstone did not believe that he would have gotten the networking experience he needed to land a job in public accounting. He emphasized how grateful he is for the connections he was able to forge while involved in the SAA and how important it is for students to take advantage of events like the career fair.
SAA president Anthony Maticic concluded the lunch by thanking everyone for participating in this important event for IUP accounting majors.