Student Accounting Association Hosts Alumna DeBenedetto
Micaela DeBenedetto spoke to the Student Accounting Association on March 25, 2018. Micaela is a 2016 accounting alumna who works as a corporate accountant for NRG Energy in New Jersey. During the meeting, Micaela used her recent experience of getting a job to give insights to current students on how to best prepare for applying for jobs.
Her first piece of advice is for students to have a good resume. Not only does this include having multiple people read it to look for errors, but also having many organizations and activities to talk about. Although grades are important, businesses are looking for students who get involved in other activities other than studying. She also advised students to network while they are at school by going to events like business day and the accounting dinner. Having a LinkedIn account is also an important tool to find jobs by networking.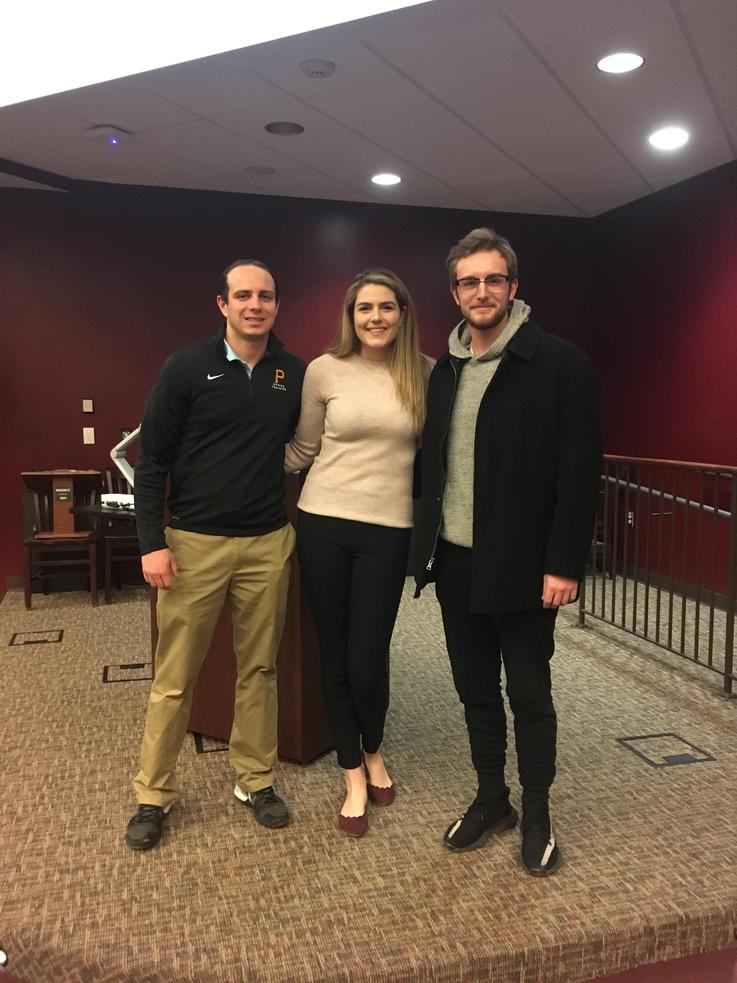 Photo: From left, Billy Miles, Micaela DeBendetto, and Seth Thomas
Once a student has an interview, it is important to be ready for technical questions. In one interview, Micaela was handed an invoice and asked what she would do with it. After looking over the document, she realized that this should be recorded as a prepaid transaction. She also had to answer other questions, including which financial statement would be the most important for an investor to make a decision of whether to invest in the company or not.
She also advised students to have questions ready for interviewers to show that the student researched the company, and to make sure that the job is something that they will enjoy, because being a good fit for the company is important for both parties involved.
When asked why she did not go into public accounting, Micaela answered that she was not positive that accounting was what she wanted to do in the long run, so she was looking for a job that could be flexible with what she was doing. And now she really loves her job.
Pat Connell from Deloitte will give a presentation on Thursday, April 12, at 6:00 p.m. in the Eberly Auditorium. Pat is an audit senior at Deloitte and a 2014 IUP accounting alumnus in addition to receiving an MBA from IUP in 2015.
According to Deloitte's website, "The subsidiaries of Deloitte LLP provide industry-leading audit and assurance, consulting, tax, and risk and financial advisory services to many of the world's most admired brands, including more than 85 percent of the Fortune 500 and more than 6,000 private and middle market companies."
Be sure to join the SAA at this event!