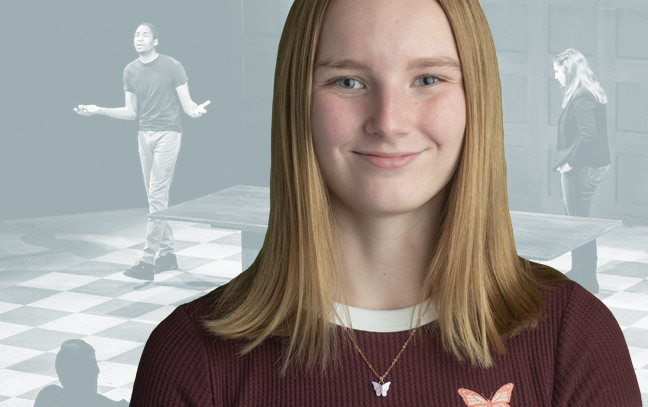 Learn Theatre Skills for Practical Uses
What Is the Applied Theatre and Performance Program?
Apply your art to the world, every day. In today's job market, there is an increased need for soft skills in communication, cultural competency, creativity, and adaptability. This program will teach you practical skills through applied theatre methodology—which is a unique subset of theatrical and performance training.
Why Should You Get This Certificate?
Through its interdisciplinary approach, this program complements any field of study. It's easy to add to your existing major since many of its courses satisfy general education requirements. It also enhances theatre study for theatre majors.
What Will You Learn?
In this program, you will learn about the methods and practice of creating and applying performance beyond plays and musicals. You'll build a diverse knowledge base by developing the four core skills of creativity, collaboration, communication, and community building. You'll also develop hands-on skills central to most job fields. You will also learn about Standardized and Simulated Patient performance, Theatre of the Oppressed performance, and diversity, equity, and inclusion in the arts.
Imagine Your Future
Applied theatre practitioners work in a variety of fields. This flexible training prepares students for several pathways:
Education: Work as a teaching artist, theatre educator, or youth theatre director.
Socially engaged artistry: Become a performance artist, community arts facilitator, or drama therapist.
Administration: Develop skills useful to you as a community or cultural engagement specialist, outreach coordinator, or public relations director.
Health-care simulation: Prepare to work as a Standardized Patient (SP), Simulated Participant actor, or simulation technician.
Many related career paths call for the skills and abilities you develop in the Applied Theatre and Performance program:
Being flexible and thinking on your feet
Listening actively and responding to feedback
Communicating clearly with patients and clients
Meeting deadlines
Doing research and giving presentations
Leading and facilitating
Innovative thinking and creative problem solving
Career Opportunities in Applied Theatre and Performance
This certificate could be useful in a variety of career paths:
Psychologist, clinical counselor, guidance counselor, or nurse
Arts administrator, grant writer, producer, or theatre or business manager
Talent agent, tourism director, recruiter, negotiator, or mediator
Publicist, special events coordinator, broadcast journalist, or foreign correspondent
Classes and Requirements
The program's classes introduce a methodology for creating and applying performance in places other than the stage. The classes are designed to complement any field of study. They can be completed in any order, and they require no previous experience.
Full Academic Catalog Listing
The course catalog is the official reference for all our degree and course offerings. Check it out for a full listing of the classes available and requirements for this degree.
Simulation Performance and Applied Theatre Ensemble (SPATE)
Build and apply theatrical skills outside the classroom through games, exercises, and more. In weekly rehearsals, this small-group ensemble introduces training in improvisation, simulation performance, social justice theatre, and devising for the community while allowing students to create characters and learn skills in research for performance. Requiring no previous experience, the ensemble offers performance and technical opportunities for every student and fulfills the practicum experience for theatre majors and minors.
Students are eligible to join the ensemble after completing THTR 261 or with special permission from the program director.
Campus Collaborations
Students in the Applied Theatre and Performance Certificate program have performed simulations with areas including Nursing and Allied Health Professions, Speech-Language Pathology, Food and Nutrition, Psychology, Criminology, Hospitality Management, Education, and Business.
They have also partnered with the Office of Social Equity and Title IX, Difficult Dialogues Project, Women's and Gender Studies Minor, Green Dot Bystander Intervention Program, Safe Zone, Center for Multicultural Student Leadership and Engagement, Office of LGBTQIA+ Support, Racial Justice Coalition for Change, and diversity peer educators.
Internships and Job Placement
The applied theatre and performance field has many opportunities that offer a range of learning experiences outside of IUP.
Our students have had rewarding experiences in professional settings, including Pedagogy & Theatre of the Oppressed (international), Theatre of the Oppressed Pittsburgh, Pittsburgh Playback Theatre, Saltworks Theatre Company, City Theatre Company, Footlight Players youth theatre, Pittsburgh Cultural Trust, Walnut Street Theatre in Philadelphia, University of Pittsburgh School of Medicine simulation center, Glenville State University Residence Life, Center for Applied Drama and Autism, and Jumping Jack Theater.
Performance Spaces
Theatre simulation lab (Waller Hall, Room 202)
Forum performance (Waller Hall Mainstage)
Performance in the community (variety of campus locations, such as the Center for Multicultural Student Leadership and Engagement in Elkin Hall)
Nursing simulation lab
Creative Research
During the summer, students have the opportunity to complete the U-SOAR (Undergraduate Summer Opportunities for Applying Research) program to engage in creative research projects in applied theatre. Funding is available to support student projects.
Students work with the program director to conceptualize an idea, creative question, or performance exploration they would like to pursue. Over the summer, they work to bring that project to life through one-on-one mentoring and university support.
Throughout the academic year, students also have the opportunity to complete their senior thesis project in the area of applied theatre.
Students are encouraged to think expansively, creatively, and imaginatively in their projects as they learn the research skills to execute them. Building skills in project management is essential for any career field and is just one of the many valuable skills this certificate adds.
In applied theatre, research takes many forms:
Traditional research
Archival/historical research, poster presentation, written paper, data analysis
Performance/creative research
Scriptwriting, workshop facilitation, creation of a youth class, social justice art performance, devised performance
Examples of past projects
"Applied Theatre Development of Workshop for Youth Detention Centers," Olivéa Norris (U-SOAR, Summer 2019)

In this project, the student devised an original applied theatre workshop that utilized the skills she learned in the program—active listening, improvisation, cultural communication.


"Nuclear Warfare and Its Effects: Nuclear—The Musical," Madeleine Jones (U-SOAR, Summer 2018)

This project is a more traditional approach that utilizes playwriting but incorporates applied theatre skills through cultural competency and diversity, equity, and inclusion.


"The Use of Simulated Patients in the Criminological Field and the Effectiveness of Communication Training," Hannah Brennan (U-SOAR, Summer 2018)

As a criminology major, Hannah wanted to utilize her applied theatre skills to enhance simulation training for cadets. She created a new training guide she implemented through a partnership with the police academy over the summer.


"DEI Community-Based Theatre, Senior Thesis Project," Nina Minnelli (Senior Thesis, Spring 2021)

This project focused on working with Pittsburgh populations with housing insecurity to share storytelling and build a performance that was presented to the public. The student worked with a regional theatre organization, TO Pittsburgh, over the course of a year.


"Nursing Simulation with Stroke Patients, Senior Thesis Project," Cole Rygalski (Senior Thesis, Spring 2021)

Building a partnership with the IUP nursing department, the student crafted this simulation, trained actors to deliver this simulation for nursing students, and performed in the simulation.


"The Need for Facilitation in Social Justice Theater," Sydnee Elder (Senior Thesis, 2016-17)

The student explored the history of applied theatre facilitation forms and the methodology utilized across genres. Using this research, Sydnee created her own workshop to apply original facilitation to a devised workshop that she delivered to IUP students.