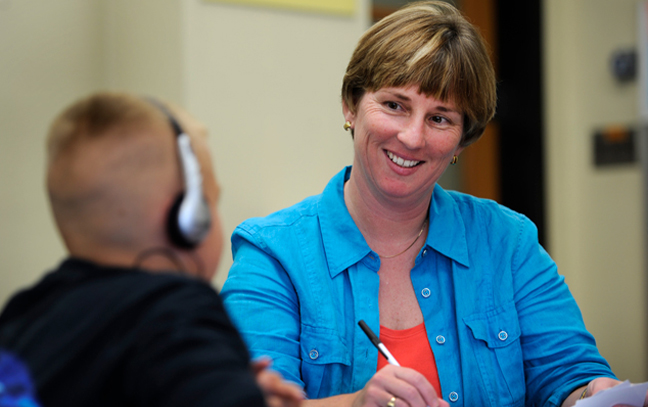 Transform Lives as a Speech-Language Pathologist
Great speech-language pathologists change their patients' lives. You'll learn to be a clinical problem solver and critical thinker in IUP's highly regarded Speech-Language Pathology BS program. Get the training you need to become a leader in this vital field—you'll support others to be healthier and happier.
Why Major in Speech-Language Pathology?
As a trained speech-language pathologist, you'll work to assess and treat speech, language, and swallowing disorders. Whether you're aiding a child in learning to speak or helping an adult re-learn how to eat their favorite food post-injury, you'll make a massive difference in the lives of those you treat.
Speech-language pathologists work in a wide range of settings to support patients from infancy all the way through adulthood:
Hospitals
Private clinics
Rehabilitation centers
Schools
Skilled nursing facilities
Graduates of the speech-language pathology program are competitive candidates for graduate school admission and leaders in their future careers. As a speech-language pathologist, you'll enjoy:
Work-life balance.
A rewarding career helping others.
Opportunities for career advancement and leadership.
Collaboration with fellow health care and education professionals.
Financial stability.
What You'll Learn
There's an art and a science to speech-language pathology. IUP's expert faculty will show you how to combine evidence-based services with your creative talents right from the start. You'll participate in a student-centered experience, with clinical skill development embedded into your coursework.
Build a solid foundational knowledge in areas that include human communication development and swallowing.
Learn to identify and treat a variety of speech, language, and swallowing disorders using immersive simulations and collaborative case-based investigations.
Get hands-on experience in our on-site undergraduate campus clinic.
Imagine Your Future
Your drive and passion to pursue a career in speech-language pathology will pay off in many substantial ways. The field is highly rated by those employed in it. Speech-language pathology is ranked:
There's a high demand for speech-language pathologists across the country.
More than 90 percent of IUP students who graduate from our Speech-Language Pathology BS program gain admission to graduate school to continue their studies.
Many students complete both their bachelor's and master's degrees at IUP. This makes for a smooth transition into graduate education and clinical training.
Career Opportunities in Speech-Language Pathology
Job opportunities in speech-language pathology are projected to grow 29 percent by 2030, across all work settings—a faster rate than the average for all occupations.
About half of IUP's speech-language pathology graduates enter jobs in adult health care settings and half enter jobs in pediatric education or clinical settings.
Speech-language pathologists are in high demand in:
Early intervention programs
For-profit and nonprofit agencies that offer speech-language services
Hospital inpatient and outpatient facilities, including neonatal, pediatric, and adult intensive care units
National and international businesses and corporations (often to address accent modification)
Private clinics and private practices
Public and private school systems, including preschool education
Rehabilitation centers, both pediatric and adult
Skilled nursing facilities and home health agencies
Classes and Requirements
In the speech-language pathology program, you'll take classes in the basic sciences, including:
Speech and Hearing Science
Anatomy and Physiology
Neuroscience
You'll start to lay a clinical foundation in classes that include:
Intro to Communication Disorders
Language Development
Professional Practices
Phonetics and Language
You'll study clinical disorders in advanced courses on:
Audiology and aural rehabilitation
Autism
Articulation and language disorders
Swallowing, voice, and fluency (organic) disorders
And you will select from a range of optional courses such as Sign Language, Intro to Deaf and Hard of Hearing, Behavior Management, Adult Development and Aging, Food and Nutrition, and The Performance of Caring. 
You'll find your own clinical style through hands-on experiences, including guided clinical observations, participation in the Undergraduate Clinic, and completing the Passport to Cultural Competence. 
You can decide to take a few additional courses in order to stack credentials and graduate with a certificate in Big Ideas with Transformative Texts and a certificate in Cultural Competencies. All of this means you obtain multiple skill sets and build your résumé.
Full Academic Catalog Listing
The course catalog is the official reference for all our degree and course offerings. Check it out for a full listing of the classes available and requirements for this degree.
Minors and certificates that are a good fit with this program:
Special Education
Deaf Studies
Big Ideas: Transformative Culture and Professions
Child and Adult Advocacy
Community Health
Cultural Anthropology
Educational Psychology
English
Human Development and Family Sciences
Intercultural Education Certificate
Teamwork and Leadership
Psychology
Sociology
Any language or cultural minor
Watch: "Speech-Language Pathology at IUP"
Hear directly from alumni and faculty about what sets our program apart.
Watch: "Cutting-Edge Training Facilities"
You'll gain hands-on experience right from the start in IUP's innovative hospital simulation lab. You'll treat mannequins and actors with increasingly complex cases as you build your knowledge—and your confidence—before entering a clinical setting.
18–25
Students enrolled in each cohort.
Scholarships
Most incoming students qualify for scholarships that are renewable each year.
90%+
of students who earn a bachelor's degree in speech-language pathology gain admission to an SLP or audiology graduate program.
Meet Our Faculty
IUP's speech-language pathology faculty has a diverse range of experience working in various settings with many different populations. We all share a commitment to student-centered education and teaching in new, innovative ways.
Courses to Prepare You for the Graduate Application
IUP's Speech-Language Pathology BS gives you the foundation to continue your studies. But if you already have a bachelor's degree in another field, you can still pursue speech-language pathology. You'll need the following prerequisite courses to be admitted into IUP's graduate program in speech-language pathology:
25 guided observation hours in the field, signed by a certified speech-language pathologist
Federal and state clearances
Undergraduate transcripts and course syllabi that represent:

Biology
Physics or chemistry
Statistics
Social and behavioral sciences, such as psychology, sociology, or anthropology
Speech and hearing science
Anatomy and physiology for speech and hearing
Language development
Phonetics
Audiology or aural rehabilitation
If you have a bachelor's degree in a field other than speech-language pathology or communication disorders, but you need the prerequisite coursework to prepare for admission to graduate school, you have options at IUP as a visiting/nondegree student. Learn more by calling 724-357-2573, or send us an email at visiting-student@iup.edu.
Student Organizations
Learning happens inside and outside the classroom. When you join IUP's active chapter of the National Student Speech-Language-Hearing Association, you'll have many chances to
Meet other speech-language pathology majors.
Deepen your professional knowledge.
Volunteer, fund-raise, and increase awareness for speech-language and swallowing disorders.
A Commitment to Diversity and Inclusion
The IUP speech-language pathology program affirms our commitment to creating an inclusive environment for all students. Students obtain a range of experiences so that they can enter the profession with increased awareness of cultural and linguistic diversity—and the understanding that cultural competency is a lifelong pursuit.
We do this by infusing a Passport to Culture into our courses, where you'll acquire a range of knowledge and cultural experiences to adapt patient care for factors such as socioeconomic status, age, culture, and languages spoken.