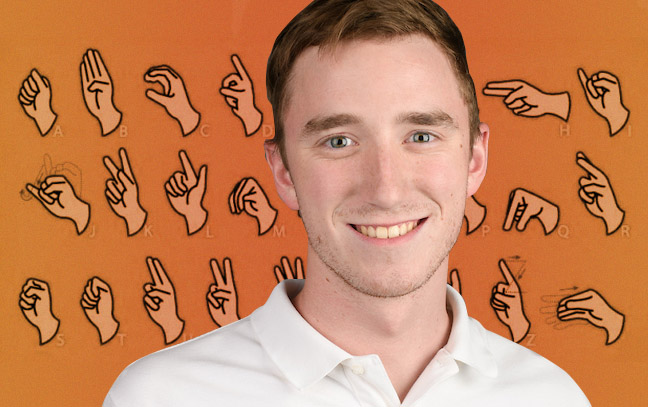 Learn about Communication, Challenges
In the Deaf Studies minor, you'll be introduced to the various modes of communication for people with hearing loss and people who are deaf. You'll learn about Deaf Culture, the challenges they experience, and ways to address those challenges.
Some of the areas you'll study:
Degrees of hearing loss
Self-advocacy and compensatory strategies
Emergency preparedness
Deaf culture
The promotion of deaf awareness
Imagine Your Future
A minor in deaf studies will introduce you to essential information about hearing loss and deaf culture. You'll gain a better understanding of the needs of people who are deaf and hard-of-hearing and develop basic sign language skills to help you communicate with individuals in the deaf community.
This minor would be of interest to anthropology, criminology, education, nursing, psychology, disability services, and sociology majors, or anyone who interacts with people who are deaf or hard of hearing.
Classes and Requirements
The minor is an 18-credit program with 15 required and three elective credits. Required credits include the core courses that are essential to understanding the language and culture of the deaf community. The elective credits allow the minor candidate to select a more focused area of concentration.
Students must maintain a cumulative GPA of at least 2.5 to enter and complete the minor. Except for two introductory courses, only students who have officially declared a Deaf Studies minor will be able to schedule the designated courses. The grade received in any American Sign Language course must be a C or better to complete the minor.
Full Academic Catalog Listing
The course catalog is the official reference for all our degree and course offerings. Check it out for a full listing of the classes available and requirements for this minor.
IUP Sign Language Club
The mission of the IUP Sign Language Club is to provide an inclusive setting where students of all levels of fluency in sign language—including American Sign Language, Pidgin Signed English, or Signing Exact English—can gather, express, and share their interest in sign language and deaf culture.
We aim to educate IUP students, staff, and faculty both about sign language and deaf culture. Our club is founded on two key elements: awareness and education.
IUP Sign Language Club on Facebook and Twitter
Learn More about the Sign Language Club