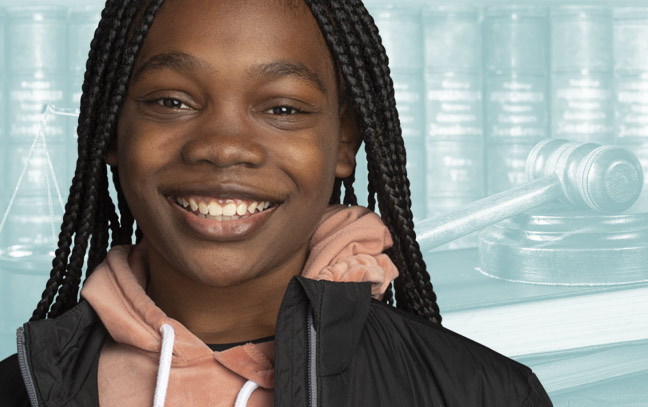 Get the skills and knowledge to excel in law school exams
The best lawyers possess excellent skills in writing and speaking and can analyze a problem and explain its solution in clear, logical terms. The pre-law interdisciplinary minor prepares students in these areas and provides the skills and knowledge needed to excel in the law school admissions examination.
This minor may be taken with any major other than those with a pre-law track. Although a pre-law minor is not required for law school admission, it will provide students with the prerequisite skills for law school.
This minor is an interdisciplinary program from seven academic departments, and it includes a variety of services and extracurricular activities designed to provide students with a liberal arts background. This helps prepare them for admission to law school, as well as entrance into a variety of law-related fields.
An advantage of this program is that, regardless of whether the student is accepted into law school, the student has completed a major in a substantive discipline.
You'll learn how to think critically and independently and view others with empathy; to apply critical thinking and analysis to understand messy, real-world problems; and to communicate complex ideas clearly, concisely, and accurately, in both verbal and written forms.
Imagine Your Future
Although there is no preferred undergraduate major for those who go to law school, the pre-law interdisciplinary minor helps develop the critical thinking and communications skills that are most important for success in law school and in a legal or law-related career.
According to the Bureau of Labor Statistics' Occupational Outlook Handbook, the median pay for lawyers is $126,930 per year, with an expected job-growth rate of 9 percent from 2020 to 2030.
Career opportunities in Pre-Law
Common legal and law-related careers for those with a pre-law minor:
Lawyer
Paralegal
Legal assistant
Mediator
Legal researcher
Law firm administrator
Court messenger
Law clerk
Classes and Requirements
The Pre-law Interdisciplinary Minor includes courses from seven departments across the university. The course options from each of the participating departments were selected because they provide either the skills or the background knowledge necessary for success in law school.
Full Academic Catalog Listing
The course catalog is the official reference for all our degree and course offerings. Check it out for a full listing of the classes available and requirements for this degree.
Internships
Start building professional networks while earning credits with an internship.
Although an internship is not required to complete a pre-law minor, it is strongly recommended. IUP students have completed internships in many types of law offices and law-related positions, including in district attorney and public defender offices, with private attorneys in large firms, in the offices of solo practitioners, and in the offices of in-house counsel for private corporations and public agencies.
You can earn three to 12 credits for an internship, depending on the number of hours worked. Up to six credits can be applied to the pre-law interdisciplinary minor. Credits beyond six count as free electives. All internships for the minor are coordinated and supervised by Sarah Wheeler, a faculty member in the Political Science Department.
For more information about internships in legal and law-related fields, contact Gwen Torges, pre-law program director, at torges@iup.edu; or Sarah Wheeler, coordinator of internships for the Political Science Department, at wheeler@iup.edu.