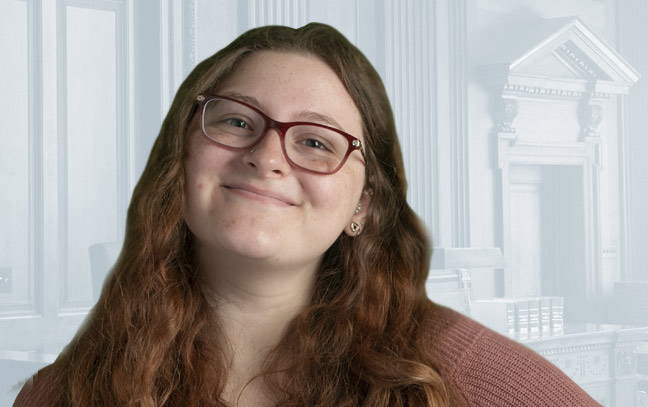 Study Political Science/Pre-law, and More Will Doors Open
Politics and public policy touch every aspect of our lives, and you're the type of person who wants to know how and why. You want to take an active part in the process. In fact, you think law school might be the path for you.
To start, enroll in IUP's Political Science BA degree program with a minor in pre-law. You'll develop a deeper understanding of the ways societies are organized and how you can effect change from within. When you minor in pre-law, you'll get insights and opportunities to make an impact within your community, the courtroom, and beyond.
IUP's Political Science/Pre-law Major Gets You Ready for Law School, Helps Build Your Résumé
Studying political science/pre-law is an exceptional choice among undergrad degrees for law school admission. You'll prepare for a wide array of career opportunities because it emphasizes three essential skills all employers seek:
Critical, independent thinking.
Empathy and appreciation for diverse world views.
Effective oral and written communications.
These are also the skills law schools require. Earning a BA in Political Science/Pre-law degree from IUP gives you a solid foundation for your educational goals. You'll gain the knowledge and tools you'll need to pursue your law degree with confidence.
What You'll Learn
The Political Science/Pre-law BA program consists of a political science major combined with an embedded pre-law track, along with a variety of services and extracurricular activities that will help you prepare for admission to—and success in—law school or a variety of law-related professions. Your academic journey will be challenging and rewarding, even if you don't intend to go to law school after graduation.
In the political science/pre-law degree program you'll study:
The processes of government—for example, how a bill becomes a law.
The institutions of government—executive, legislative, judicial, etc.
The behavior of the people in government—both elected officials and government workers.
How citizens interact with their government—asking questions like "Why don't more people vote?"
You'll dive into the underlying ways in which power, authority, rules, constitutions, and laws affect our lives. Like other social sciences, political science helps you to look deeper into human behavior, both individually and collectively.
Imagine Your Future
Completing the Political Science/Pre-law BA program at IUP proves you're willing to work hard, take on the tough tasks, and come away a more enlightened citizen because of those challenges. It shows you're prepared for almost anything your future brings.
Whether or not you choose to continue your studies in law school, your résumé will stand out. Graduate school admissions offices and future employers will know you've completed a major in a substantive discipline. The breadth and depth of this program make the pre-law minor an excellent choice among most other academic programs.
No matter which career or academic path you choose after graduation, the future holds exciting promise.
Similar Occupations
College instructors
Economists
Historians
Market research analysts
Sociologists
Survey researchers
Urban and regional planners
Career Opportunities in PLSCAH-PLAW, Political Science/Pre-law
Common careers among IUP's political science/pre-law alumni include:
Business or finance executive
Campaign manager
Communications/public relations professional
Government official
Journalist
Lawyer (requires a law degree)
Legislative assistant
Classes and Requirements
You'll work closely with your faculty advisor to get the insight and support you need to select the right courses and confidently complete your pre-law minor alongside your political science major.
Four required core courses provide you with the basic skills and background you need to succeed in all other courses offered by the Political Science Department. The other eight courses are political science courses, but there is a lot of flexibility for you to choose which ones are right for you.
Full Academic Catalog Listing
The course catalog is the official reference for all our degree and course offerings. Check it out for a full listing of the classes available and requirements for this degree.
4+1 and Early Admission Program: Start Your Public Affairs MA Ahead of the Rest
If you already know that a master in public affairs is your goal after graduation, our 4+1 and Early Admission Program may be right for you. You can complete your master's program one year earlier than most of your peers, saving time and money and getting you out into the workforce sooner.
About the MAPA
IUP's MA in Public Affairs is a practical degree that gives you the background and skills for a career as a public administrator at local, state, national, and international levels. It also can prepare you for management positions in private and nonprofit organizations. The Public Affairs MA program is multidisciplinary. It will help you hone key skills such as
Policy analysis
Administrative management
Budgeting
Public administration
Applications are accepted during the semester in which you earn your sixtieth credit (typically spring semester sophomore year). You'll need at least a 3.0 grade point average (GPA) and to have completed 15 credits in your major to apply.
Public Affairs, MA
Political Science Internships: Get Work Experience While Still in School
There's no better way to get a feel for your future than by taking on an internship. You'll get
Real-world experience
Course credit toward graduation
A leg-up in developing your professional network
The confidence to go further
Law school admissions offices look for internships as a key differentiator among their applicants. So, while an internship isn't required for you to complete a Political Science/Pre-law BA, an internship is strongly recommended for all the advantages you'll gain outside of the classroom. Plus, you can earn up to 12 credit hours for your hard work.
All political science internships are coordinated and supervised by Professor Sarah Wheeler (wheeler@iup.edu), a faculty member in the Political Science Department. For a detailed explanation of the internship program and the application process, as well as the application form, please refer to the two-part Internship Handbook for Political Science Majors.
Consider a Political Science Minor
Adding a political science minor will enhance the career opportunities for any major you choose.
A political science minor will give you a better understanding of the influence of public policy on careers in your field of study—and your future career. Political science emphasizes critical thinking and effective communications, so this minor will help you sharpen career skills that are in high demand among all professions. Plus, you'll gain a deeper appreciation for politics and policymaking, and become a more engaged, informed, and confident citizen.
Full Academic Catalog Listing
The course catalog is the official reference for all our degree and course offerings. Check it out for a full listing of the classes available and requirements for this degree.
We're Committed to Your Success
Political Science Department faculty advisors are deeply committed to your success during—and after—your time at IUP. Assisting you throughout your education is our priority. We're proud of your success and will strive to always provide the academic advice that's best for you.
We promise:
Your academic advisor will be a faculty member of the Political Science Department.
You will have the same advisor throughout your time as a political science major.
Your faculty advisor will work closely with you every semester to guide you in selecting courses that match your goals and interests, as well as help you plan for your career, law school, or a different graduate degree program.
The Political Science Department Is Your "Home Away from Home"
Whether you're a long way from home or from just down the street, consider the Political Science Department your second home. We are passionate about creating a sense of community among our students and faculty and want you to always feel welcome. If you're majoring or minoring in political science, you're invited to come by and say hi, study, or chat with friends between classes. Feel comfortable to discuss courses or current events with our professors, too. We always enjoy the discourse.
Join Us for a Department Coffee Break
Finding a place that feels like home is so important while you're on campus. So, at least twice a month (and usually more often), we host Department Coffee Breaks with coffee and snacks. We hope you'll take these opportunities to get to know your fellow classmates and interact with our faculty outside of the classroom.