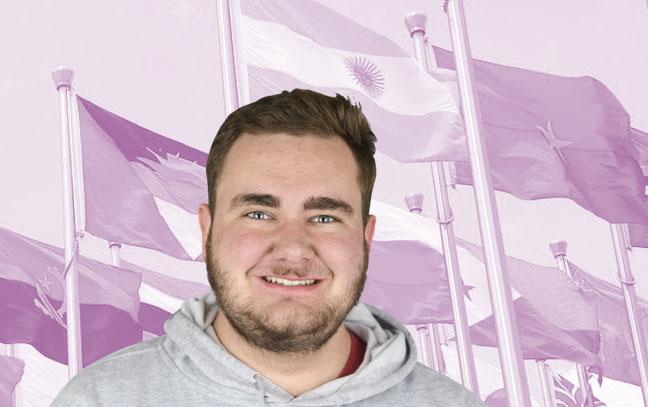 Think and Live Globally
You love learning how world governments and people interact with each other. IUP's bachelor of arts degree in International Studies will prepare you to put your global mindset to good use in your career and civic life.
The BA in International Studies major focuses on American and world politics. You'll learn how the US and other countries engage on the world stage and the often-complex reasons behind world events.
You'll graduate from IUP well-informed and ready to be an active citizen of the world.
Why Major in International Studies at IUP?
IUP's International Studies program teaches you about the social, political, and economic issues of our time. And you'll gain practical skills and knowledge that employers desire:
Appreciation of diverse worldviews
Critical thinking
Data analysis
Effective oral and written communication
As a BA in International Studies student, you'll be right at home in the Political Science Department. Your professors care about your success and provide you with all the resources you'll need. You'll be assigned an advisor who will guide you through your program and talk you through any questions you may have.
What You'll Learn
Your coursework in the BA of International Studies program helps you gain a strong understanding of political thought and practice.
You'll learn how to think and analyze critically what can often be messy problems faced by groups around the globe—and do it with empathy.
Imagine Your Future
With a degree from IUP, you could join a US or an international agency and work to better an interconnected world.
Opportunities to work in government or politics are plentiful, and so are jobs with private companies and nonprofits.
If you want to go to graduate school, you can continue your education in many ways:
Earn a JD from a law school
Earn a MA or PhD in political science
Earn a master's degree in public affairs
Get a graduate degree in international affairs or specialize in a region like Asian studies or Middle Eastern studies
Career Opportunities in International Relations
Common careers for those with a BA in International Studies include:
Advocacy
Business or finance executive
Campaign manager
Communications/public relations professional
Diplomat or foreign service official
Elected official
Government official
Lawyer
Legislative assistant
Political consultant
Political scientist
Policy analyst
Professor
Public opinion researcher or pollster
Researcher
Classes and Requirements
As part of your core curriculum in the BA in International Studies program, you'll take courses in theory and research. These courses, such as Contemporary Political Ideas and World Politics, will help you see the similarities and differences within political systems in countries throughout the globe.
After completing your core classes, you'll choose a specialization from one of these three areas:
International Political Economy
International Political Systems
International Security Studies
While you'll focus on one area, you'll have flexibility to line up your studies with your interests and career goals.
And to get the most out of our studies, consider foreign educational options such as a study abroad program. Your advisor can walk you through your options.
Full Academic Catalog Listing
The course catalog is the official reference for all our degree and course offerings. Check it out for a full listing of the classes available and requirements for this degree.
Earn Your Master's Degree of Public Affairs While an Undergraduate
If you are interested in getting your master's degree while saving time and money, you can get your MA in Public Affairs while you're an undergraduate.
The MA in Public Affairs program at IUP gives you the background and skills to work as a public administrator at the local, state, national, and international levels.
You'll graduate ready to manage at private and nonprofits as you learn skills like:
Administrative management
Budgeting
Policy analysis
Public administration.
If you have a 3.0 GPA or higher and earned at least 15 credits in your major, you can apply when you earn your 16th credit.
Once accepted, you can take graduate seminars that count toward your bachelor's and master's degrees.
Learn about the World by Studying Abroad
Employers want workers who are comfortable in diverse environments. If you want to see and experience the world, blend those together by studying abroad.
Earn credits toward your BA in International Studies while learning in another country and culture.
If you're interested, contact the Study Abroad office.
Add a Minor or a Second Major to Enhance Your Career Opportunities
While you're completing your BA in International Studies degree, you can pursue a minor, or even a second major, and still graduate in four years. Take advantage of the program's flexibility to build on your education at IUP—and leave even more prepared for what lies ahead.
Some majors choose to deepen their knowledge on a particular region of the world, pairing their BA in International Studies degree with minors in:
Asian Studies
Latin American Studies
Pan-African Studies
Others look to pair their interests in international politics with other fields of study, choosing minors such as:
Anthropology
Criminology
Economics
Sociology
International Studies Minor
No matter what you choose to do in your career, understanding world affairs and how we are all connected will benefit you.
With an international studies minor on your résumé, you'll make yourself more marketable to employers wanting globally minded talent.
Full Academic Catalog Listing
The course catalog is the official reference for all our degree and course offerings. Check it out for a full listing of the classes available and requirements for this degree.
Your Advisor Will Guide You to Success
When you start your BA in International Studies degree, you'll be assigned a faculty member who will be your academic advisor.
Your advisor will work with you to complete your bachelor's degree, as well as help you plan for your career or for graduate school. They are a great resource and are committed to your success.
Make Yourself at Home
College is all about community. You want to be in a place that makes you feel comfortable and valued.
In the Political Science Department, your professors want you to feel at home away from your home.
At least twice a month (and usually more than that), the department hosts coffee breaks. At the breaks, you get to know your professors and they can get to know you.
And, you're always welcome to hang out in the offices to study or chill out with your friends between classes.