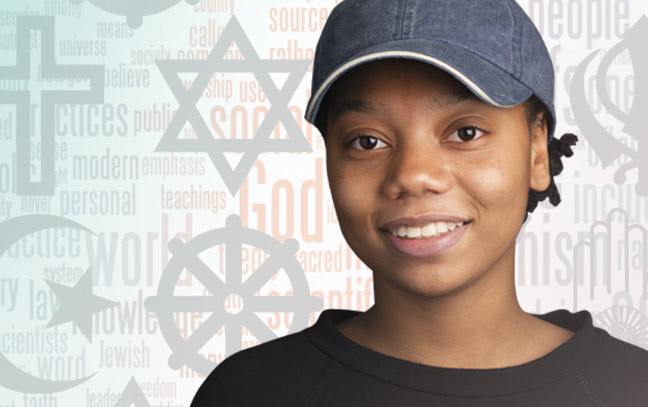 Understand the Phenomenon of Religion
The study of religion is not simply a stepping stone to seminary school or leadership in a mosque or temple – many aspects of modern life contain a component of religion. As a student of religion, you'll grow in understanding of different spiritual paths and bring perspective and critical thinking skills that are appreciated by organizations around the world.
The depth of religious studies make this major a great choice if you are considering a double major in areas such as anthropology, fine arts, history, philosophy, or international studies.
Why Religious Studies?
Virtually every nation has been influenced in some way by the phenomenon of religion, so a range of professions can benefit from your insights about the multicultural impact of religion.
As the internet and media expand our daily connection to global communities, it's important that we understand how and why religious cultures make decisions. Your grasp of these complex relationships will help businesses, governments, and universities navigate the future.
Why IUP?
Advisory excellence
Our faculty members understand the deep impact they can have on your life. They give generously of their time so that you can learn as much as possible.
Exclusive studies
IUP offers the only religious studies program in the Pennsylvania State System of Higher Education.
Practical emphasis
This program explores how religion plays out in daily life. By reaching beyond theories for practical applications of faith, you'll better understand how religion shapes societies, economies, and personal habits.
Imagine Your Future
During IUP's Religious Studies BA Program, you'll learn via nonsectarian, cross-cultural methods, and you'll be well-equipped to navigate many situations:
Draw fresh perspectives from international events that may benefit a wide range of businesses and institutions.
Intertwine another major with the core values of your religious studies degree.
Learn to use your knowledge about Western, Eastern, and indigenous religions to guide your professional and personal relationships for a more balanced and fulfilling life.
Prepare for post-graduate studies that launch your career in academia.
See the phenomenon of religion as a common denominator in the lives of diverse peoples.
Careers
With a BA in Religious Studies, employers from many arenas will draw on your knowledge and expertise. Career options include:
Social services
Counseling
Ministries
Government policymaking
Administrative and management positions
Library and information management
Event planning
Foreign service
Peace Corps
Marketing and management
Museums and the arts
Nonprofit or non-governmental organizations
Teaching
Seminarian
Path to Higher Degrees
Expand your job choices and increase your salary potential by completing graduate studies.
MA in Religious Studies
PhD in Religious Studies
Classes and Requirements
Given the Impact of Religious Power, Studying It Is Crucial
Because religion is believed to be the most powerful and widespread force in the world, the Religious Studies bachelor's degree program will help you understand the relationship between religion and politics, economics, and social structures.
Learn about the faiths, world views, and ways of life of people all over the world.
Receive a balanced, nonsectarian, cross-cultural perspective leading to a better understanding of the phenomenon of religion in human experience.
Develop critical thinking and analytical skills, public speaking, and cross-cultural communication.
Gain experience in factual description, comparative and critical analysis, and historical judgment.
Enhance your knowledge of cultural diversity and the complexity of diverse world views.
Prepare for professions as ministers, priests, rabbis, or careers in international relations and development, religious education, religious journalism, and religious broadcasting.
Strengthen your education by complementing a BA in Religious Studies to majors in such fields as anthropology, English, fine arts, history, international studies, music, philosophy, political science, psychology, and sociology.
We believe in real-world experience. That's why we recommend that all of our majors get internships. If you work hard, we will make sure you get an internship that challenges you.
Full Academic Catalog Listing
The course catalog is the official reference for all our degree and course offerings. Check it out for a full listing of the classes available and requirements for this degree.
Religious Studies Minor
A Religious Studies minor combines nicely with many other fields such as journalism and political science. It allows students pursuing a degree in another department the opportunity to enhance their studies with the cognitive learning skills, critical awareness of international cultures and traditions, and the excellent reading and writing skills many employers want.
To fulfill the requirements for a minor, students must complete 15 credit hours in Religious Studies, which include certain required courses.
Full Academic Catalog Listing
The course catalog is the official reference for all our degree and course offerings. Check it out for a full listing of the classes available and requirements for this degree.
Honors Program
The honors program is open by departmental invitation to declared Religious Studies majors with a minimum 3.25 cumulative GPA and a 3.5 GPA in Religious Studies courses.
Students complete RLST 480, RLST 483, RLST 493, and HNRC 499, which fulfills the Liberal Studies Synthesis requirement. To determine how honors track courses will be integrated into existing requirements for the Religious Studies major, students should consult their advisors.
To apply, students must petition the department honors committee for admission no earlier than the completion of their sophomore year. An application must be filed with the chairperson of the Department of Philosophy and Religious Studies and should include an application form, a letter of intent, a description of the work plan, a full transcript, and two letters of recommendation from faculty members.
Full Academic Catalog Listing
The course catalog is the official reference for all our degree and course offerings. Check it out for a full listing of the classes available and requirements for this degree.
Student Opportunities
The Religious Studies Club offers ample opportunities to socialize with other students in your major and contribute to group discussions. Come together to discuss religious topics, plan trips to sacred sites, attend academic religious functions and conferences, and enjoy a community atmosphere.
Some recent internship experiences have included helping to build a wheelchair ramp at a Navajo reservation, working at the Thomas Merton Center in Pittsburgh, which supports peace and justice initiatives, and teaching a mindfulness, yoga, and eating class.
This lecture series, set up in memory of a former Religious Studies student, brings guest lecturers to campus, such as Marilyn Johnson, an Ojibwe medicine woman who visited campus in 2013.
The R. Thomas Schaub Religious Studies Essay Contest was established in 2005 as a tribute to R. Thomas Schaub, professor emeritus in the Department of Philosophy and Religious Studies at IUP.
SACRED is a student organization that supplies a secular perspective to increase awareness of the role that religion plays in the arts, literature, politics, and other cultural and social areas.
Trips abroad can give you new perspectives on world religions and cultures.
Our Faculty
International Field Studies Reveal a Deep Commitment to Education
One member of the Religious Studies faculty spent two years living in a Buddhist monastery. Others have made frequent and extensive field trips to China and England to explore religious traditions. Presentations, research, and publishing credentials round out the collective credentials of this impressive group of educators.
Indispensable field experience demonstrates our professors' commitment to sharing the practical necessity of religious studies.
Continued exploration of the relationship between global religious traditions and education expand the horizons of your campus experience.
Data gathering and direct observation are skills included in the mentoring that professors bring to extracurricular guidance.
Deepen your ability to relate to others by working with faculty to understand the expansive nature of religious studies.