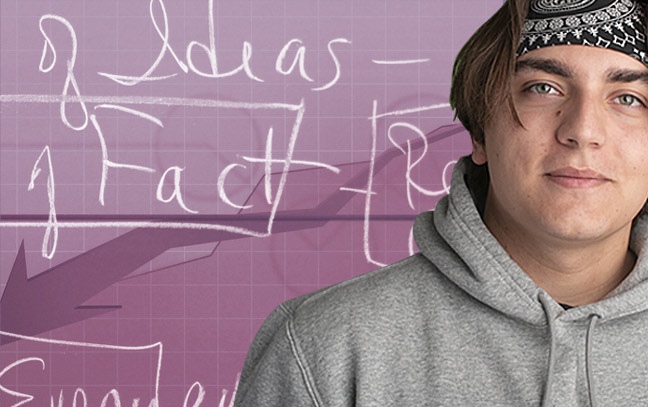 Develop Solutions to the Most Pressing Problems of Our Time
You want to be more than a bystander in this world—you want to be an active citizen and make positive changes.
To become an effective force for good, you need to start by understanding the social institutions and structures that shape our world. You'll get a strong start with IUP's Philosophy, Politics, and Economics BA.
Why Get a Philosophy, Politics, and Economics BA?
You'll expand the way you understand the world by studying the perspectives of these three disciplines:
Philosophy analyzes the moral costs and benefits of different economic and political systems.
Political science explains how political systems function and how those systems might be changed.
Economics models how economic systems operate and forecasts the effects of potential policy changes.
You'll be fascinated by this interdisciplinary program if you're interested in the impact of law, policy, business, and government on individuals, groups, and the broader world. It can prepare you for careers in law, government, public policy, public administration, the nonprofit sector, advocacy, or consulting.
What You'll Learn
If you're curious about a broad range of academic subjects that can help you make a difference in the world, IUP's PPE major is the right choice.
You'll search for real-world answers to society's most compelling questions, such as:
How should we weigh the risks and consequences of global climate change for future generations against the needs of current generations?
What is the optimal way to allocate scarce healthcare resources in situations where we do not have enough to save everyone?
What are the moral advantages and disadvantages of free markets?
After studying philosophy, political science, and economics, you'll be well prepared to confront some of the most critical issues of our time.
Imagine Your Future
Your BA in Philosophy, Politics, and Economics gives you options for a wide range of career paths in various industries, including:
Government
Policy analysis and advising for governmental organizations
Elected office at the local, state, and federal level
Domestic and civil service
Think Tanks
Qualitative and quantitative social policy research
Communications and public engagement
Public policy advocacy
Nonprofits
Grassroots social activism
Program management
Fundraising and development
Law
Civil rights law
Criminal law
International law
Business
Market research
Corporate sustainability
Management consulting
Your Degree in Philosophy, Politics, and Economics Can Take You Further
The program gets you ready for graduate work in philosophy, political science, and economics, as well as admission into law and business schools.
Sharpening your critical thinking, self-reflection, and writing skills throughout this degree program will give you the confidence to sit for standardized postgraduate admissions tests. Data show that philosophy majors do exceptionally well in standardized tests for graduate school (GRE), law school (LSAT), and business school (GMAT).
*These jobs require a master's, doctoral, or professional degree.
Business consultant
Communications coordinator
Community organizer
Development/fundraising officer
Economic research analyst
Foundation program officer
Grant writer
Lawyer*
Medical/clinical ethicist*
Nonprofit manager
Paralegal/legal assistant
Political analyst
Professor*
Public policy analyst
Social entrepreneur
Technical writer
Classes and Requirements
You'll take two core courses as you begin your journey in this flexible degree program. Then you'll choose additional courses in each of the three main subjects: philosophy, political science, and economics.
Choose What Interests You Most
You'll have space to explore philosophy, political science, and economics without the extra time and cost of multiple majors. Along with courses in these three areas, you'll have 35–44 credits of free electives you can use to specialize in one of the disciplines or add a minor or certificate in a different area of study.
Minors and Certificates to Consider
Minors
Global Health
Sustainability Studies
Cybersecurity
Homeland Security
Business
Applied Statistics
Regional Planning
Professional Teamwork and Leadership Studies
Certificates
Geospatial Intelligence Analysis
Cultural Competencies
Foreign Languages
A Distinctive Interdisciplinary Program
Philosophy, politics, and economics (PPE) as an interdisciplinary program of study began 100 years ago at the University of Oxford. It has earned a reputation for training students to become successful generalists who go on to change the world as
Politicians
Civil servants
Journalists
Writers
Social activists
While still relatively new in the US, PPE programs are now offered at a number of prominent universities and colleges. IUP's BA in Philosophy, Politics, and Economics program gives you the breadth of knowledge and critical thinking skills you'll need to:
Appreciate the full complexity of the issues we face today.
Develop novel solutions to the most pressing problems of our time.
IUP is proud to be one of only two schools in Pennsylvania's State System of Higher Education to offer PPE as a major.