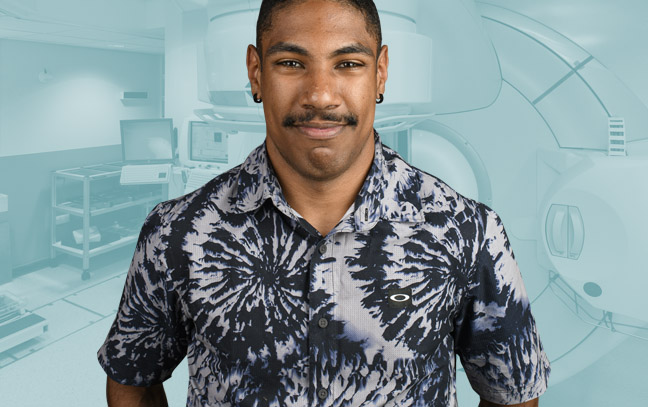 Enjoy a Thriving Career in Medical Technology
You've always liked mysteries. And you think medicine is interesting. Medical technologists are health care detectives who use sophisticated biomedical instruments to analyze blood, tissue, cells, and other body fluids to help solve medical mysteries.
With a BS in Medical Technology from IUP, you'll gain knowledge and skills—and use your curiosity—to provide data that is crucial in helping doctors provide accurate diagnoses and treatments for a wide variety of diseases.
Why Major in Medical Technology at IUP?
Your professors in IUP's medical technology program have extensive experience and proven success in preparing students for health care careers. By the time you receive your diploma, you will be ready to step into your career. You'll also be ready to meet the requirements and academic challenges of graduate and professional schools.
The bachelor's in medical technology program includes 120 credits across two phases of study.
Phase one is coursework on IUP's campus. These semesters cover 90 credits of preclinical coursework, including:
Biology
Chemistry
Math
Physics
Liberal Studies required courses
You must complete all phase one requirements before you can move on to your clinical study at an IUP-affiliated school of medical technology.
Phase two is your clinical experience at a school of medical technology. This includes 30 credits of instruction during the 12-month clinical year. You will attend classes and clinical rotations at one of the many affiliated schools of medical technology in Pennsylvania and New York.
Position yourself for success. We encourage you to earn at least a 2.8 GPA in our medical technology math and science courses. Your professors and advisor will work hard to support you, but IUP does not guarantee admission to any affiliated clinical program.
Imagine Your Future
You are pursuing a medical technology major at the perfect time. There is a critical shortage of medical technologists. When you graduate, your knowledge and skills will be in high demand.
In this career, you'll be part of a dynamic health care team. Medical technologists work closely with pathologists, doctors, and laboratory professionals who specialize in a wide range of biological sciences.
Your own laboratory testing expertise might include specialties such as:
Blood banking
Chemistry
Hematology
Immunology
Microbiology
Molecular biology
On a typical day, your tests might generate data that doctors will use to detect and treat:
Bacteria or viruses that cause infections
Cancer
Diabetes
Drug abuse
Heart attacks
Infectious mononucleosis
If you are like most medical technologists, you will work in a hospital laboratory. The American Society for Clinical Laboratory Science and the American Society for Clinical Pathology provide career path options; however, you might also find opportunities in:
Crime labs
Cosmetic industry
Food industry
Pharmaceutical companies
Alumni from IUP's medical technology program have accepted positions from a wide variety of employers, including:
American Red Cross
Precision Therapeutics
UPMC Altoona Regional Health System
A regional medical center, working as a generalist in all areas of the lab
A one-year internship with the Centers for Disease Control and Prevention
Medical Technology
Job placement for IUP students
100%
Classes and Requirements
As a medical technology major at IUP, you'll receive a solid understanding and proficiency in the analytical and diagnostic procedures used in clinical laboratories and in medical research. You will also gain skills in scientific problem-solving, interpersonal communication, critical thinking, and more.
The medical technology program is designed as a 3+1 curriculum:
Complete three years of study at IUP, taking required science, math, and liberal studies courses.
Complete one year of clinical experience at an IUP-approved affiliate school of medical technology.
Your coursework at IUP is designed to fully prepare you for the fourth and final year of your undergraduate degree program. When you successfully complete the clinical experience at the end of your senior year, you will then earn your BS in Medical Technology from IUP.
Major Requirements
This 120‐credit program is divided into preclinical and clinical study.
For the first three years, students study on the IUP main campus, where they commit to intense study in chemistry, biology, and physics. Following the first three academic years, students complete one calendar year of study in one of the many outstanding affiliate locations combining rigorous clinical practice and classroom instruction. Graduates are eligible to apply to take a certification examination offered by the Board of Certification of the American Society of Clinical Pathologists and are recognized as professional technologists by the designation of MLS (ASCP) after their names. Before starting the clinical year, students will need a complete physical examination, immunizations, and screenings as required by the affiliate hospital.
During the clinical year, students are required to maintain CPR certification, carry professional liability insurance, and wear uniforms/lab coats. A criminal background check and child abuse history check may be required prior to the clinical year or before sitting for the certification examination.
Full Academic Catalog Listing
The course catalog is the official reference for all our degree and course offerings. Check it out for a full listing of the classes available and requirements for this degree.
Learn More about the Medical Technology Field
You can begin to learn about the medical technology field even before you start an undergraduate degree.
In fact, IUP program directors, professors, and advisors encourage you to explore the profession as much as possible before enrolling. This research will help you decide what areas are most interesting to you, and help you prepare for your admission interview.
The best way to learn about medical technology is from people already working in the field. A few ways to connect with these professionals include:
Tour one or more hospital labs: Contact any hospital and request a tour and/or shadowing day.
Apply for a Laboratory Student Membership in the American Society for Clinical Pathology. The membership is free, and benefits include various subscriptions and access to online tools.
Read an online publication, such as Advance for Medical Laboratory Professionals, for updates and information about free subscriptions.
Contact program directors at schools of medical technology that serve as IUP affiliate sites for student clinical experiences.
Ask the IUP allied health coordinator to connect you with a student who is currently in the clinical year of the medical technology degree. Ask questions about the program and get advice on how to prepare for success.
Look up professional associations that support students and practitioners:
Student Information Handbook
College life. Organizations to join. Facilities to use and enjoy. You'll find everything you need to know in the Student Information Handbook.
Be sure to review the pages explaining policies on professional behavior and clinical requirements.