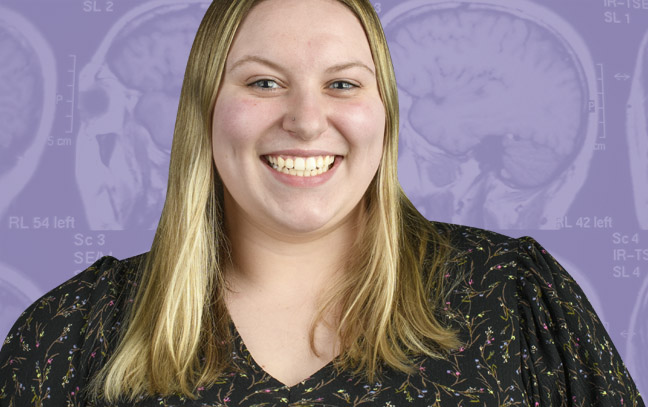 Your Rewarding Career in Medical Imaging
You think innovations in health care are amazing. You want a career where you can help people recover from illness and injury by using the best, the fastest, and the most precise technology available.
When you enroll to get your BS in Medical Imaging at IUP, you're looking ahead to an exciting, well-paid career on the forefront of modern clinical medicine.
Why Major in Medical Imaging at IUP?
As a medical imaging student at IUP, you'll be part of a program that's shown outstanding success in helping students prepare for rewarding health care careers.
You'll build strong therapeutic communication, analytic, and clinical skills, and your professors and advisors will support you all the way. The knowledge and confidence you'll develop as a medical imaging major will open many opportunities for you in this high-growth field.
Three Tracks in Medical Imaging
At IUP, you can study medical imaging in any of three tracks:
Echocardiography
Diagnostic Medical Sonography (Ultrasound)
Nuclear Medicine Technology
Echocardiography Track
Want to help fight heart disease? You can with a BS in Echocardiography degree. Echocardiography is a medical specialty. You'll use technology to produce images of structures within the human heart. Doctors use these images to diagnose, treat, and monitor a wide variety of heart conditions. As an echocardiography technician, you might specialize in adult, pediatric, or fetal imaging.
Diagnostic Medical Sonography (Ultrasound) Track
After you earn your BS in Diagnostic Medical Sonography (Ultrasound), you'll be able to use technology to create images of various organs and structures inside the human body. The images you produce will assist doctors in diagnosing and treating medical conditions in the abdomen, breast, heart, blood vessels, and musculoskeletal system.
Nuclear Medicine Technology Track
As a nuclear medicine technologist, you'll prepare patients for and complete nuclear medicine procedures, such as bone scans, PET scans, and nuclear cardiac stress tests. IUP's BS in Nuclear Medicine Technology will give you the academic foundation you need to work confidently with patients and with sophisticated medical imaging equipment.
Imagine Your Future
Whichever track you choose within the medical imaging program, you'll find a world of opportunity after graduation. Employment for medical imaging technologists is expected to grow faster than average when compared with other occupations.
Some IUP medical imaging graduates choose to work at the hospital where they completed their clinical training. Or, you could seek employment at your hometown hospital or move to somewhere new across the country.
Not sure you want to work in a hospital? You have plenty of other options. When you graduate with a BS in Medical Imaging, you could work in:
Doctors' offices
Outpatient imaging centers
Public health institutions
Research and development agencies
Classes and Requirements
You'll follow a 3+1 curriculum to earn your bachelor's in medical imaging degree at IUP. This means you'll study at IUP for three years—completing your required math, science, and liberal studies courses. Then you'll transfer to one of IUP's affiliate institutions for your fourth year to earn a certificate in one of the three program tracks:
Diagnostic Medical Sonography (Ultrasound)
Echocardiography
Nuclear Medicine Technology
The courses you complete during your first three years will fully prepare you to meet the requirements of our affiliate institutions and the medical imaging profession.
These requirements include, but are not limited to, a grade of C or better in:
College Algebra (MATH 105)
Introduction to Chemistry for Health Sciences (CHEM 103)/Chemistry for Health Services (CHEM 255)
Composition I (ENGL 101)
Physics I Lecture (PHYS 111)
Human Anatomy (BIOL 150)
Public Speaking (ENGL 310)
Business and Interpersonal Communication (BCOM 321)
The facilities that host our students for clinical experiences require you to:
Complete a physical examination
Show proof of immunizations and screenings
Maintain CPR certification
Have proof of professional liability insurance
Wear uniforms and/or lab coats
You may also be required to pass a criminal background check and child abuse history check. Ask your advisor for more information.
Student Information Handbook
College life. Organizations to join. Facilities to use and enjoy. You'll find everything you need to know in the Student Information Handbook.
Be sure to review the pages explaining policies on professional behavior and clinical requirements.
About Echocardiography
With a BS in Echocardiography, you'll help doctors diagnose and treat heart diseases and disorders. You'll enable medical team members to see inside the body by creating detailed 2D and 3D images using high-frequency sound waves and advanced technology.
As an echocardiographer, you'll place a device called a transducer against a patient's skin. This device sends a stream of high-frequency sound waves into the body and detects the sound waves as they bounce off the heart.
The reflected sound waves are analyzed by a computer to make an image of the structures of the heart. Then you and other members of the patient care team can view the images on a monitor or hard copy.
About Diagnostic Medical Sonography (Ultrasound)
With a BS in Diagnostic Medical Sonography (Ultrasound) from IUP, you'll be a crucial member of a health care team. You'll provide one-on-one care to a variety of people—some who are healthy and some who are critically ill.
Doctors want to provide the best possible care for their patients. You'll help them by creating quality diagnostic images that show—or rule out—illness and injury.
How Does a Diagnostic Medical Sonographer Create Images?
During your undergraduate study at IUP, you'll build the knowledge and clinical skills you need to be competent and confident when using imaging technology.
When you're with a patient, you'll place a small device called a transducer against the skin near the body area you need to image. The transducer sends a stream of high-frequency sound waves into the patient's body.
As these sound waves bounce off organs and other internal structures, a computer analyzes the patterns to create an image of the structures. Medical professionals can then view the image on a monitor or hard copy to better see what's happening with the patient.
About Nuclear Medicine Technology
As a nuclear medicine technologist, you'll help the medical team by focusing on two specialties:
Single Photon Emission Computed Tomography (SPECT)

You'll work with SPECT scans when doctors want to diagnose and track the progression of heart disease, such as blocked coronary arteries.

Positron Emission Tomography (PET)

You

'

ll create PET scans when

doctors

need imaging to detect cancer and its metastases, monitor its progression, and measure its response to treatment.
About the Medical Imaging Field
Your education in the medical imaging field can begin today—even before you start an undergraduate degree.
IUP program directors, professors, and advisors encourage you to explore the field as much as possible outside the classroom.
A few ways to network and research include:
Tour one or more medical imaging departments. Contact local hospitals and request a tour and/or to shadow an employee.
Contact program directors of the affiliated schools of medical imaging. Ask to schedule an appointment to learn more about a specific program.
Ask IUP's allied health coordinator how to contact a student who is currently in the clinical phase of their undergraduate story. Explain that you want to ask questions about the program and get advice.
Become familiar with your future professional organizations

American Society of Radiologic Technologists
Society of Diagnostic Medical Sonography
The Society of Nuclear Medicine