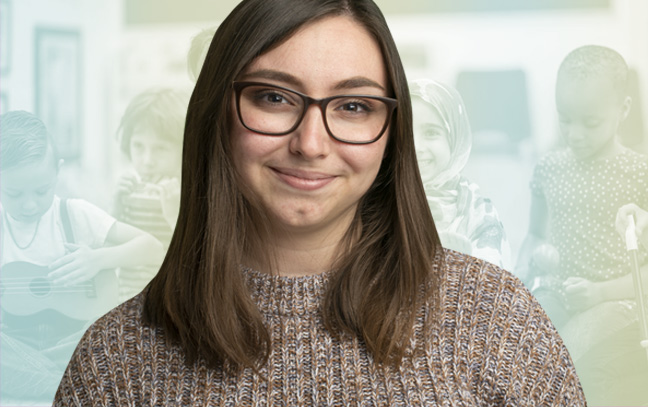 Share Your Passion for Music
In IUP's Music Education program, you will grow from a student with musical talent into a highly qualified music educator and be prepared to teach a love and understanding of music to the next generation of students.
You will gain certification to teach K-12 music in Pennsylvania and other states and learn how to lead large choral and instrumental groups and provide quality individual instruction.
As for your own musical skills, you'll expand them with private, weekly, half-hour lessons and have the opportunity to perform with groups such as the Wind Ensemble, "The Legend" Marching Band, University Chorale, University Orchestra, and Jazz Ensemble.
Imagine Your Future
With this degree, you can pursue jobs in fields such as:
Music educator in k-12 public or private schools
Private music instructor
Graduate study in music education, music performance or related disciplines
Educational music composition, publishing, and marketing
Classes and Requirements
Our curriculum gives you the foundation of music knowledge and then builds on it with specific applications in music education.
You'll take:
Four semesters of music theory and aural skills to gain the technical understanding of how music works and the ability to hear and reproduce the elements of music
Seven semesters of private instruction on your instrument or voice
Three semesters of music history, including classical, world music, and popular music
You will also have the opportunity to:
Take skills-based classes with all instrument families, conducting, and music technology
Specialize in Vocal or Instrumental with certification to teach both
Experience large and small ensembles each semester
Take music education courses in instrumental, choral/general, and elementary methods
Observe music educators in the field
Undertake a student teaching experience
Teacher Certification Requirements
All students seeking teacher certification must meet the requirements of the Three-Step Process for Teacher Education.
Full Academic Catalog Listing
The course catalog is the official reference for all our degree and course offerings. Check it out for a full listing of the classes available and requirements for this degree.
Ensembles
Our music ensembles include all areas relevant to music education:
Bands: Marching Band, Wind Ensemble, Symphony Band
Choirs: University Chorale, University Chorus, Chamber Singers
University Symphony Orchestra
Jazz and Popular Music Ensembles
Music Theater and Opera Workshops
Instrument family ensembles: Percussion, Flute, Clarinet, Saxophone, Trumpet, Horn, Trombone, Tubaphonium, Keyboard, Vocal Repertory
See the Music Department Ensembles
Active Student Groups
Student groups can enrich your professional education at IUP and include:
PA College Music Educators
Crimson Chords Acapella Group
Delta Omicron, Phi Mu Alpha Sinfonia, and Sigma Alpha Iota Professional Music Fraternities
Student National Association of Teachers of Singing Group
Auditions
This program requires a satisfactory audition on a primary instrument or voice, interview, or portfolio review for students producing or composing digitally. Auditions are scheduled for several dates in the fall and spring semesters, combined with the Experience IUP program. Prior to the audition, students must apply to IUP and be accepted academically. See here for audition details.
Finalize Your Audition Registration
Facilities
Based in Cogswell Hall, the IUP Music Department enjoys excellent rehearsal spaces, practice rooms, faculty studios, classrooms, and a vast music library. IUP is an all-Steinway school with 93 pianos, and a full-time piano technician, and it houses the Pogorzelski-Yankee Memorial organ. Other facilities include Fisher Auditorium and Gorell Recital Hall.
See the Music Department Facilities