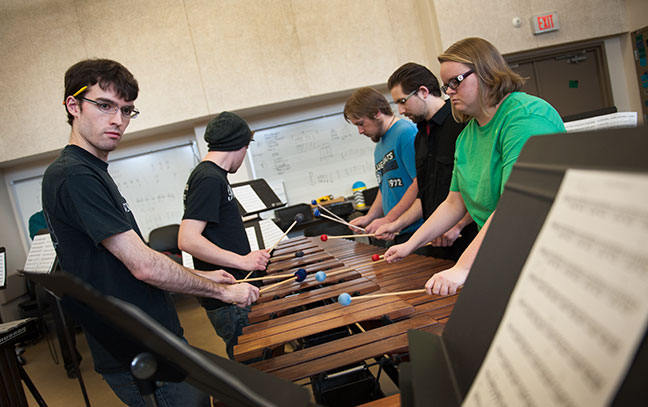 Discover the Joy of Teaching Music
In IUP's BSEd in Music Education Program, you'll grow from a student with musical talent into a highly qualified music educator. You'll be prepared to teach a love and understanding of music to the next generation of students.
You'll acquire the foundation and skills needed to gain certification to teach K-12 music in Pennsylvania and beyond. You'll learn how to lead large choral and instrumental groups and provide quality individual instruction. Try something new and discover playing and teaching instruments you've never before tried. And you'll have the opportunity to expand your music abilities with private, weekly, half-hour lessons.
We offer a wide range of courses, such as technology in the music classroom, conducting, theory, and methods courses.
Hone in on your speciality: choose a voice or instrumental concentration to tailor your education toward your intended career path. Many music education majors also choose to pursue a minor in Entrepreneurship for Fine Arts through the Eberly College of Business and Information Technology.
Imagine Your Future
Our experienced faculty specialize in numerous families of instruments, allowing you to learn firsthand from musicians with demonstrable abilities. And while on campus, you can join the Pennsylvania Collegiate Music Educators Association for educational and networking opportunities.
Graduates of IUP's BSEd in Music Education Program have gone on to become teachers at both public and private schools, as well as continuing on to become college professors.
With a BSEd in Music Education you can become:
K-12 music teacher
Music teacher at colleges and universities
Music teacher at academies
Classes and Requirements
You'll take a wide range of courses, including Technology in the Music Classroom, Music Theory, and the Fundamentals of Conducting. You will also learn how to develop a successful curriculum for teaching and inspiring students.
You'll attend recitals in concert halls on campus regularly and participate in IUP's ensembles. There are more than 20 ensembles to choose from, ranging from marching band and university chorus to music theater and string ensemble. Our campus features a recital hall, performing arts center, music library, and auditorium for music education students to gain first-hand experience and explore their love of music.
Teacher Certification Requirements
All students seeking teacher certification must meet the requirements of the Three-Step Process for Teacher Education.
Full Academic Catalog Listing
The course catalog is the official reference for all our degree and course offerings. Check it out for a full listing of the classes available and requirements for this degree.
Learning Outcomes
Content Knowledge
Throughout the course of the program, you'll learn to understand broad trends in Western music history and discover a diverse body of musical literature. You'll evaluate the function and meaning of music-making across various cultures and historical eras and write effectively about the history of music.
You will also learn how to design and implement curricula, lessons, and assessment tools by drawing on the above skills and conducting research in education. You'll also draw from your own experience and outlined professional standards. In this way, you learn to cultivate classroom environments that are inclusive and inspirational.
Disciplinary Skills
You will examine and interpret the materials, forms, and conventions of Western art music and develop comprehensive musicianship skills, including score-reading ability and basic keyboard proficiency. You'll also learn to write effectively about the technical features of music.
Before graduating, you must demonstrate competency with instruments of K-12 instruction, including elementary classroom instruments. With this skill set, you'll create strategies for instrumental and vocal instruction that are developmentally appropriate.
Our Faculty
The Music Department at IUP offers a faculty of 26 full-time and seven part-time professors. They are all scholars and active musicians, who perform on the national and international stage. Unlike many other schools with adjunct professors who come in only on days when they teach, our individual instrument professors are on campus full time, interacting with their students, encouraging them to reach their full potential.
We have professors who specialize in brass, keyboard, percussion, strings, voice, and woodwinds. We have nationally and internationally recognized ensemble directors and composers. And we have scholars who bring a wealth of knowledge to lead you through music education, history, theory, and composition.
But most importantly, our faculty is dedicated to teaching and mentoring their students. All music majors are advised by a faculty member in their performance area.
Facilities
Performing Arts Center
Gorell Recital Hall
Cogswell Hall
Orendorff Music Library
Fisher Auditorium
Auditions
Apply to IUP first

Department of Music admission is contingent upon successful admission to the university.

Register for an Experience IUP: Fine Arts Audition/Portfolio Day

Once accepted to the university, register for an Experience IUP Day.

Schedule an audition
After registering for your Experience IUP: Fine Arts Audition/Portfolio Day, the Department of Music will need just a little more information about you to schedule your audition.
Student Opportunities
Check out our more than 20 ensembles. Instrumental groups include Marching Band ("The Legend"), Symphony Band, Wind Ensemble, and Symphony Orchestra. Jazz groups include Jazz Band and Jazz Ensemble.
Vocal Groups are Chorus, Chorale, Chamber Singers, and Music Theater. Area Groups include Percussion Ensemble and Brass Ensemble.
There are also additional groups such as the Trombone Choir and Clarinet Choir.
We have active student chapters of Phi Mu Alpha, An all-male music fraternity; Sigma Alpha Iota, an all-female music sorority; and Delta Omicron, a co-ed, professional fraternity. All three groups participate in service activities for the Music Department. You can also join our student chapter of the Pennsylvania Collegiate Music Educators Association.
If you are planning a career in music education, you may want to help with the String Project, which gives children the chance to learn to play a string instrument and perform in a concert. We also have a new Community Music School that coordinates requests for college students to teach music lessons and conducts youth choral groups.