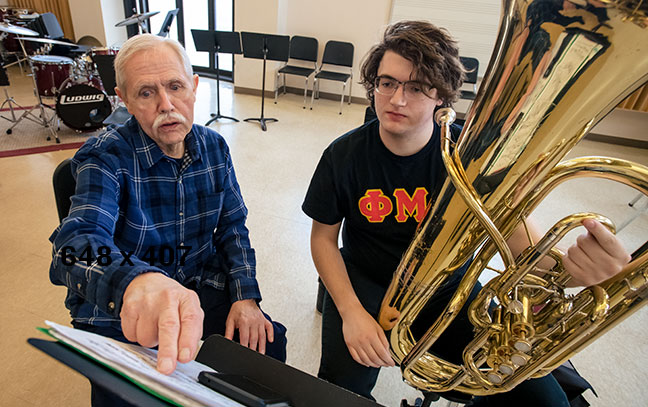 Set the Tone for a Career in Music
In IUP's Music BA Program, you'll experience a blend of the right courses, professors, and opportunities to help you achieve success in the music industry.
Our experienced faculty specialize in numerous families of instruments and styles of music. Our hands-on approach to education, along with our offered concentration options, empowers students to succeed during the program and after graduation.
As a music major, you'll be provided opportunities to dive deeper into your passion for music—you'll be expected to regularly attend recitals in concert halls on campus and participate in ensembles for eight semesters. To meet this ensemble requirement each semester, you'll choose from more than 20 groups, ranging from marching band and the university chorus to musical theater and the string ensemble.
While on campus, students can join the Pennsylvania Collegiate Music Educators Association for educational and networking opportunities.
Imagine Your Future
With a BA in Music from IUP, you'll be able to consider pursuing careers in:
Arts administration
Concert management
Music business
Musicology
Music journalism
Music retail
Music therapy
Classes and Requirements
The program's core courses are similar to IUP's other music bachelor's degrees; however, the General Studies track has the highest number of free electives. You could use these free electives to take a minor in another field, such as theater or entrepreneurship for fine arts.
Admission to the Music BA Program requires satisfactory completion of an audition in addition to the general admission requirements. At auditions, we realize many of you have talent that hasn't yet seen the benefit of instruction to reach its greatest potential. Our faculty will nurture that talent and guide you in developing your skills.
The course catalog is the official reference for all our degree and course offerings. Check it out for a full listing of the classes available and requirements for this degree.
Music Minor
A student wishing to minor in music must elect a minimum of 18 credits in music courses as approved by the department chairperson. Students must apply and audition to be admitted into the minor.
Admitted students will receive one semester of applied lessons, and may receive further semesters depending on instructor availability. Students must be enrolled in an ensemble (as advised) during any semester in which they receive applied lessons.
Full Academic Catalog Listing
The course catalog is the official reference for all our degree and course offerings. Check it out for a full listing of the classes available and requirements for this degree.
Throughout the course of the program, you'll learn to understand broad trends in Western music history and discover a diverse body of musical literature. You'll evaluate the function and meaning of music-making across various cultures and historical eras and write about the history of music.
You will also learn how to design and implement lessons and assessment tools by drawing on your skills and conducting research in education. You'll also draw from your own experience. In this way, you'll learn to cultivate classroom environments that are inclusive and inspirational.
You'll examine and interpret the materials, forms, and conventions of Western music and develop comprehensive musicianship skills, including score-reading and basic keyboard skills. You'll also learn how to write effectively about the technical features of music.
Before graduating, you must demonstrate competency with instruments of K-12 instruction, including elementary classroom instruments. With this skill set, you will create strategies for instrumental and vocal teaching that are age-appropriate and based on proven models.
Our Faculty
The Music Department at IUP offers a faculty of 26 full-time and seven part-time professors. They are all scholars and active musicians, who perform on the national and international stage. Unlike many other schools with adjunct professors who come in only on days when they teach, our individual instrument professors are on campus full time, interacting with their students, encouraging them to reach their full potential.
We have professors who specialize in brass, keyboard, percussion, strings, voice, and woodwinds. We have nationally and internationally recognized ensemble directors and composers. And we have scholars who bring a wealth of knowledge to lead you through music education, history, theory, and composition.
But most importantly, our faculty is dedicated to teaching and mentoring their students. All music majors are advised by a faculty member in their performance area.
Learn More about the Music Faculty
Student Opportunities
Check out our more than 20 ensembles. Instrumental groups include Marching Band ("The Legend"), Symphony Band, Wind Ensemble, and Symphony Orchestra. Jazz groups include Jazz Band and Jazz Ensemble.
Vocal Groups are Chorus, Chorale, Chamber Singers, and Music Theater. Area Groups include Percussion Ensemble and Brass Ensemble.
There are also additional groups such as the Trombone Choir and Clarinet Choir.
We have active student chapters of Phi Mu Alpha, An all-male music fraternity; Sigma Alpha Iota, an all-female music sorority; and Delta Omicron, a co-ed, professional fraternity. All three groups participate in service activities for the Music Department. You can also join our student chapter of the Pennsylvania Collegiate Music Educators Association.
If you are planning a career in music education, you may want to help with the String Project, which gives children the chance to learn to play a string instrument and perform in a concert. We also have a new Community Music School that coordinates requests for college students to teach music lessons and conducts youth choral groups.
Auditions
Apply to IUP first

Department of Music admission is contingent upon successful admission to the university.

Register for an Experience IUP: Fine Arts Audition/Portfolio Day

Once accepted to the university, register for an Experience IUP Day.

Schedule an audition
After registering for your Experience IUP: Fine Arts Audition/Portfolio Day, the Department of Music will need just a little more information about you to schedule your audition.
Finalize Your Audition Registration