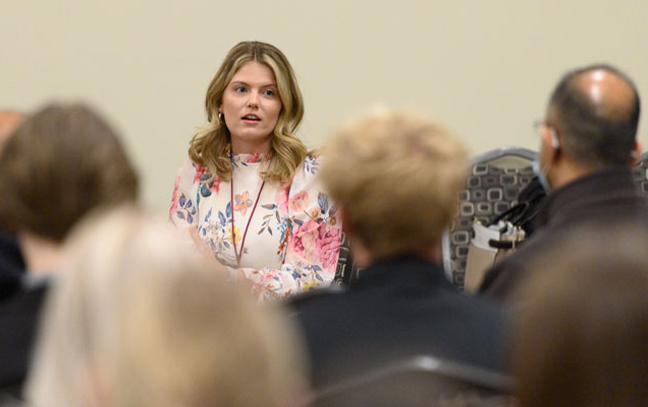 Play a Vital Role in Talent Strategy, Diversity, and Business Success
Human resources professionals today do much more than hire qualified employees. You also need to know how to train, develop, and retain the best talent. The Human Resource Management BS program at IUP prepares you to work with a diverse range of people, help employees rise to their potential, and influence a company's future.
You'll learn to be a strategic thinker, communicator, and leader. You'll get crucial training in
Effective employee onboarding
Human resource planning
Performance management
Talent recruitment and selection
Training strategies
You'll also study both the theory and the practical applications of compensation and employee management, organizational communication, and other human resource topics so you're ready for your successful career.
It's an exciting time to pursue a career in the management of human capital and employee relations. The use of human resource management technology along with companies' need to recruit and develop the best candidates, particularly those from underrepresented groups, is transforming the field.
Why Major in Human Resource Management at IUP?
The quality of your education can be a deciding factor in your career success. At IUP, you'll develop crucial business knowledge and gain highly marketable skills. You'll have access to many opportunities for practical workplace experience, so you can confidently make the transition from student to human resources professional.
In the human resource management degree program, you'll
Build your knowledge of theoretical and applied aspects of human resource management as a generalist or specialist.
Discover how to apply data and analytics to grow and sustain long-term strategic objectives.
Learn to use the necessary tools to shape company culture.
Gain expertise in job design, staffing, training, compensation, and performance appraisal.
At the Eberly College of Business, you'll get a sound business education that focuses on the financial, analytical, and behavioral aspects of human resource management. Your classes will examine:
Human resource management
Compensation management

Staffing management planning

 practices

Talent development and training

 
IUP's BS in Human Resource Management program is accredited by the Association to Advance Collegiate Schools of Business (AACSB). As a skills-based business degree, our program prepares graduates for positions at private and public organizations, locally and across the country.
Imagine Your Future
As a human resources professional, you'll be needed at almost every organization in every business sector, no matter what type or size. With a bachelor's degree in human resource management from IUP, you'll be qualified to work in positions such as:
Benefits administrator
Compensation manager
Employee relations manager
Human resources generalist
Payroll specialist
Alumni of IUP's human resource management program work at local, national, and international organizations in positions including:
Human resources assistant
Human resource manager
Human resources representative
Human resource specialist
When you graduate, you'll be ready to enter the profession and join the many IUP alumni who enjoy rewarding careers.
Classes and Requirements
Workplaces today are rapidly changing. IUP's BS in Human Resource Management program prepares you to be a skilled human resource specialist or generalist who organizations can rely on to help them navigate these changes.
Human resource management is a continually evolving field that brings together multiple disciplines:
Business operations
Interpersonal and organizational communication
Organizational strategy
Regulatory compliance
Our highly experienced faculty are passionate about human resource management. They will challenge you to achieve your best in the classroom and beyond.
What You'll Study
You'll focus on building your business acumen. You'll study theory and then apply it to real-world human resource management situations. From job design, staffing, and training to compensation and performance appraisal, you'll prepare to put sound human resource practice and leadership into action.
And you'll benefit from opportunities for networking, internships, employment, and career advancement through IUP's alumni network and active Society for Human Resource Management (SHRM) chapter.
Graduation Requirements
To earn your bachelor of science degree in human resource management at IUP, you'll need to successfully complete coursework culminating in 120 credits. Along with business administration core courses, you'll take classes in liberal studies, human resource management, and your choice of electives.
Full Academic Catalog Listing
The course catalog is the official reference for all our degree and course offerings. Check it out for a full listing of the classes available and requirements for this degree.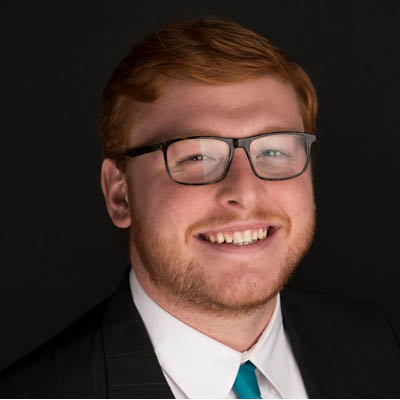 Brandon Lynd '20, M'21, Human Resource Management
IUP helped prepare me with the necessary life skills in and out of the classroom to succeed in my career whether that be through networking or fine skills learned in class.
Minor in Human Resource Management
Adding a minor in human resource management lets you specialize and broaden your education. If you choose to pursue this 18-credit minor, you may be able to move six credits of major coursework to the minor, reducing the required minor coursework to 12 credits.
Full Academic Catalog Listing
The course catalog is the official reference for all our degree and course offerings. Check it out for a full listing of the classes available and requirements for this degree.
Complete Your Undergraduate Program and MBA in Five Years
You can earn your bachelor's as well as a master's degree in five years when you take advantage of IUP's 4+1 programs. 
When you enter a 4+1 program as a sophomore, you will be able to reserve a spot in your chosen master's degree program. Just be sure to meet minimum requirements to continue in the program. 
A 4+1 program gives you more specialized knowledge for career advancement and lets you save on tuition costs, and you can complete your master's degree in a shorter timeframe.
SHRM Student Professional Club
The Society for Human Resource Management (SHRM) is an active student organization at IUP. As an undergraduate, you'll get opportunities to engage in valuable professional development activities, from going to corporate speaking events and training sessions, including Six Sigma certification, to connecting with many other student professional clubs in IUP's Department of Management.