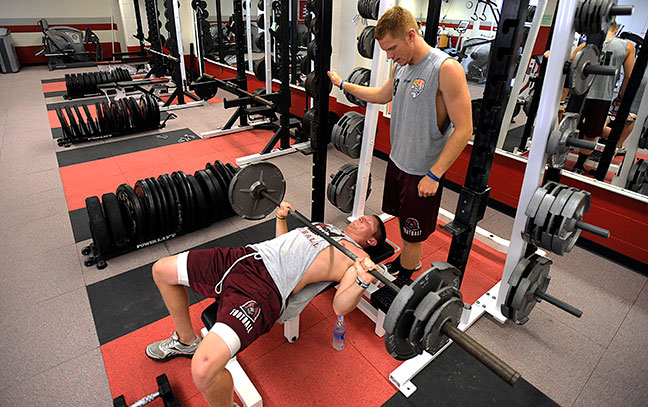 Become a Force of Change in Athletic Health and Wellness
The athletic training field is growing every day, from technologies for better results and faster recovery to the standards of education required for athletic trainers. Whether you want to deliver on-the-spot patient care or increase the potential for better athletic performance, you'll be ready to pursue your passion with IUP's Bachelor of Science degree in Pre-athletic Training.
Our bachelor's degree program prepares you for admission into a master's degree program in athletic training—now the standard for entry-level positions in the field, as mandated by the Standards for Accreditation of Professional Athletic Training Programs.
Prepare to Provide Patient Care
You'll develop the foundational knowledge required for admission into an athletic training professional program and gain the skills to enter other healthcare professions. You'll learn the primary biological principles on which athletic training is based and engage in natural sciences coursework that serves as the groundwork for a master's degree study in the field.
As soon as you complete your BS in Pre-athletic Training, you'll be ready to apply for admission into a master's-level professional athletic training program.
Imagine Your Future
IUP's BS in Pre-Athletic Training degree is your first step in building a successful career. With a strong foundation in exercise and physical sciences, you'll be ready for a graduate program that can lead to many different career opportunities including but not limited to:
Hospital emergency departments
Intercollegiate athletic and youth league settings
Law enforcement and military environments
Occupational and industrial settings
Physician offices
Professional sports and performing arts organizations
Public and private secondary schools, colleges, and universities
Athletic Trainers
Projected job growth 2020–30
Much faster rate of growth than average for all occupations
Classes and Requirements
As a student in the BS in Pre-athletic Training degree program, you'll start your educational journey with a study of the biological and natural sciences that apply to athletic training. You'll then move to more advanced studies and a wide choice of electives that go along with your special interests in the field.
What You'll Study
In the first four semesters of the program, your focus will be on exercise science—the study of human movement and physical activity. As a freshman and sophomore, you'll complete required liberal studies, science courses, and introductory coursework in human anatomy and physiology.
From there, you'll move on to physical science courses and choose among 27 credits of free electives. If you qualify for early admission into IUP's Master of Science in Athletic Training, those electives can be applied to your master's degree program.
Full Academic Catalog Listing
The course catalog is the official reference for all our degree and course offerings. Check it out for a full listing of the classes available and requirements for this degree.
3+2 Option
You can begin working on your master's degree while finishing your bachelor's degree by taking advantage of the 3+2 option offered through our Athletic Training Master's Degree program. This option saves you time and reduces the cost of your total education through the master's degree level.
Students must meet eligibility requirements to apply for early admission into the Master of Science in Athletic Training program. During your bachelor's degree studies, you will work closely with an advisor to consider the likelihood of early admission into graduate school and will be advised of other options that are available.