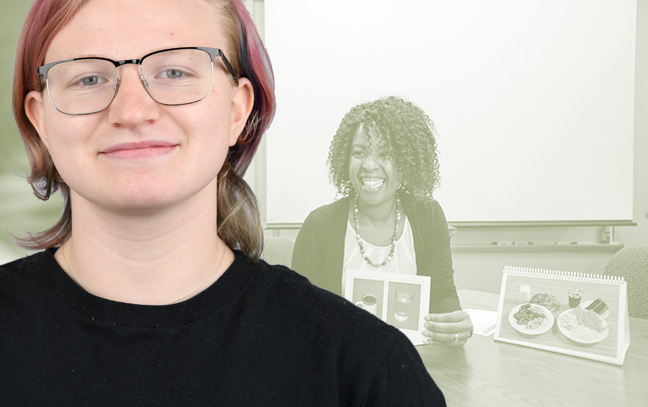 Focus on a Healthier Future for Yourself and Others
You know that good physical and mental health, nutrition, fitness, and disease prevention are essential for a high-performing workplace—and to a better society overall. You're ready to help your community be healthier and more active. Enrolling in IUP's Community Health Education BSEd confirms your commitment to a world of wellness.
Why Pursue a Community Health Education BSEd?
You want to help others feel better, and you want a career that makes you feel great. In this bachelor's degree program, you'll learn to make healthy choices for yourself and for others.
Working as a health educator, wellness coach, or health specialist proves you're passionate about improving your community's health and educational outcomes. Your expertise will be in high demand, too: the job outlook for health educators is projected to grow 17 percent, which is faster than the average for all other careers.
What You'll Learn
IUP's community health education program focuses on health promotion and disease prevention through community-based educational services. You'll learn to develop training programs and how to implement those lessons in different spaces, including:
Colleges and other educational settings
Health care facilities
Nonprofits
Private businesses
Public health departments
This program does not prepare you for K–12 teacher certification, but it will help you enjoy a rewarding career. Upon graduation, you'll be eligible to sit for the Certified Health Education Specialist exam offered through the National Commission for Health Education Credentialing, as well as other wellness coaching certifications.
Imagine Your Future
Opportunity shines on health educators—it's been the fastest-growing occupation in the US for the past 10 years. This growth is driven by ongoing efforts to improve health outcomes and reduce health care costs through education. The knowledge and skills you gain in your bachelor's degree in community health education will let you benefit from this demand.
Imagine the Places You Might Work
See yourself in one of these five different areas that need community health educators, coaches, or specialists.
In health care facilities, you'll teach patients and families about diagnoses, treatments, and procedures. You'll also lead hospital efforts in community health improvement.
In colleges, you might come up with program topics directed to young adults, such as smoking, drinking, and healthy dating. You could also train students to be peer educators and supervise how they present health information to students in person or through social media.
In public health departments, designing and promoting campaigns about emergency preparedness, immunizations, proper nutrition, and stress management will be part of your job description. You might be in charge of grants and grant-funded programs to improve health in your community. During emergencies, you could also be called upon to provide safety information to the public and the media.
In nonprofits, you'll create programs and materials about health issues for the specific community your organization serves.
In private businesses as a health educator, you'll identify common health issues among employees and build programs to address concerns such as nutrition, stress management, and smoking. You'll likely also work with management to develop incentives for employees to adopt healthy behaviors.
Industries Looking for You
Graduates of IUP's Community Health Education BSEd program often work with health and education agencies and get involved in community-based training related to:
Communicable diseases
Dating violence and bullying
Drugs and alcohol
HIV/STI/AIDS
Nutrition
Obesity
Parenting
Sexual health
Tobacco
Similar Occupations
Community outreach
Physical activity
Prevention
Wellness coach
Women's health
Industries that employed the most health educators in 2021 include:
Classes and Requirements
You'll build your foundation in community health education through required courses such as:
Child Health Concepts, Health Education
Contemporary Health Issues
Promotion at the Workplace
School and Community Health
As a highly motivated community health education major and future health educator, you can choose to specialize in an area that interests you most, such as:
Aging populations
Child studies
Human services
Nutrition
Physical activity and recreation
Women's and gender studies
Full Academic Catalog Listing
The course catalog is the official reference for all our degree and course offerings. Check it out for a full listing of the classes available and requirements for this degree.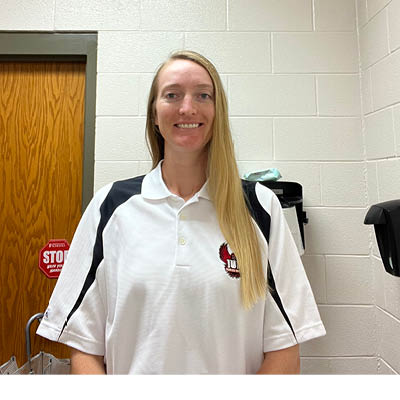 Ashley McAteer '13, Health and Physical Education
IUP was the best overall fit for me academically and athletically. The professors are very knowledgeable, passionate, and genuinely care about their students.
4+1 and Early Admission for Your Future Master's Degree
Already planning to take your college education further? At IUP, you can start earning your master's degree while you're still in your bachelor's degree program.
The 4+1 program means you'll save money because you'll pay undergraduate tuition for your first four graduate-level courses. Those courses are considered dual credit and will count toward your Community Health Education BSEd, too. In addition, your graduate school application fee will be waived.
If you're a high school senior, you're automatically eligible for the 4+1 Community Health Education MEd program if you have at least a 3.5 GPA and a SAT Math score greater than 600.
You'll need to maintain a minimum undergraduate GPA of 3.0 after you earn your 60th undergraduate credit to remain eligible to go directly into your master's degree courses.
Internships Enrich Your Education
Add to your college experience and start building your résumé by taking on internships. You'll get a feel for what it's like to work in the industry.
Internships can be found in
Corporations and businesses
Government agencies
Hospitals
Insurance
Nonprofits
Private organizations
Meeting and working with people in your community health education internships is a great way to start your professional network.
Community Health Education Minor Adds Depth to Your Degree
If you're majoring in sociology, human development and family science, food and nutrition, or a related health degree, a minor in community health education adds to your degree and gives you even more capabilities to rely on as an advocate for health awareness.
This 18-credit minor includes 12 credits of electives. Besides the required community health education coursework, you'll have the flexibility to take courses in food and nutrition, sociology, and psychology.
Full Academic Catalog Listing
The course catalog is the official reference for all our degree and course offerings. Check it out for a full listing of the classes available and requirements for this minor.
Clubs and Activities
Health and physical education/K-12 Teacher Education majors can engage in activities outside of the classroom, deepening their commitment to an area of expertise.
The Sport Management Club sponsors various events that help students improve their skills and understanding of the field.
The Exercise Science Club gathers students engaged in this track to support their studies and help them learn about professional trends.
The Health, Physical Education, and Sports Majors Club helps majors with their studies by inviting professionals to speak.
Health and Physical Education Living-Learning Community
The Health and Physical Education Living-Learning Community is ideal for students who live on campus. By sharing the Suites on Maple East with fellow health and physical education majors, you can form friendships and easily collaborate on projects.
Here is where you can keep yourself fit. Enjoy the personal and clean atmosphere, work with accommodating staff, and experience the biomechanically-correct equipment.