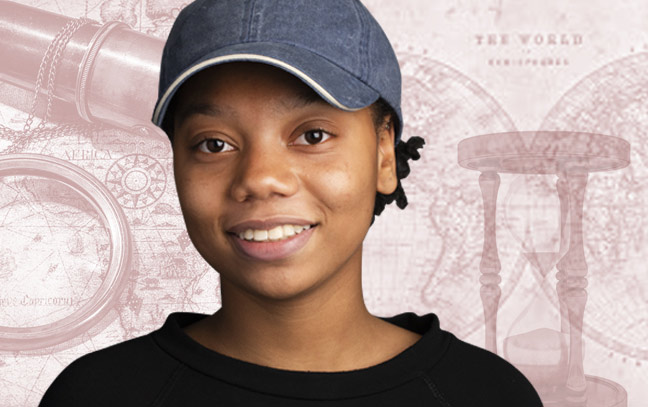 Put History to Work on Today's Challenges
You love history—all the triumphs and struggles—and how it shapes our world today. As a student in IUP's BA in History program, you'll learn to use the lessons from the past to make the world a better place today.
Your history coursework will immerse you in the story of people, places, and events across eras and epochs. You'll learn how to think and communicate different views and interpretations. You'll form your own views about history, then use that understanding to bring insights to present-day challenges and complexities. Throughout the program, you'll build a keen skill set—including research, critical thinking, analysis, and communication—that's essential in today's workforce.
Why Major in History at IUP?
As a professional with a deep knowledge of history, you'll see current situations in a broader context that others might overlook. You'll know how to help companies and organizations understand the impact of earlier decisions and avoid repeating mistakes of the past.
IUP's BA in History program offers you a deeply personalized learning experience. As a graduate, you'll be well-prepared because the program gives you a strong foundation in:
Appreciating the complexity of the human experience
Critical thinking and analysis
Distinguishing change over time
Historical knowledge
Independent thinking
Recognizing cause and effect
Research
Understanding the value of context
Written and oral communication
You'll have opportunities for internships, and you can study abroad. Taken together, your experiences in the BA in History program will open your mind to new cultures, perspectives, and viewpoints—as well as enhance your résumé.
What You'll Learn
Led by our caring and well-versed faculty, you'll develop an academic foundation that allows you to understand how peoples and cultures are alike and different.
Studying historical eras and how they influence our global society will help you see patterns of continuity and change. You'll learn to recognize the importance of race, class, gender, religion, and the environment through a historical viewpoint.
Your BA in History program coursework culminates with a capstone project. It's your opportunity to bring your research and analysis together and show what history has taught you.
Imagine Your Future
As a history graduate, you'll be valued by organizations that seek bright, capable employees who understand the value of knowing history to promote social change, as well as to analyze events and trends.
Graduates of IUP's BA in History program have built careers in a variety of fields, including:
Business
Government
Law
Military leadership
Public service
Teaching
Career Opportunities in History
Graduates of IUP's BA in History program often pursue careers in one of these focus areas:
Careers focused on helping others. From local neighborhoods to global communities, you can pursue positions with local, state, and federal government, nonprofits, and non-governmental organizations. This work gives individuals an opportunity to make an impact on the lives of others.
Careers in public history. Your skills will serve you well in positions with libraries, museums, archives, national parks, heritage sites, media, and corporations. You could also consider graduate study in fields such as historic preservation, information sciences, library and archival science, material culture conservation, and museum curation.
Careers in the legal field. The BA in History program's emphasis on conducting research, analyzing evidence, and using this evidence to produce a convincing argument gives students critical preparation for a legal career.
Careers in the private sector: Your training prepares you for job opportunities in today's global economy. History coursework teaches you to recognize cause and effect, to distinguish change over time, to understand the value of context, and to appreciate the complexity of the human experience—all essential skills in the marketplace.
Classes and Requirements
Through your BA in History coursework, you'll develop deep historical knowledge and build impressive skills in research, analysis, and communication.
The program is designed in four components:
The introduction of historical studies. In the introductory class, you'll learn about the history of history as a discipline and meet faculty and fellow students.
Foundation courses that will give you a survey of time and place. You could study public history, or even the cultural history of zombies.
Upper-level courses of your choosing. The classes you select can elevate your studies to focus on specific aspects of historical knowledge. Your capstone project is an opportunity to share what you've learned in a final project.
Capstone course. The opportunity to bring all of your skills together and illustrate for others what history can teach us.
Your coursework will be challenging—and deeply rewarding— as you collaborate with other students, seek out faculty for assistance, and press forward to reach your goals.
Full Academic Catalog Listing
The course catalog is the official reference for all our degree and course offerings. Check it out for a full listing of the classes available and requirements for this degree.
History Minor
Through the study of history, you'll develop the analytical skills employers value. By earning a history minor, you'll learn how to research and write with critical thinking and analysis.
A history minor gives you the freedom to satisfy your desire to learn about the past. You can learn from our faculty on historical topics like:
African American history
American Revolution
Ancient Greece
Ancient Rome
Early and modern Asia
Early China
History of organized crime
Medieval Europe

The Digital Age

Transnational history
Full Academic Catalog Listing
The course catalog is the official reference for all our degree and course offerings. Check it out for a full listing of the classes available and the requirements for this minor.
Join the History Club
You will be welcome to join IUP's History Club, which is open to anyone with an interest in history. The group meets weekly and is very active, with trips to local sites, movie nights, guest speakers, and fundraising activities.
Make Use of the Irwin Marcus Public History Lab
The History Department established the Irwin Marcus Public History Lab in 2015 to support students like you. You'll have the opportunity to conduct hands-on research while using the latest technologies and software.
Take Advantage of an Internship
As a history major, you'll hear about exciting internship opportunities that give you a chance to gain real-world work experience. IUP history majors have interned at historic sites, agencies, and institutions. Internships geared toward history majors are available locally, regionally, nationally—and even globally.
Explore the World through Study Abroad
Many BA in History program students choose to study abroad and gain invaluable perspectives by spending time overseas.
You can live in another country for a summer, a semester, or the academic year. IUP's study abroad program helps you learn new languages and learn how to live and thrive in new places. These are skills today's employers value, and experiences you'll appreciate for the rest of your life.
While a student abroad, you will receive academic credit toward your history degree.
History Honors Program
The honors program was created to enhance the education of qualified history majors.
History majors with a minimum 3.25 cumulative GPA and a 3.5 GPA in history courses are eligible to apply for the honors program during their third semester. Students will complete at least one semester of HIST 487 or an upper-level history honors course and two semesters of honors thesis research and writing.
This program is particularly encouraged for students seeking admission to graduate or professional schools. Honors coursework is designated on university transcripts; students completing the honors program are recognized at departmental commencement ceremonies.
Honors theses are completed individually under the direction of a department professor who specializes in the student's area of interest and are approved by a thesis committee. This committee is made up of the director and two other readers, one of whom may come from outside the History Department. Honors History courses count toward the major; completion of an honors thesis substitutes for one 400-level topics course.
Students interested in the History Honors program should discuss this opportunity as early as possible with their advisors.
Full Academic Catalog Listing
The course catalog is the official reference for all our degree and course offerings. Check it out for a full listing of the classes available and requirements for this program.
Digital History Certificate
One field of historical inquiry that the IUP History Department is actively expanding into is digital history.
While digital history encompasses many different areas of research and expression (research projects, traditional publications, blogs, social media, and classroom activities), it typically refers to historians who use digital technologies in creating, enhancing, or distributing historical research and scholarship to the public.
Having the Certificate in Digital History on your résumé gives you a competitive advantage in the job market. In this program, you'll build expertise that will be valuable in many professional positions.
Full Academic Catalog Listing
The course catalog is the official reference for all our degree and course offerings. Check it out for a full listing of the classes available and requirements for this certificate.
Public History Certificate
As a historian, you can help the public understand the people, places, and events that made an impact on our history, bringing the past to life.
The Public History Certificate program will prepare you to present historical information in a way that inspires public interest. Your courses will build your understanding of the collection, preservation, and presentation of historical information.
The 18-credit certificate complements majors in related fields, such as anthropology, communications media, and education. Completion of the certificate will prepare students to pursue positions in libraries, museums, archives, national parks, heritage sites, media, and corporations.