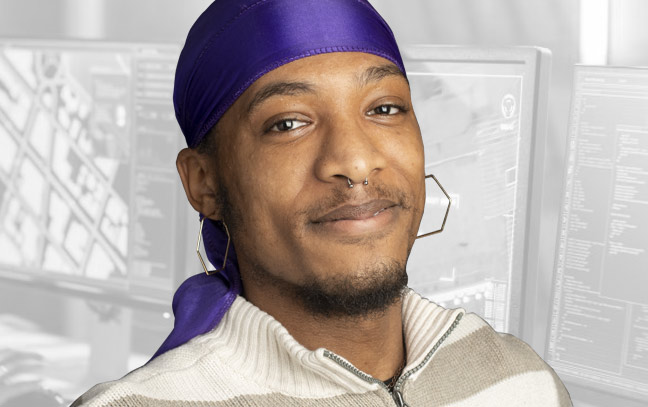 Gain Credentials in Geospatial Intelligence
Become well qualified for a career in federal intelligence for agencies such as the National Geospatial Intelligence Agency (NGA) and the Central Intelligence Agency (CIA), along with private sector contractors, through this comprehensive certificate program in geospatial intelligence.
The processes you will learn and apply throughout this program meet intelligence tradecraft standards and will meet the United States Geospatial Intelligence Foundation (USGIF) requirements for accreditation. The 21-credit, undergraduate Geospatial Intelligence Certificate program is accredited by the USGIF.
We are proud to be one of only 17 accredited Geospatial Intelligence (GEOINT) programs in the US. This certificate prepares you to utilize and analyze imagery, imagery intelligence, and geospatial information to describe, assess, and visually depict physical features and geographically referenced activities on the Earth's surface for intelligence purposes. You'll learn the context, geographic information science, and geospatial intelligence tradecraft techniques to be well qualified to work in professional positions as a geospatial intelligence analyst for federal intelligence agencies or private intelligence contractors.
Imagine Your Future
With this certificate, you can gain credentials to become an analyst who assists policy makers in critical decisions, informs those in federal intelligence agencies, contributes to critical military operations, and aids first responders in emergencies.
When you complete this certificate, you will not only receive an undergraduate certificate in geospatial intelligence from IUP, but also a certificate from the USGIF indicating your credentials to be employed as a geospatial intelligence analyst for federal government agencies such as the NGA and numerous private sector intelligence contractors.
Classes and Requirements
The undergraduate Geospatial Intelligence Certificate program prepares you to acquire, process, and evaluate spatial data, integrate problem-solving skills, and apply geographic information science and geospatial technologies in the pursuit of actionable intelligence related to emergency response, disaster management, and overseas national security contexts.
The courses required for the certificate align with the essential body of knowledge matrix established by the USGIF, the accrediting body of geospatial intelligence academic programs in the United States.
The coursework in the IUP Geospatial Intelligence Certificate program provides students with the knowledge base and technical capabilities, as well as the entry-level credential needed, to be employed in the US intelligence community.
Full Academic Catalog Listing
The course catalog is the official reference for all our degree and course offerings. Check it out for a full listing of the classes available and requirements for this degree.
Research Opportunities for Students
Geospatial Intelligence Certificate program students will have the opportunity to present their work at the annual GEOINT Symposium conference, which is sponsored by the USGIF and the NGA.
Advising by Faculty
Upon joining the Geospatial Intelligence Certificate program, students will be advised by the director of the GEOINT Certificate program, which is beneficial in terms of course scheduling, program knowledge, and internship opportunities.