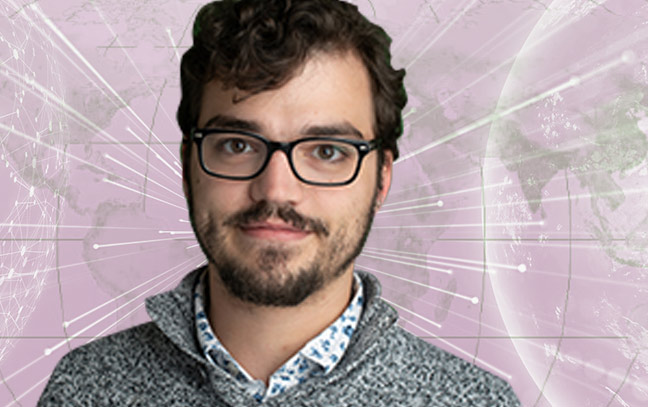 Lead the Geospatial Revolution with a BA in Geography
If you like maps or satellite photos and understand them better than other people you know, the BA in Geography and Geographic Information Science program can put you on the path to a rewarding career. In this major, you'll learn how to recognize spatial patterns and think of things as spatial relationships. You'll also study the way humans interact with the physical environment.
As a geographer, you'll use your understanding of the Earth, human movement, and human behavior to build a career in this three-dimensional field. 
Why Study Geography at IUP
IUP's BA in Geography and Geographical Information Science program is small enough for everyone to know you by name, but large enough to completely prepare you for your professional future in this field.
This degree can take you on a variety of career paths. You can also pick a stand-alone certificate to complement this degree and better prepare you for the working world.
Imagine Your Future
With a BA in Geography, you can work in the private or public sector. As a geographer, your days will include a mix of in-the-field discovery (like face-to-face interviews) and in-the-office data analysis, like breaking down images sent via drone or satellite. 
Industries That Hire Geospatial Scientists, Geographers, and Cartographers
Community colleges, four-year colleges, and universities
Environmental consulting firms (both private industry and non-profit)
Environmental engineering companies
Local, state, and federal government agencies, like DEP, EPA, PennDOT, US Geological Survey, National Park Service, state parks, and most US cities
Career opportunities in Geography and Geographic Information Science
As a geographer or geospatial scientist, you'll be prepared for plenty of different jobs, including:
Demographer
Environmental Planner
Geointelligence Analyst
GIS Analyst/Specialist
Land Use Planner
Natural Resource Manager
Project Manager
Regional Planner
Remote Sensing Analyst
UAVs Operator/Pilot
Urban Planner
As of February 2022 there were
9,745 job openings
across the United States for Geospatial Analysts.
There are nearly
29,000 GIS Analysts
currently employed in the United States with an average annual salary of $62,812.
Classes and Requirements
As part of your BA in Geography, you'll take core geography courses to give you a broad base of knowledge and a solid foundation. You'll cover all the different parts of  being a professional geographer, giving you a sample of the working world to help you pick your specific path.
You'll get exposure to different locations, environments, cultures, and methods, and your education will include work outside of the classroom, like field study, international travel, and for-credit internships. 
Specialize Your BA in Geography
You can outfit your degree to meet your unique interests by specializing in one of these three areas: 
Geospatial Information Science and Technology Specialization
This specialization will prepare you for a successful career focused on applied coursework and real-world problems using GPS, GIS, and remote sensing techniques and analysis, as well as unmanned aerial systems.
Environment/Energy Specialization
In this specialization, you'll prepare for careers in environmental conservation, management, and compliance, so you can work in transportation, natural resource extraction, or advocacy.
Human Geography Specialization
In this specialization, you'll cover ideas and theories around human cultural and development activities. You'll also take courses in industry-standard location analysis techniques.
Research Opportunities for Geography Majors
As a student getting a BA in Geography, you'll have the opportunity to work side-by-side with your experienced professors on community-based and academic research projects. 
If you specialize in the Environmental Geography Specialization, you'll get to experience water resource conservation monitoring, planning, restoration, and permitting activities. If you go with the Geospatial/GIS Specialization, you'll work with community, government, and industry partners to develop spatial solutions to real-world problems.
Some examples of current projects include:
Environmental justice analysis and reporting
Gathering UAV/drone data like aerial photography and elevation mapping for transportation plans and bicycle/pedestrian planning
Map production and community participation for local river conservation plans
Water quality testing near a public drinking water reservoir
Start Your Master's Degree in Geographical Sciences and Planning While You're Still in College
A Master's degree in Geographical Sciences and Planning will enhance your skills in geographic data management, map production, geospatial analysis and interpretation, and policy knowledge in regional development and local and environmental planning. With IUP's Early Graduate Admission program, you can work toward your master's degree in your fourth year of college—and complete both a BA and MS in only five years.
Once you're accepted into the graduate program, you can count up to four graduate classes toward both your undergraduate and graduate degree, saving you time and money. (Your classes will be charged as undergraduate courses, which cost less than graduate courses.)
Your Faculty Advisors
Once you join IUP's Geography program, you'll be assigned a faculty advisor to help set your academic roadmap. Your advisor will guide you throughout your time at IUP, from your first day to your graduation to entering the job market.
Minor in Geography at IUP
If you're interested in maps, logistics, or geospatial technologies, such as Geographic Information Systems (GIS), Global Positioning Systems (GPS), remote sensing, or unmanned aerial vehicle systems (UAVs, or drones), the Geography Minor is the perfect way to round out your skill set. You'll need 18 credits to satisfy the minor (at least two courses at the 200 level and at least three courses at the 300 level or above).
Full Academic Catalog Listing
The course catalog is the official reference for all our degree and course offerings. Check it out for a full listing of the classes available and requirements for this degree.
Geography Honors Program
The honors program is open by departmental permission to geography majors with at least a 3.25 grade point average (GPA) in total university coursework and a 3.25 GPA in geography courses. After completing 57 credits, all qualified students will be invited to join the Geography Honors Track.
Students complete CHSS 489, a multidisciplinary colloquium emphasizing problem solving, discussion, reading, and writing on a topic or theme); GEOG 483 Honors Thesis; and HNRC 499 Honors Senior Synthesis, which fulfills the Liberal Studies Synthesis requirement. Students must maintain a 3.0 average in the track.
To apply, students must submit a letter of intent that includes a two-page self-statement describing the student's academic and career goals. Two Geography faculty members must endorse the student's application.
Full Academic Catalog Listing
The course catalog is the official reference for all our degree and course offerings. Check it out for a full listing of the classes available and requirements for this degree.