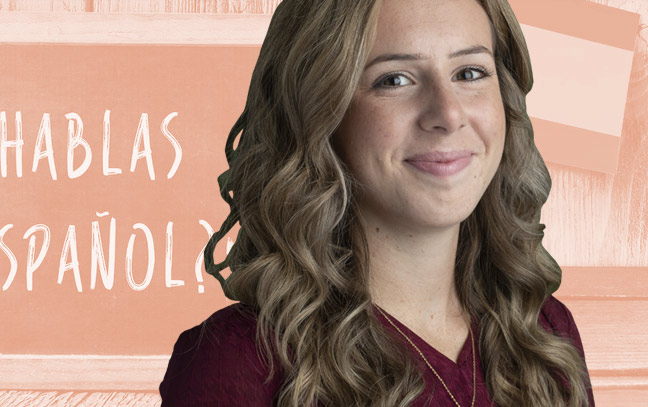 Reach Your Goal of Being an Outstanding Spanish Teacher
Great Spanish teachers know how to open their students' eyes and minds to the beauty of a new language. Through language study in IUP's renowned Spanish education program, you will develop high levels of language proficiency—and learn to use that proficiency to inspire your students. After your experience studying abroad in a Spanish-speaking country, you'll have personal insights to share with your students.
The Spanish, BA major with the Spanish Education PK–12 Certificate prepares you to teach grades PK–12.
Why Major in Spanish Education at IUP?
You'll discover successful ways to teach Spanish language, culture, and literature with support, encouragement, and guidance from our experienced faculty. You'll gain a foundation in Spanish and Spanish Education that will set you up for success in your future classroom. As a student in our program, you will:
See your efforts to develop proficiency pay off! You'll have your oral proficiency assessed once during the second semester of your sophomore year and again the semester prior to your student teaching. You'll also take part in required study abroad experiences to grow your proficiency and use it in your role as a teacher.
Develop your skills as a teacher through classroom experiences with highly qualified, dedicated teachers.
Learn to think critically as you learn how to become an effective teacher.
If you learned to speak Spanish at home, you might move more quickly through the program.
Nationally Recognized Spanish Education Program
Recognized as a model program of foreign language teacher preparation, IUP's Spanish Education K–12 program has received national recognition three times from the American Council on the Teaching of Foreign Languages/Council for Accreditation of Educator Preparation (formerly the National Council for Accreditation of Teacher Education—NCATE).
Learn more about the Spanish language proficiency testing that will help you place into the right course to begin your path as a Spanish Education major.
National recognition by accredititing orgaizations tell potential employers that you received a high-quality education. Our graduates are required to achieve advanced levels of oral and written proficiency on the ACTFL proficiency scale.
Imagine Your Future
The Spanish Education program gives you options. You might start your career in the classroom as a PK–12 Spanish teacher in any school district in Pennsylvania. Or you could decide to go to graduate school, or live and work in another country.
Whatever path you choose, you will join many successful IUP alumni as a highly qualified teacher of Spanish.
When you can teach world languages, you'll find job openings across the US.
There is an increasing need for language teachers. In 2018, at least 49 of 56 US states and territories didn't have enough qualified world language and bilingual education teachers. The American Council on the Teaching of Foreign Languages projects that by 2025, there could be a hiring gap of 100,000 teachers annually.
Classes and Requirements
Two enriching, educational opportunities will reinforce what you learn in your required classes:
Live abroad in a Spanish-speaking country and experience their culture.
Student-teach under the guidance of a highly qualified, experienced teacher and develop your classroom skills.
Your classes are designed to align with ACTFL/CAEP Program Standards for the Preparation of Foreign Language Teachers. They will enable you to:
Communicate effectively in Spanish and English.
Achieve the high levels of linguistic and cultural proficiency necessary to communicate and teach in a multicultural society.
Access and use educational research.
Develop instructional practices based on sound theory.
Make decisions and solve problems strategically.
Serve as effective advocates for the profession.
Gain the skills necessary to teach language, culture, and literature.
Teacher Certification Requirements
All students seeking teacher certification must meet the requirements of the Three-Step Process for Teacher Education.
Full Academic Catalog Listing
The course catalog is the official reference for all our degree and course offerings. Check it out for a full listing of the classes available and requirements for this degree and certificate.
Three-Step Process
The three-step process is the approved process for all students who are pursuing degrees leading to being teachers. This process addresses the following:
Applying to the Teacher Education program at IUP
Proceeding to student teaching
Being recommended for certification following graduation
Each of the three steps has requirements that are unique.
All Teacher Education majors should read the three-step process requirements and become familiar with them. Your academic advisor and program coordinator can assist you with questions, but the Teacher Education office is always glad to assist as well. Students are ultimately responsible for gathering and presenting the required documentation at each step of the three-step process.
Spanish Education Student Handbook
The Spanish Education student handbook contains information on advising, professional development, Pre-Student Teaching, Student Teaching, and Development of the Electronic Portfolio in LiveText. Students should consult this handbook and their advisor as they move through the program!
Download the Student Handbook
Ándale!
Come spend time with others who share your love for the Spanish language! Join IUP's Spanish club, Ándale! Activities and opportunities to have casual conversations with friends will help make Spanish even more accessible. You'll enjoy
Movie and music nights
Dancing lessons
Conversation nights
And more!
Everyone in the IUP community is invited to join the fun.
Award-Winning Renowned Faculty, Past and Present
Our faculty members developed the Spanish Education K–12 program based on their expertise in the field. They actively publish research and present at conferences in World Language education.
You will have the opportunity to attend professional development events and engage with current teachers. These events will help you expand upon what you learn in the classroom.
Learn More about Our Faculty
IUP Spring Methodology Conference
For more than 40 years, a diverse mix of keynote speakers has come to campus for the IUP Spring Methodology Conference on Foreign Language Teaching. These professionals offer stimulating and timely workshops to foreign language teachers. You'll discover new perspectives, find new friends and colleagues, and have a great time with other language teachers. 
Learn More about the Spring Methodology Conference
Community Connections
Many of our faculty and preservice teachers are part of the Appalachian Professional Language Educators' Society (APPLES), an independent organization that supports world language learning in western Pennsylvania.
In addition to sponsoring a language festival for K–12 students in the spring, APPLES supports workshops and activities for you as a preservice teacher.
Mission Statement: Spanish Education
The Department of Foreign Languages offers a teacher education program in Spanish designed to provide preservice and in-service teachers with experiences that will prepare them to think critically and accept responsibilities for their own learning, and which will assist them in acquiring knowledge of the world in which we live; the functional linguistic and cultural proficiency necessary to communicate and teach in a multicultural society; the skills necessary to teach language, culture, and literature; and the philosophical knowledge to understand their multifaceted roles as educators.
The program is committed to preparing elementary and secondary teachers who are able to communicate effectively in English and Spanish, to access and utilize educational research, to develop pedagogical practices based upon sound theory, to make decisions and solve problems strategically, and to serve as effective advocates for the profession.