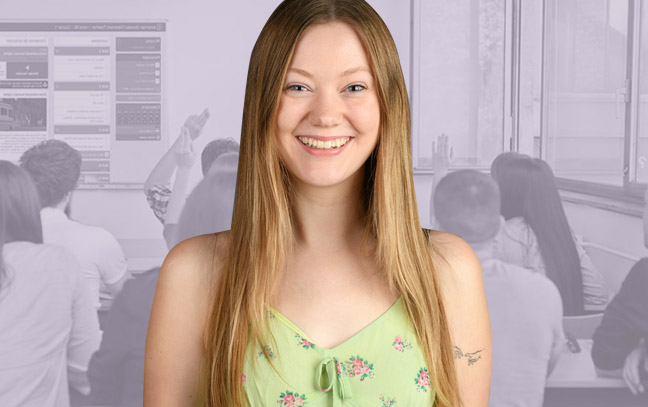 Become an Effective, Confident English Teacher
As someone who loves the English language, you remember how important it was to learn the essential skills we use every day: reading, writing, and speaking. You also know how important it will be for future students in your classroom to blossom as enthusiastic readers who appreciate literature and are effective writers.
Completing the Secondary English Education program (English, BA plus Teaching Certificate) leads to Pennsylvania state certification to teach English Language Arts for students in grades 7–12. You also have options for earning a certificate in urban teaching and/or English as a Second Language (ESL).
Through coursework and practical experience, the Secondary English Education program will prepare you to become an effective, confident English teacher who knows how to make literacy meaningful for each of your students. You'll get over a full academic year of hands-on classroom experience. You'll start by observing a teacher at one of our partner schools over the course of a semester. You'll then have a year-long student teaching experience in your final year, with options in urban, suburban, and rural settings.
Connect with Others in the Field
Throughout your years in the Secondary English Education program, you'll have the opportunity to make connections and be part of a community of English educators as you plan and build your career.
You can join IUP's professional student group, the National Council of Teachers of English–IUP, and get involved in a variety of activities.
You'll learn from professors who have taught middle and high school English and who weave their experiences into their teaching. In addition, IUP faculty members are active researchers who share what they learn with students.
You'll have chances to connect with working alumni who can share insights that can help prepare for your teaching career.
Imagine Your Future
Demand is high for good teachers, and especially for IUP graduates. With IUP's reputation for well-prepared graduates, you'll have an edge in landing high-quality English teaching jobs.
Have you set your sights on teaching in a particular geographic area? IUP's Secondary English Education program certifies you to teach English in grades 7–12 not just in Pennsylvania, but also in states that have reciprocity agreements with Pennsylvania. Secondary English Education graduates have gone on to teach in neighboring states including Maryland, Ohio, and West Virginia, and beyond in Florida, Kentucky, North Carolina, South Carolina, Texas, and Virginia.
Classes and Requirements
As a student in IUP's Secondary English Education program, you'll benefit from a wide range of literature, writing, and language courses to expand and strengthen your knowledge of English Language Arts.
Courses in IUP's education core form the basis of your studies.
You'll take English courses in a range of areas including British and American literature, global literature, young adult literature, and film.
You'll take required courses that prepare you to teach students from all cultural backgrounds.
You'll get experience working with students in real classrooms.
Your coursework is tied to your field experience placements. This relationship allows you to make connections between what you're learning in class and what you're observing, trying out, and realizing in your field placements.
Full Academic Catalog Listing
The course catalog is the official reference for all our degree and course offerings. Check it out for a full listing of the classes available and requirements for this degree.