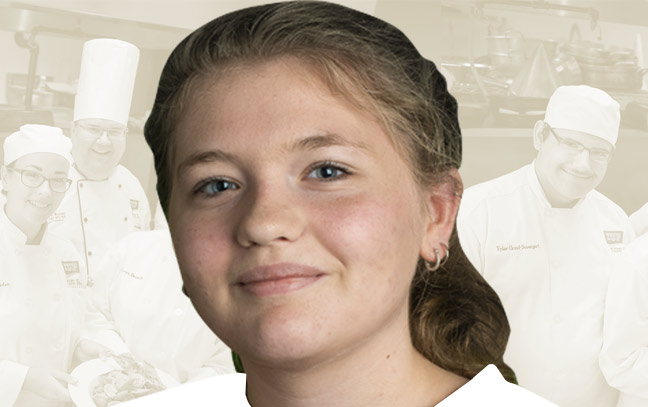 Live Life Deliciously
Whether you want to craft mouthwatering dishes or manage a bustling restaurant, IUP's programs in culinary arts and in baking and pastry arts put you on your dream career path—giving you a taste for the exciting and busy world of culinary arts.
You can take either program as a 16-month certificate. Or, round out your education with courses in math, English, natural science, social science, and the humanities to earn an Associate of Applied Science (AAS) in Culinary Arts or AAS in Baking and Pastry Arts degree.
The immersive AAS in Culinary Arts and AAS in Baking and Pastry Arts programs allow you to use your hands in the kitchen to work with one of the greatest connectors of all—food. Culinary careers open up a world of possibilities and challenges your creative and inquisitive minds.
Why Study Culinary Arts or Baking and Pastry Arts at IUP?
Both of our culinary arts and baking and pastry arts programs are nationally recognized and accredited by the American Culinary Federation.
The Culinary Arts and Baking and Pastry Arts Certificates are accelerated, 16-month programs (four semesters). Your final semester is spent at a paid externship site where you'll be entrenched in day-to-day food management and preparation that sets you up for real-world career experiences.
Graduates earn a certificate of completion with the option to continue into an AAS or BS.
What You'll Learn
IUP will prepare you to greatly expand your culinary chops. In addition to kitchen skills, you'll learn the ins and outs of how to operate a business and grow in this industry.
Artistic plate presentations
Baking and pastry arts
Beverage management
Classical, contemporary, and international cooking methods
Computer applications in food service
Food purchasing and cost controls
Industry food trends
Leadership and communication skills
Management and motivating employees
Menu design
Restaurant and business management
Wine appreciation
Imagine Your Future
In the fast-paced food industry, you'll spend your days surrounded by the constantly-in-motion world of culinary arts. When you graduate from IUP's certificate or AAS programs, you'll be prepared to start your career in a culinary or baking practice at the best resort and restaurant properties in the world.
With experience, IUP graduates go on to become:
Bakers
Caterers
Chefs
Culinary and pastry educators
Executive chefs
Food critics
Food stylists
Owners and operators of restaurants, bakeries, and bed and breakfasts
Pastry chefs
Personal chefs
Sales representatives
in food service estimated for 2023
Classes and Requirements
The Certificate in Culinary Arts and Certificate in Baking and Pastry Arts are full-time programs. You'll be in lecture and lab classes Monday through Friday, from 8:00 a.m. until 4:30 p.m. for both fall and spring semesters. All classes run for 15 days (three calendar weeks), allowing you to complete 12 courses each semester. Students also complete an independent study course to build a professional portfolio for use in interviews and throughout their careers.
Summer semester courses are all-day kitchen lab classes that run Monday through Friday from 8:00 a.m. until 4:30 p.m. You'll take one class a day and complete five courses during the semester including the independent study course.
Associate's Degree Options
Gain a competitive edge on the job market. With one additional semester of study, you can earn an Associate of Applied Science (AAS) in Culinary Arts or AAS in Baking and Pastry Arts degree.
Bachelor's Degree Options
One of the hottest job-growth areas in the hospitality industry is for culinary graduates with practical experience and a four-year degree. Students can apply credits from the Academy of Culinary Arts toward four-year degrees at IUP in Hotel, Restaurant, Tourism and Event Management, Nutrition, and Family and Consumer Science Education.
Full Academic Catalog Listings
The course catalog is the official reference for all our degree and course offerings. Check it out for a full listing of the classes available and requirements for these programs.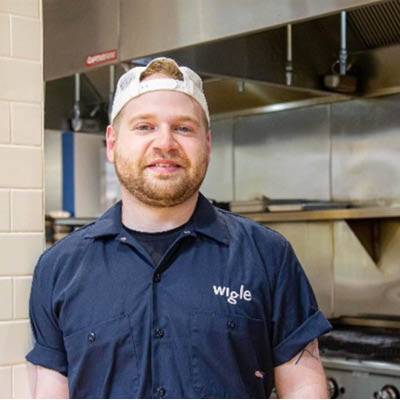 Alex Brown '10, Culinary Arts
IUP not only pointed me in the right direction and gave me an immediate start via externship, but built lifelong networking opportunities to reinforce what I was taught and how to apply those skills in future situations.
Kelly Morrison '15, Culinary Arts and Dietetics
I chose my major because it's the only major I could find that combined culinary and nutrition into one degree.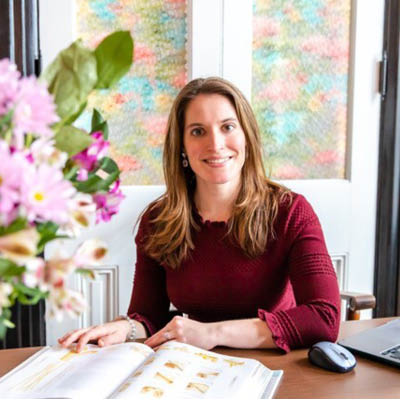 Sarah Dayton '07, '10, Culinary Arts and Baking, Nutrition
When I started at IUP ACA, I went from a shy child with very little knowledge of the real world to an adult who has the confidence to take risks, do hard things, and start new adventures. None of this would have been possible without the ACA being my starting point.
Externship Experience
Culinary arts students at IUP benefit from an immersive, experiential externship program that puts you right in the center of the action. We have a 100 percent success rate in placing students in top-quality externship programs. More than 85 percent of those students are placed in four- and five-star properties.
You'll also take an employment strategies class where you can meet employers and discuss opportunities to continue your education at their business.