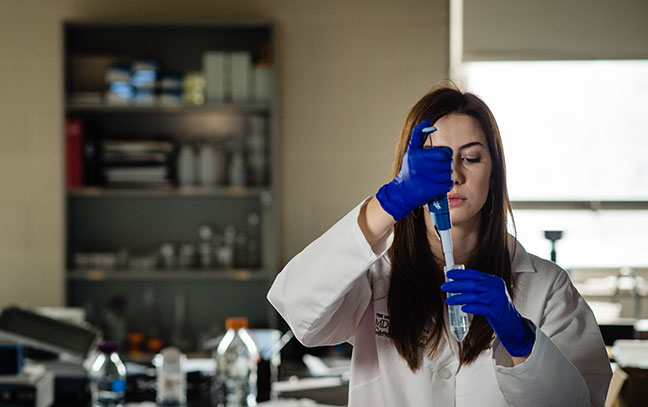 Animal Lover? Us, Too.
You love animals—big and small. Is taking care of animals something you've thought about for a long time? Do you want to be a veterinarian? IUP has a home for animal advocates like you in our BS in Pre-veterinary degree program.
A bachelor of science in pre-veterinary biology is a strong first step toward veterinary school. At IUP, you'll get the science foundation you need to get into—and do well in—veterinary school. Once you're accepted into veterinary school, you'll learn how to apply science to the care of companion animals and working animals, and safe and humane food production.
Why Major in Pre-veterinary at IUP?
You'll need a strong biology foundation to become a vet. Your classes at IUP will prepare you for veterinary schools and specialized fields such as animal behavior and zoonotic diseases.
Veterinary science is vast. This is why IUP's pre-veterinary program is flexible so you can make your degree your own:
Customize your courses to fit your interests.
Meet the varied requirements of different veterinary schools across the country.
Earn a minor in chemistry when you complete IUP's pre-veterinary requirements.
Imagine Your Future
varied industries are looking for people like you who are eager to succeed in veterinary school and ready to work to help animals of all kinds after graduation.
The demand for skilled veterinarians is obvious:
There were 86,800 vets in 2020.
From 2020-2030, the veterinary industry is expected to grow by 17 percent.

14,500 new veterinary jobs are projected from 2020-2030.
4,400 veterinary jobs are projected to open annually.
Classes and Requirements
The pre-vet program is designed to give you a strong foundation in biology, with emphasis on:
Molecular biology
Organismal biology
Physiology
These essential tools will help you master veterinary school and become a successful vet.
You'll customize your classes to meet the specific requirements of veterinary school. In addition, the electives you choose can enhance your understanding of the discipline. Electives of particular interest to pre-veterinary students might include:
Immunology
Pharmacology principles and applications
Vertebrate endocrinology
Adding a related minor broadens your knowledge—and makes you even more desirable to employers. A few complementary minors are:
Animal Behavior
Wildlife and Conservation Biology
You'll automatically earn a minor in chemistry by completing the pre-veterinary requirements.
Full Academic Catalog Listing
The course catalog is the official reference for all our degree and course offerings. Check it out for a full listing of the classes available and requirements for this degree.