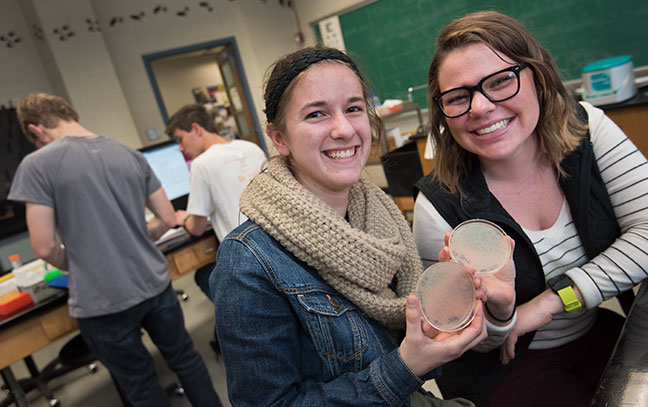 Learn How Microorganisms Affect the World around Them
Environmental microbiology examines how microbes, such as bacteria, fungi, and protists, interact with their environment and with each other. In turn, these microbes impact the health of humans, other animals, and plants.
The Environmental Microbiology Minor allows students to explore these interactions to identify risks and potential solutions posed by this often overlooked community of living organisms.
This minor can also enhance the résumé and experience of students pursuing a variety of degrees, such as pre-veterinary, pre-medical, ecology, public health, and other preprofessional health degrees.
Imagine Your Future
The Environmental Microbiology Minor can benefit students who plan to pursue careers in public health, ecology, biological quality control, biology, veterinary medicine, and human health care, because it expands their understanding of microbes and the roles of microbes across different settings.
When accompanied by an appropriate bachelor's degree, this minor is also helpful to students pursuing a career related to microbiology.
Classes and Requirements
The minor's foundational courses provide the necessary background in cell biology, environmental processes, and evolution. Our microbiology course brings these areas together to focus specifically on microbial communities as they relate to human disease. Mycology and Plant Pathology (BIOL 478) then expands this perspective across a broader environmental context. In additional courses, students will learn the molecular techniques needed to study and understand microbial processes.
Full Academic Catalog Listing
The course catalog is the official reference for all our degree and course offerings. Check it out for a full listing of the classes available and requirements for this degree.