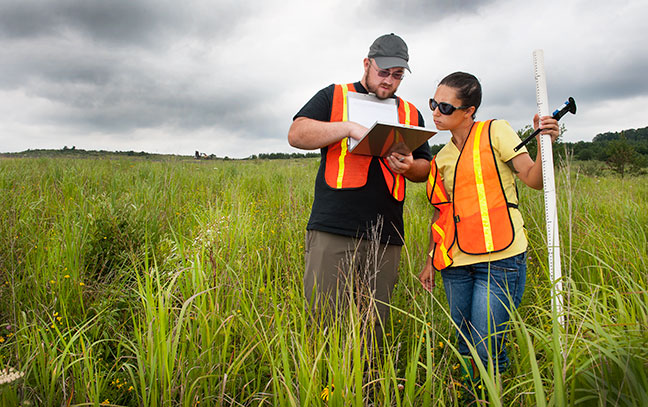 Solve Global Challenges
If you've ever wondered what part you could play in creating a more sustainable world, look no further than getting your degree in IUP's BS in Ecology, Conservation, and Evolutionary Biology program. Get your hands dirty (literally) as you explore the environment, animal species, and so much more.
Help Ensure a Sustainable Environment
If you were the kind of kid who loved spending time outdoors and enjoyed science projects, the BS in Ecology, Conservation, and Evolutionary Biology degree is for you. Your education will prepare you to answer some of today's most pressing questions:
How can we aid the recovery of threatened and endangered species?
How can we sustainably manage our wild game and fisheries resources, and restore critical habitats?
What can we do to reduce the impacts of climate change, invasive species, and habitat destruction?
A sustainable and thriving global future depends on students like you to take the plunge. Students who complete the BS in Ecology, Conservation, and Evolutionary Biology program also learn the answers to important questions about our natural world:
How do wild species interact with each other and their environment?
How does evolution create new species?
Why is there so much species diversity in the world?
Imagine Your Future
The world is rapidly changing—and it needs you. Well trained professionals are needed to ensure the preservation of nature and its services for future generations.
IUP prepares students for pursuing advanced degrees or employment in areas related to:
With the BS in Ecology, Conservation, and Evolutionary Biology degree, you can enter the workforce or pursue graduate studies at the master's or PhD level.
Conservation
Ecology
Environmental services
Evolutionary sciences
Where You Can Work
Many positions that involve directing or designing research will require an advanced degree. IUP students in this in-demand field can expect to work at:
Federal, state, or local government agencies
Non-governmental conservation agencies
Private environmental consulting companies
Classes and Requirements
IUP's BS in Ecology, Conservation, and Evolutionary Biology program shares core courses with other programs in biology to ensure a broad foundation in the fundamental sciences.
Students engage in track-specific courses in:
Animals
Conservation
Ecology
Evolution
Experimental design
Plants
Remaining course requirements are flexible, allowing you to focus on learning the areas that best fit your interests and career goals. Throughout the program, you'll have plenty of hands-on research and experiences that provide skills needed in the future.
Strategies for Ecology Education, Diversity, and Sustainability (SEEDS) Club
SEEDS is an engaging student group that is active in the areas of conservation and ecology.
You'll join a versatile group of conservation-oriented students who are dedicated to environmental and sustainability issues. Club members enjoy camaraderie, volunteer on community projects, and plan new initiatives. Past projects include:
Cleaning up highway and campus areas
Gathering native wildflower seeds for community give-away
Planting trees
Political advocacy
Recycled clothing sales
Removing invasive plants
New members and ideas are welcome!
Contact Faculty Advisor, Ellen Yerger, at eyerger@iup.edu for more information.
Research Opportunities
Research in an important element to learning the disciplines of ecology, conservation, and evolutionary biology and you'll have opportunities to work on these interesting research projects.
What can you expect working on a research project?
Learn in a hands-on environment that prepares you for real-world scenarios
Observe how your work can effect change and make an impact
Play a part in discovering behaviors, patterns, reactions, and outcomes
Work collaboratively with other students and faculty
Research topics change so email the appropriate faculty member to find out the research opportunities available to you. Past research project topics include:
Discovery of new species
Effects of invasive species
Forest and watershed restoration
Population genetics
Wildlife and fish conservation
Minor in Wildlife and Conservation Biology
Use wildlife and conservation biology to enhance your degree by minoring in it and boosting your professional credentials while you pursue your primary studies. You can expect to learn the tools to study, conserve, and understand the impact of habitat on wildlife.
A Wildlife and Conservation Biology Minor is intended for students to gain knowledge and tools to study, conserve and understand the impact of habitat on wildlife species. This minor would be a perfect fit for a pre-veterinary major because it would provide skills and career opportunities in government, private, academic institutions in the area of aquatic or wildlife sciences, ecological conservation or management, and education.
Full Academic Catalog Listing
The course catalog is the official reference for all our degree and course offerings. Check it out for a full listing of the classes available and requirements for this degree.
Biology Honors Program
The Biology Honors Program is an exclusive research program that allows high achieving biology students to participate in additional research and thesis opportunities.
Eligibility
Students who have at least a 3.25 overall GPA by the end of the first semester of their sophomore year are invited to apply to the program. The department's honor committee selects a maximum of 12 students per year for the program.
Biology Undergraduate Research Experience (BURE)
The purpose of the BURE scholarship program is to encourage student research, creative activity, and student-faculty innovative research projects.
BURE enables students to become part of the entire research experience, including:
Completing the research project
Planning an experiment
Preparing the work for presentation and publication
Writing the proposal
BURE scholarship recipients receive $2,000 in summer stipend money plus an additional $500 to purchase necessary research materials.