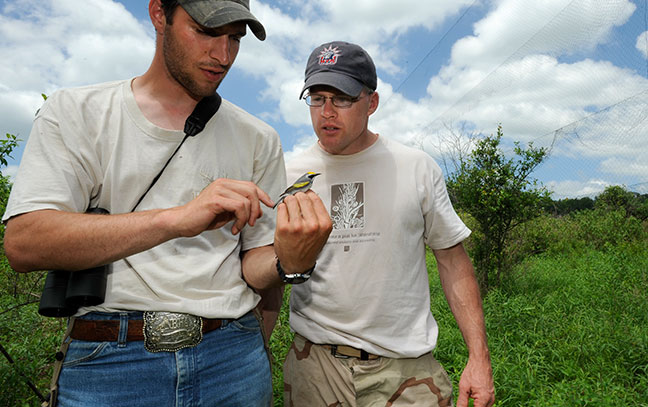 Be at the Forefront of What's Next with Biology
Some of the world's greatest discoveries start with biology. If you choose IUP's Biology (Bachelor of Science or Bachelor of Arts) program you'll be at the forefront of what's next when you start your degree.
No two days are alike in this fast-paced field. The BS and BA in Biology programs allow you to discover your passions by choosing the courses that appeal to you. Enjoy hands-on learning that build up your experience, both in the lab and outside in nature.
Why Major in Biology at IUP?
IUP's Bachelor of Science in Biology provides you with what you're looking for and helps you build a strong foundation for future academic and career opportunities. The BS in Biology degree gives you the flexibility to tailor your degree to fit your specific interests or explore multiple areas in biology.
In a different way, a BA in Biology allows you to develop skills in a related field while you also pursue your biology degree. Many students who pursue a BA in Biology find value in complementary majors and minors in:
Anthropology
Art
Business administration
Computer science
Criminology (for forensic science)
English (for technical writing)
Foreign languages
Geoscience
Psychology
Under the direction of internationally recognized biology professors, you'll benefit from working together in small learning groups that mimic real-world environments.
What You'll Learn
Whether you're interested in cancer research or climate change, IUP's BS and BA in Biology programs encompass a variety of topics, including:
Animal behavior
Botany
Ecology
Genetics
Immunology
Microbiology
Physics
What will be your contribution to future generations? Find out by enrolling in IUP's Biology degree program.
Imagine Your Future
A biology major creates opportunities for students. Depending on the specialty you choose, a BS in Biology prepares you for numerous job fields, graduate studies, and medical schools.
A BA in Biology opens the door to careers in the biological sciences, but also allows you to include languages, history, philosophy and more into your coursework.
You'll graduate from IUP with the academic knowledge and know-how to get a job with private companies, government agencies, nonprofits, and educational institutions.
Where can you work with a degree in biology? Picture yourself here:
Aquariums
Education
Environmental management and conservation
Health care
Nature centers
Parks
Laboratory research
Science museums
Zoos
Classes and Requirements
In the BS and BA in Biology degree programs, you'll start with classes that help you build a strong foundation in biology, chemistry, and mathematics.
Once you've completed the basics, you can explore different areas of biology and customize a set of courses that fits your career goals. You'll choose upper level courses that align with your chosen path. These courses will take you deeper into specific parts of biology, such as environmental health, cell and molecular biology, and pre-medical biology.
IUP's BS and BA in Biology programs offer electives from complementary fields, providing even greater opportunity to make your degree your own.
Teacher Certification Requirements
All students seeking teacher certification must meet the requirements of the Three-Step Process for Teacher Education.
Full Academic Catalog Listing
The course catalog is the official reference for all our degree and course offerings. Check it out for a full listing of the classes available and requirements for these degrees and certificate.
Alexa Hershberger '21, Biology
Research outside of class and interdisciplinary work is vital to your success as a researcher. I am now in a doctorate program because of the research opportunities from IUP.
Biology Minor
Use biology to enhance your degree! A biology minor from IUP boosts your professional credentials while you continue to take on your primary studies.
Full Academic Catalog Listing
The course catalog is the official reference for all our degree and course offerings. Check it out for a full listing of the classes available and requirements for this minor.
Secondary Science Education Certificate
Take your experiences back into the classroom by earning IUP's Secondary Science Education Certificate, which qualifies you to teach at the middle or high school level. Completion of the certificate as part of your BS in Biology prepares you to become a biology teacher in Pennsylvania and other states.
Biology teachers in 7–12 grade teach subjects that require a wide and solid foundation in biology, as well as other sciences and mathematics. You'll take courses in education and teaching to complement your biology background, doing activities like:
Collaborating with peers to practice lessons
Creating and presenting lessons
Working in a real-world classroom with grade level students
Research Opportunities
Research is a big part of learning about biology. IUP's professors offer opportunities for you to work on engaging research projects.
What Can You Expect Working on a Research Project?
Learn in a hands-on environment that prepares you for real-world scenarios
Observe how your work can affect change and make an impact
Play a part in discovering behaviors, patterns, reactions, and outcomes
Work collaboratively with other students and faculty
Research topics are constantly changing. Email the appropriate faculty member to find out the research opportunities available to you. Current research projects being performed in the BS and BA in Biology major include:
Animal behavior
Cell and molecular biology
Ecology
Evolution
Paleontology
Physiology
Tutoring
The IUP biology team is committed to your academic success. When you need a helping hand, we offer free tutoring for introductory courses.