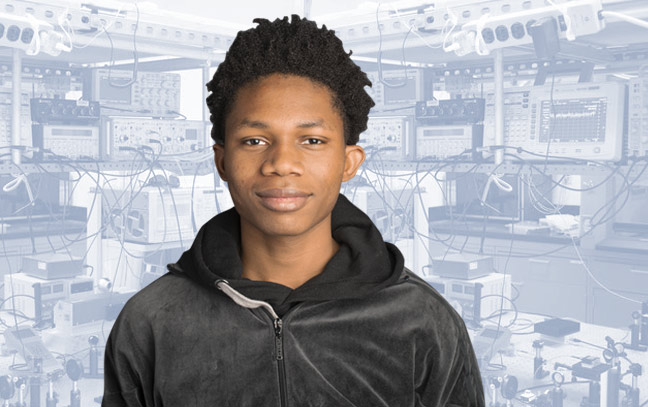 Build Everything from Phones to Airplanes
You like solving problems, building things, and thinking big. Engineers are involved in creating just about everything, from airports to zippers. IUP's BS in Physics/Pre-engineering is a dual degree program—and it's a perfect fit. 
You'll have access to the best of both worlds—a physics degree and an engineering degree—so you'll stand out in the job market. You'll start your studies at IUP, where you'll gain a solid foundation in science, math, humanities, and social sciences. Then, you'll go to the Swanson School of Engineering at the University of Pittsburgh to earn your engineering degree. After that, you'll transfer back to IUP to get your BS in Physics. You will complete your studies having earned two degrees: a BS in Physics awarded by IUP and a BS in Engineering from University of Pittsburgh.
Going to both IUP and Pitt gives you a broad array of opportunities. You'll benefit from industry-relevant networking opportunities in the city in addition to a dynamic, supportive college experience in a close-knit community.
Why Study Physics and Engineering at IUP?
Your class sizes are kept small to make sure you have tons of personal attention, and your professors have strong research or engineering backgrounds. IUP's dual degree program gives you the knowledge of two bachelor's degrees in less time (and at less cost). 
What You'll Learn
IUP's Bachelor of Science in Physics/Pre-engineering program will set you up for the working world. You'll take a detailed series of courses that cover a wide variety of topics. You'll learn to
Understand both the technical and social aspects of a problem
Use reason and logic
Communicate effectively
Imagine Your Future
Engineering is a top-paid, highly in-demand profession. It's extremely likely you'll find a good job right after graduation. In fact, nearly 140,000 new engineering jobs are projected over the 2016–26 decade, meaning you're entering a field that's growing fast.
The logic and problem-solving skills you'll build in the physics and pre-engineering program at IUP will prepare you to move into leadership roles over the course of your career. And the knowledge you'll gain will lead you to a career where you can develop creative solutions to improve the world around you.
*Statistics shown are from payscale.com, accessed June 2021.
Median Engineering Salaries
Classes and Requirements
You'll have hands-on learning and research experiences in IUP's state-of-the-art labs. These will help you develop critical thinking and problem-solving skills. Your strong liberal arts background from IUP will lend a broader perspective to your engineering work—you'll learn to approach problems from many different points of view. 
You'll take physics, math, and science courses, along with pre-engineering electives based on your personal engineering interests.
In IUP's Pre-engineering BS program, you'll learn how to work on a team and you'll strengthen your communication abilities—lifelong skills that will help you be successful in your personal and professional life.
Full Academic Catalog Listing
The course catalog is the official reference for all our degree and course offerings. Check it out for a full listing of the classes available and requirements for this degree.
Student Organizations
Physics Club
The Physics Club is a student organization that meets once per week during the semester. Anyone is welcome to join.
Learn about the Physics Club
Minor in Mathematics
If you're looking to enhance your physics and pre-engineering degree with marketable skills, choose to minor in mathematics.
This minor requires six classes (18 credits). You'll complete five of these classes in your pre-engineering coursework, so you'll need to complete just one additional math elective to get your minor. If you're required to take calculus, you should definitely consider this minor. 
Full Academic Catalog Listing
The course catalog is the official reference for all our degree and course offerings. Check it out for a full listing of the classes available and requirements for this minor.