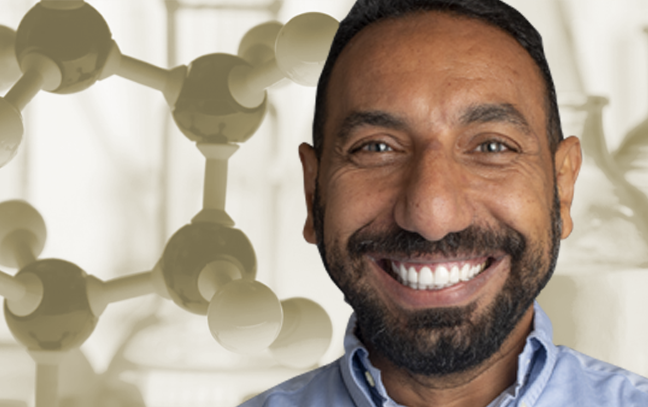 An Inside Look at Life
If understanding the biological world intrigues you, look no further. Majoring in IUP's Bachelor of Science in Biochemistry goes beyond the surface level—taking you deeper into the study of living organisms.
Why Major in Biochemistry at IUP?
IUP's degree program is one of only a few in the country where you can earn an undergraduate degree in biochemistry. You'll have access to state-of-the-art equipment and work within a small, close-knit group of peers to encourage cooperation and accountability. All your classes and labs are taught by faculty, not graduate students, so you'll have a strong support system of faculty and biochemistry alumni dedicated to guiding and helping you throughout the program and even after graduation.
Significant funding and university investment has provided top technical facilities that are dedicated to biochemistry. You'll have plenty of lab time and with the help of your mentoring professors you'll learn about and use this equipment to conduct advanced research.
In addition to research with faculty, IUP encourages internships or Research Experiences for Undergraduates (REUs). IUP is proud of the success rate it has in helping biochemistry students land highly competitive internships.
What You'll Learn
As a science-loving student, you'll enjoy our concentrated biochemistry curriculum, covering the structure and function of cellular components, such as proteins, carbohydrates, lipids, nucleic acids, and other biomolecules.
You'll get the top-quality education you'll need to begin your career or to get into graduate and professional schools.
Imagine Your Future
Biochemistry prepares you for a wide range of career opportunities. Since new options continue to open up in this growing industry, your combined interest in biology and chemistry can lead to an extensive professional life that contributes greatly to the scientific community.
Industry, universities, and government institutions need biochemists to carry out research for both applied and exploratory studies, including:
Chemical manufacturing
Environmental safety
Food and drink production
Medical instrument development
Pharmaceutical treatments
Protein engineering
Standards for health and beauty care
Stem cell and genetics therapies
Career Fields for Biochemistry Graduates
Bioengineering
Biotechnology
Cancer research
Education
Food science
Genetic engineering
Government research
Immunology
Industrial production
Medical research
Neuroscience
Pharmacology
Toxicology
Veterinarian practice/medicine
Classes and Requirements
Biochemistry is a truly varied degree program. Each day will bring new questions and challenges. Over and above biochemistry courses, you'll take courses in:
Cell and molecular biology
Genetics
Math
Organic and analytical chemistry
Physics
As a biochemistry major you study biology, chemistry, mathematics, and physics, alongside your general education courses for the first two years of the program.
Beginning in the third year, you'll specialize in biochemistry and take focused courses that build your knowledge of the subject. In your senior year, your participation in research is a unique feature among university undergraduate programs. IUP professors are highly committed to student field experiences, research, and hands-on projects.
Qualified students who are admitted to the Biochemistry Honors Certificate Program can take advantage of IUP's guaranteed admission agreements with PhD programs at department-affiliated doctoral schools.
Full Academic Catalog Listing
The course catalog is the official reference for all our degree and course offerings. Check it out for a full listing of the classes available and requirements for this degree.
Student Groups
IUP encourages out-of-classroom experiences with other biochemistry and chemistry majors, allowing for teamwork and interaction that will add to your undergraduate experience. We are proud to offer several subject-specific groups where you can network with your peers.
American Chemical Society (ACS)
The American Chemical Society student affiliate is the professional organization for chemistry and biochemistry majors. They host professional meetings and hold tutoring sessions.
Alpha Chi Sigma (AXE)
Alpha Chi Sigma is a professional fraternity that encourages networking for connections after graduation. It holds professional advancement workshops for STEM majors. AXE graduates form the core of the alumni mentoring programs, such as Alumni Mentors Empowering Students (AMES).
American Medical Students Association (AMSA)
The American Medical Students Association brings in health care professionals to provide career tips, volunteer opportunities, and group study sessions.
Explore Student Organizations at IUP
Research Opportunities
As a biochemistry major, research opportunities are important. All students complete two courses of research under the supervision of a faculty member. IUP students get rich experience from biochemistry, chemistry and biology faculty members, including:
Building up confidence in analytical and experimental skills
Designing and performing experiments
Gaining critical scientific skills that are highly valued by employers and graduate/professional schools
Interpreting data
Opportunities to present and discuss research at regional and national conferences
Opportunities to publish in research journals in conjunction with a faculty mentor
Taking part in the scientific process
Understanding how new knowledge is discovered
Biochemistry Honors Certificate
The Biochemistry Honors Certificate program challenges you to take more advanced courses to complete your degree and provides the opportunity to give a public presentation of your research. The Biochemistry Honors Certificate also ensures you are eligible* for guaranteed admission at various PhD programs that are partnered with IUP.
*Minimum GPAs vary by program
Full Academic Catalog Listing
The course catalog is the official reference for all our degree and course offerings. Check it out for a full listing of the classes available and requirements for this degree.
Research Facilities
Biohazard Hoods
Cell culture equipment
Centrifuges
Fast Protein Liquid Chromatography System
Gel documentation imaging
Real-time PCR thermocycler
Research freezer storage (-80 C)
Spectrofluorimeter
UV-Vis and spectrophotometers
Biochemistry Minor
What do the health care industry, parts of the chemical industry, homeland security, environmental testing, and genetic engineering have in common? They all rely on biochemists.
This minor is designed to provide a core background in biochemistry to complement a major in another area such as biology, chemistry, nutrition, or safety science.
Full Academic Catalog Listing
The course catalog is the official reference for all our degree and course offerings. Check it out for a full listing of the classes available and requirements for this degree.