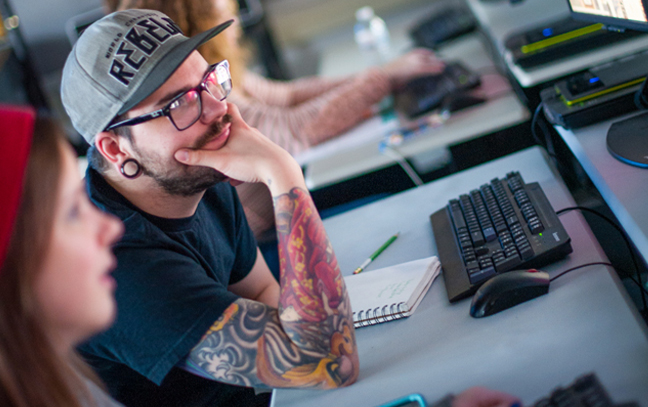 Create Your Future with a Degree in Graphic Design and Illustration
If you see yourself as a creative problem solver, as someone who wants to effect positive change in the world using your visual skills, discover IUP's Bachelor of Fine Arts degree in Graphic Design and Illustration/Art Studio.
With a focus in both graphic design and illustration, you'll develop a diverse, marketable portfolio as a creative professional. IUP's faculty are working designers and illustrators with real-world experience, who will support and challenge you every step of the way. When you graduate, you'll be ready for hire across a variety of commercial art fields as a graphic designer, illustrator, web designer, art director—or start a venture of your very own, such as self-publishing or indie product development.
What You'll Learn
A BFA in Graphic Design and Illustration will prepare you with a foundation of experience for the commercial art and design industry. You'll hone your ability to develop creative concepts and learn a variety of in-demand skills such as:
Illustration and digital painting
Brand identity and trademark design
Print and layout design
3D modeling
Typography
Web and interactive design
Graphic novel / concept art development
Print media and layout methods
Self-publishing platforms and techniques
You'll also choose from a menu of electives, including photography, marketing, painting, and more, to round out your expertise as a visual communicator
Imagine Your Future
There isn't just one job, or one industry, you'll be prepared for. When it comes to what's next, your options are many—and multiplying all the time—including careers in graphic design, web design, 3D modeling, illustration, art direction, and interaction design.
Career Opportunities in Graphic Design
Organizations, celebrities, and businesses need a brand identity, online presence, and marketing materials to remain competitive. As a graphic designer and illustrator, this leads to nearly infinite opportunities to utilize your skills, from the smallest local business to the largest corporation.
There isn't just a single job or industry you'll be prepared for: your options are many—and multiplying—and include careers on the cutting edge of the commercial arts, including 3D modeling and interaction design.
Recent graduates have found lasting employment as graphic designers and/or illustrators with companies including:
Brunner Marketing Agency
General Electric
Lost Battalion Games
The National Park Service
Rue21
American Eagle International
Mind and Media, Inc.
Founders Table Restaurant Group
Boco Gear
You'll learn from faculty who have created work for clients such as:
British Airways
Capcom
Chicago Magazine
General Motors
Rolling Stone magazine
Square Enix
The US Air Force
Psycho Bunny Clothing
The New York Times
Career Opportunities
Art director
Brand and identity specialist
Commercial art entrepreneur
Creative director
Illustrator
Layout designer
Print designer
UI designer
UX designer
Website designer
Classes and Requirements
What You'll Study
Your core classes form the foundation of this IUP program and include 2D design and color theory, drawing, introduction to graphic design, typography, illustration, layout for print and web, digital content creation, brand design, advanced illustration, advanced drawing, digital synthesis, web design, career practices, art history, internships, and more.
You'll have a leg up with elective courses in marketing and communications media, which, in total, will prepare you to face the challenges of the contemporary design and illustration industry.
Graduation Requirements
Students will need to complete 120 credits of total instruction hours, including 72 credits in their core content area (including 12 controlled and four to five free elective credits) and 48 credits of liberal studies courses. Students must achieve a cumulative 2.5 GPA and earn a "C" or better in all Art and Art History courses to graduate.
Upon completion of this degree program, you will be prepared to enter a career in graphic design and illustration and will have the skills you need to succeed as an entrepreneur, freelancer, or professional in the commercial arts.
Full Academic Catalog Listing
The course catalog is the official reference for all our degree and course offerings. Check it out for a full listing of the classes available and requirements for this degree.
Submit Your Portfolio
If you have been accepted to IUP, your next step is to submit an entrance portfolio for review. Follow the directions on the link below to send your work and finalize the process.