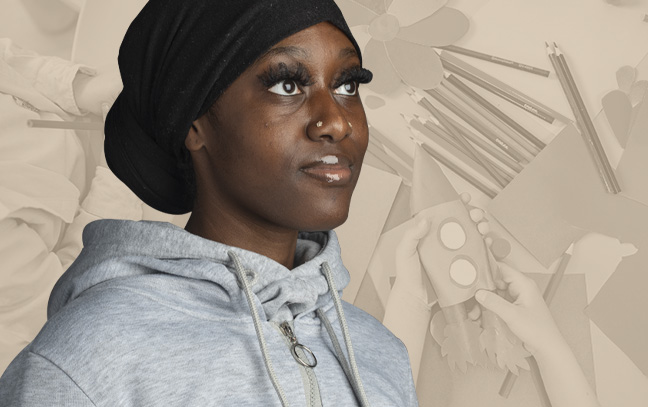 Sow Seeds of Creativity with an Art Education BSEd
You already know that art is an incredible outlet for expression. As an art teacher, you'll be able to help learners of all ages tap into their own creativity and express their ideas. IUP's BSEd in Art Education program will allow you to nurture your own artistic talents—and help you master the skills you'll need to ignite that spark in others.
By earning a BSEd, you'll gain the experience necessary for a fulfilling, lifelong career as an art educator. You'll be ready to inspire students in settings like public and private schools, community centers, and museums. Along the way, you'll connect with the art community around IUP and explore new avenues for your own personal artistic growth.
Imagine Your Future
The Art Education BSEd will leave you well-prepared for employment right after graduation. You'll graduate from IUP with Pennsylvania Level 1 Certification, which will allow you to teach in any P-12 public school in the state. You'll also have the training to teach in a variety of settings, including museums.
After earning your degree, picture yourself as:
An art educator in P-12 public, private, charter, or parochial schools
A candidate in a graduate program in art therapy or arts administration
A community-based art educator
An early childhood art educator
A museum educator
Career Opportunities in Art Education
IUP's BSEd in Art Education majors are highly sought-after. Don't believe us? Seasoned art educators often request IUP student teachers because they're so well-prepared. Current students and recent graduates readily find jobs teaching in Pennsylvania and beyond.
Here's a sampling of positions accepted by recent graduates:
Community Educator, Assemble (PA)
Educator, Pittsburgh Center for Art and Media (PA)
Teacher, Anchorage Public Schools (AK)
Teacher, Bethlehem Area School District (PA)
Teacher, Baltimore City Schools (MD)
Teacher, Frederick County Public Schools (MD)
Teacher, Pittsburgh Public Schools (PA)
Classes and Requirements
The BSEd in Art Education program at IUP is part of a nationally accredited art department. That means everything from our curriculum and faculty to our facilities and student work meet or exceed the rigorous standards set forth by NASAD: The National Association of Schools of Art and Design.
Plus, as a teacher preparation program, the Art Education department is accredited by CAEP, the Council for the Accreditation of Education Preparation.
Teacher Certification Requirements
All students seeking teacher certification must meet the requirements of the Three-Step Process for Teacher Education.
What You'll Study
In the Art Education BSEd program, you'll learn from accomplished faculty, including working artists and internationally recognized art educators. They will guide coursework that allows you to:
Dive into curriculum design.
Explore leading-edge topics including digital materials.
Explore the historical roots of art education and pedagogical theories.
Learn to work with special populations of learners.
Courses in studio art will allow you to explore a variety of areas of study, including:
Ceramics
Drawing
Graphic design
Metals
Painting
Print media
Sculpture
Woodworking
In this program, you'll be able to identify your interests, and then go deeper. Add a minor in Studio Art, Art History, or Early Childhood Art Education; or, pursue the Urban Certificate in Art Education.
Full Academic Catalog Listing
The course catalog is the official reference for all our degree and course offerings. Check it out for a full listing of the classes available and requirements for this degree.
Join an Inclusive and Inspiring Community
Art requires inspiration, and there's no shortage of that at IUP. You'll join a diverse, inclusive community of artists, scholars, and educators, and you'll work directly with supportive faculty. Picture yourself attending artist lectures, hands-on workshops, and art openings.
You'll have the chance to make even more connections by joining student organizations including the student chapter of the National Art Education Association. The IUP chapter organizes community art projects and works in conjunction with the University Museum at IUP, Indiana Regional Medical Center, The Artists Hand gallery, and other community organizations. The group has been awarded the National Outstanding Student Chapter Award by the NAEA four times for exemplary service to the field.
Early Childhood Art Education Minor
This minor is designed to provide students with the option of a specialization in art with an emphasis on translating studio experiences for a variety of early childhood art education settings including childcare centers, schools, museums and community-based programs. The minor provides students with an overview of and orientation to studio experience that will serve as the framework from which to teach art to young children.
Full Academic Catalog Listing
The course catalog is the official reference for all our degree and course offerings. Check it out for a full listing of the classes available and requirements for this minor.